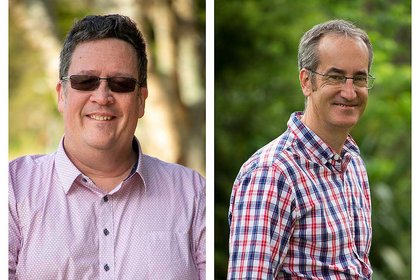 Last updated: Friday 25 November 2022
Two veterinary scientists will each be awarded a Doctor of Science, one of the highest academic accolades, at Massey University's Manawatū graduation this week.
Professor Craig Johnson and Professor John Munday are receiving the degree for their research into animal anaesthetics and animal cancer, respectively. They are among the more than 1000 students who will graduate across five ceremonies in Palmerston North this week.
A total of 1072 graduates will cross the stage, including 40 receiving doctoral degrees and 119 receiving master's degrees at ceremonies held at the Regent on Broadway in Palmerston North. Ceremonies begin on the afternoon of 3 May and continue twice daily until 5 May.
A significant number of PhD graduates in science have based their research around improving dairy and livestock production and finding ways to control bacteria threatening livestock and humans.
Youth mental health and wellbeing are the focus of research by two Doctor of Clinical Psychology graduates. Sustainable development, the role of grandmothers as caregivers, and the place of flags as symbols of unity or dissent in Aotearoa, feature among humanities and social sciences doctoral topics.
Doctor of Science awards
Two Massey staff members from the School of Veterinary Science will graduate with an honorary Doctor of Science. This research degree recognises the researcher's scholarly contributions and merit in a particular field. The Doctor of Science, alongside the Doctor of Literature, is the highest doctoral qualifications conferred by Massey University in recognition of original research contributions of special excellence to knowledge.
The two recipients are Professor of Veterinary Neurophysiology and Director of Research Ethics Craig Johnson, for his research into the minimal anaesthesia model and the development and refinement of the concept and subsequent practical applications.
Professor of Veterinary Pathology and Research Director of Tāwharau Ora - School of Veterinary Science John Munday also receives this degree for his research into cancer in animals and the novel causes and ways of predicting biological behaviour.
The first ceremony will celebrate graduates from the Massey Business School, including from the School of Aviation, while the second and third ceremonies celebrate graduates from the College of Sciences. In a special addition to the second ceremony, the highly prestigious Massey University Medal will be awarded to chairman of the Riddet Institute, Dr Kevin Marshall, for his service to the university and the community. It is the university's highest award for an individual researcher.
Ceremonies four and five celebrate students graduating from the Colleges of Health, Humanities and Social Sciences, and Creative Arts (CoCA) alongside graduates from Professional and Continuing Education (PaCE).
Celebration events for Māori and Pacific graduates and their families will also be held to honour graduates. Pacific celebrations will be held on May 4 at Crossroads Church. The celebration to honour Māori graduates will be held at the Regent on Broadway on May 6, with more than 500 guests expected. 
Graduates, their families and staff are encouraged to share graduation photos on social media using #MasseyGrad and tagging @MasseyUni.
You can watch the live stream of both ceremonies here https://www.massey.ac.nz/student-life/graduation/graduation-livestream/