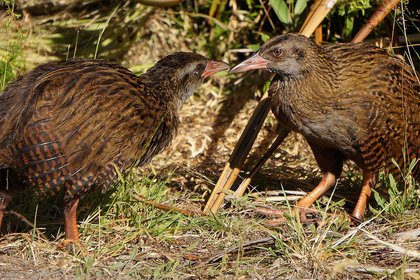 Last updated: Monday 20 June 2022
The number of subspecies of weka has been a point of debate in New Zealand, with the land bird being found on the North, South and Stewart islands, as well as many others off the coast including a large population on the Chatham Islands. Previously these weka were thought to comprise up to six subspecies, but new data finds just two subspecies – Gallirallus australis greyi in North Island and Gallirallus australis australis in the South.
The researchers say that these subspecies were classified based on anecdotal colour differences in feathers, rather than significant differentiation.
Lead author, evolutionary biologist, Professor Steve Trewick says that the subspecies finding was trumped by what they found out next.
"The naming of species is something that we humans do to classify our world, but as evolutionary biologists we are looking to delve further. When we are talking about bird populations in New Zealand, there is a lot of interest in the difference between populations which live in the North and South Islands and how those gaps affect them.
"When you are talking about flightless birds, even the 25-kilometre Cook Strait is seemingly evidence enough to conclude why two subspecies stayed separate and never mixed. However, we now have evidence that when the north and south were connected by land, the two subspecies still didn't mix enough to join the two populations. Pointing to some other barrier that we are still yet to uncover.
"The work ties into studies around the world seeking to understand how geography and biology interact in the formation of regional biotas."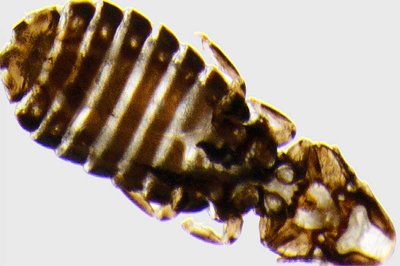 Secrets in the lice
The findings were made possible by looking at not only the DNA of weka, but also of their feather lice, as each weka subspecies was found to have its own distinct lineage of feather lice.
"While it may seem odd to study a bird's parasites to understand more about their host, they are actually remarkably handy as the lice end up sharing their evolutionary history with the host. If individuals resulted from breeding between northern and southern weka, they could have northern and southern weka lice, which they do not."
The findings are part of a much larger effort to understand the pattern of North Island and South Island races in many New Zealand birds. Data from other species were examined also, including Kārearea falcon, Toutouwai robins and Kereru pigeon.
"The more we understand about their past and how it affects their genetics, the more we can tell about the remaining populations," says Professor Trewick.
The paper, 'Closing the gap: Avian lineage splits at a young, narrow seaway imply a protracted history of mixed population response' was published in the journal Molecular Ecology.
The work was conducted by the University's Phoenix Lab with the assistance of the Department of Conservation, and co-authored by Associate Professor Mary Morgan-Richards with Dr Gillian Gibb, Mr Stephen Pilkington, and Lara Shepherd at Museum of New Zealand Te Papa Tongarewa.