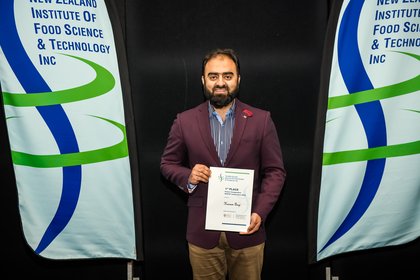 The New Zealand Institute of Food Science and Technology (NZIFST) focuses on science, technology and engineering in the production, distribution and processing of food.
Haroon displayed his research at this year's conference in four categories of the poster competition; concept, content, design and questions.
"I had never previously participated in the NZIFST conference before, one of the biggest annual gatherings of food technologists from academia and industries.
But Massey is globally recognised for its Food Technology program, and I was lucky enough to get accepted by my Supervisor, Professor Aiqian Ye, who is one of the experts in this field. So, I knew I would be supported throughout my study for this poster competition" says Haroon.
The objective of Haroon's poster is to demonstrate, in a visual format, his research which looks at how various milk matrices, based on Skim milk powder, might affect the curd properties during gastric digestion, and the release and bioaccessibility of fortified health-promoting compounds like curcumin.
"In several meals and paediatric formulas, milk powder is used. The milk powder's heat treatment during manufacturing gives the formulations their texture and digestive characteristics. Whey protein is reconstructed by preheating treatment, which is applied before evaporation.
Skim milk powders are frequently divided into low heat, medium heat, and high heat categories based on how much of this denaturation has occurred. The fortified curcumin may be released in the small intestine as a result of these physiochemical changes that occur during digestion and reassembly in the stomach," says Haroon.
Haroon found that different dietary elements and their structures alter the destiny of additional health-promoting substances. This has an impact on the functionality and use of the supplements, contrary to what producers may state.
"I found that the release of fat and protein from the digestion was slowed down by the restructured curd created in the stomach by different milk matrices.
The composition of gastric digestion altered as a result of the structural changes caused by the recombined milk in the stomach, which had an impact on the release of free fatty acids and the bioavailability of curcumin in the small intestine" says Haroon.
With this win under his belt, Haroon is keen to get involved in more opportunities to further his research and wants to encourage more PhD students to take up the challenge.
"All PhD students should seek further opportunities to promote their research such as the poster competition or the 3minute thesis competition. This win enabled me the confidence needed to professionally network throughout my career.
This win is a true highlight of my professional journey thus far, I acknowledge Professor Aiqian Ye, Distinguished Professor Harjinder Singh and Dr Alejandra Acevedo Fani of Riddet Institute, Massey University as supervisors for providing continuous guidance and support."
Wednesday 2 February 2022
Growing up on a dairy farm, food technology alumna Margie Hunt originally enrolled in a forensic science degree at Auckland University before realising her true passion.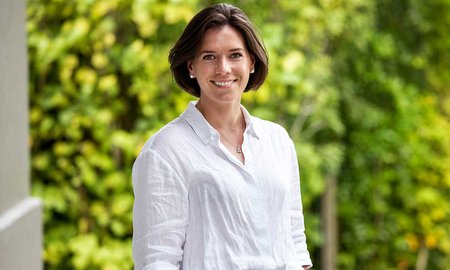 Thursday 26 May 2022
There aren't many people who get to work with chocolate biscuits all day, but Massey University Food Technology graduate D'Arcy Knight is one of those lucky people.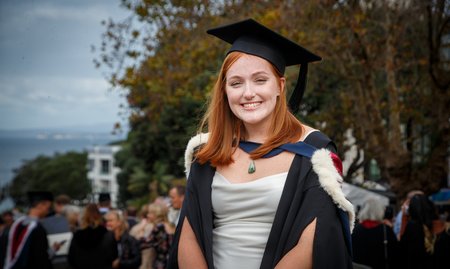 Wednesday 12 May 2021
Last weekend over 100 prospective students attended the Engineering and Food Technology Experience day at the Auckland campus.