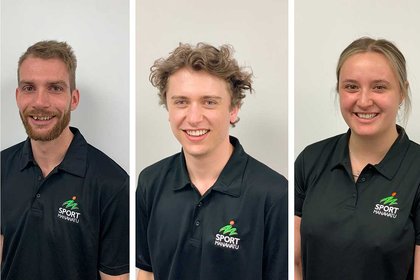 Last updated: Tuesday 22 March 2022
Sport and exercise graduates Joel Gordon, Keegan Bremner, and Sarah Munn have been offered employment at Sport Manawatū after successfully completing their Work-Integrated Learning (WIL) practicum.
Sport practicum coordinator Professor Andy Martin says that for more than 30 years WIL experiences have enhanced many students' employability in the sport and exercise industry and provided a graduate point of difference that employers value.
"The sport and exercise practicum provides students with a great opportunity to enhance their networks, gain significant industry experience, and integrate theory to practice in areas such as sport development, sport event management, sport coaching and sport coordination, as well as exercise prescription and athlete conditioning."
Keegan Bremner has been appointed as the Community Partnership Advisor for Active Recreation. His sport practicum experience was as the volunteer coordinator for the 2020 Under 18 Men's Softball World Cup held in Palmerston North.
"It was an unreal experience in a role that I never thought would be given to me at the start of my practicum. I was able to see what goes into creating such a positive experience for the consumers of this global event. My confidence, communication and human resource management skills have really grown since."
Sarah Munn's new role is as the Green Prescription Advisor. She says it was a great experience meeting staff from Sport Manawatū and learning from them.
"I learnt a lot of practical skills being in a gym environment and created great relationships with those attending the programme. My public speaking confidence grew hugely due to the amount of interactions I had with my volunteers and with teams and their supporters."
Joel Gordon is now employed as a Healthy Active Learning Advisor after completing his masters degree in sport and exercise, which focused on developing game-based learning activities for generalist teachers in primary schools.  
Exercise practicum coordinator Dr Lynette Hodges also noted that a number of students have been employed by other organisations such as Manawatū Golf Club, Hockey Manawatū and local gyms.
Massey's Bachelor of Sport and Exercise, offered internally on the Manawatū campus and by distance, prepares students for work in the varied and growing areas of sport and exercise. The practicum provides important industry partnerships, enabling students and staff to connect, collaborate and contribute to their community of practice. 
The extensive sport and recreation facilities on the Manawatū campus provide an attractive point of difference through student and staff participation and community engagement initiatives. The Massey Academy of Sport also provides attractive opportunities for high-performance student-athletes.