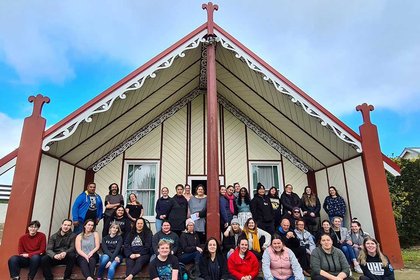 Last updated: Friday 25 November 2022
Growing up on Waiheke Island and being the only teen pregnancy there at the age of 16, Sam Davis, Ngāpuhi, Ngāti Kahu ki Whangaroa, Ngāti Kauwhata, Ngāti Raukawa, chose to study social work after seeing first-hand the impacts it can have on whānau.
Last year, Sam was awarded the Whāea Ephra Garrett Award – an award which recognises outstanding leadership from a Māori fourth-year Bachelor of Social Work student. Awardees are provided with financial support, personal development and networking opportunities.
Dr Garrett was appointed as a lecturer at Massey University in 1968. She ran the university's first Women's Studies course in 1978 and, with Dr Merv Hancock, founded the Bachelor of Social Work programme in 1987. She built a Māori dimension into teaching and research in the Departments of Social Work and Psychology.
Sam says her degree has been life-changing.

"It has helped me to re-indigenise my mind and reclaim my identity as wāhine Māori. It hasn't been easy. This has been one of the most challenging journeys I've been on, but it has been worth every late night and every tear.
"The personal growth that I have gained from the Bachelor of Social Work is beyond what I could have ever imagined. I walked in thinking I knew myself and walked out a whole other person," she adds.
Sam is described by both her peers and lecturers as wāhine toa, embodying mana wāhine. Her nominees all mentioned her having strong leadership qualities, a voice for tangata whenua in class discussions, and is a key support to her peers, willing to share her knowledge and at times her own vulnerability.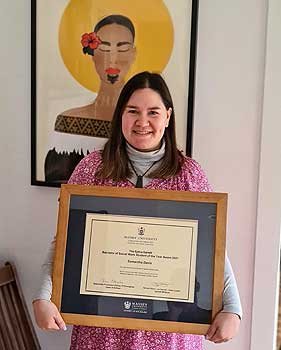 Empowering dreams
Sam graduated with her Bachelor of Social Work last year. "I chose this career path largely because of my personal experiences growing up as a teen mother, being Māori and the impact different systems have had on my whānau. I want to challenge systems and empower the dreams and aspirations of people, whānau and the community. I am also highly motivated by Māori and community development and social justice."
She says the Bachelor of Social Work programme provides a safe space to be who you are, to challenge your own worldview, and to challenge others. "By the end of the four years, you become like a whānau. The connections you make are very special. If you've ever considered social work, I cannot recommend Massey more highly."
Sam was supported through Massey's Te Rau Puawai programme. "In my fourth year I received a partial scholarship and was provided a social work mentor. When I was having a hard time completing my scholarship application Te Rau Puawai sent someone to my home to help me in person. Being a member of the Te Rau Puawai whānau gave me opportunities and access to network with other students, faculty, and members from the Māori community in mental health and health from all over Aotearoa."
As an adult student, Sam says it was really important to find an education provider that would accommodate her, as a working mother.

"The option to complete the degree extramurally was the greatest draw for me. Also the fact that it is internationally recognised meant I would be able take this degree anywhere should I wish."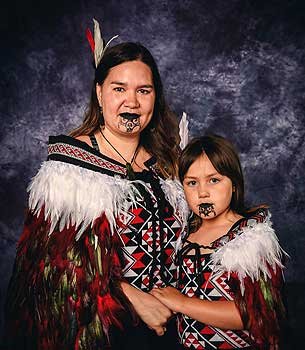 Study placement led to work
After previously volunteering at the Whanganui City Mission, focusing on feeding the community and providing food parcels for those in need, Sam did a placement in her third year at Whanganui Hospital.
"Health was not initially the area of social work I wanted to be in, however I learned a great deal from the many different health professionals. I remember thinking a physiotherapist was someone who rubbed down rugby players' muscles, but I quickly learned how important and life changing their role is in the hospital."
Sam, 33, got hired straight out of her final study placement at Cancer Society Whanganui-Rangitikei- Waimarino. "I was able to implement the knowledge I had gained throughout my degree to further develop my practice. I have seen the pain and destruction cancer can cause. But I have also seen the beauty in cancer and the way in which it can bring people and communities together. Through these placements I have grown a true understanding of the importance of social work in health and a confidence in myself to deliver purposeful mahi in this space."
She's currently part of the Cancer prevention team, focusing on survivorship and prevention. "I am based in the community and am working to delivery equitable services to people and their whānau experiencing cancer and beyond. That may be one-to-one support, group facilitation, education or health promotion."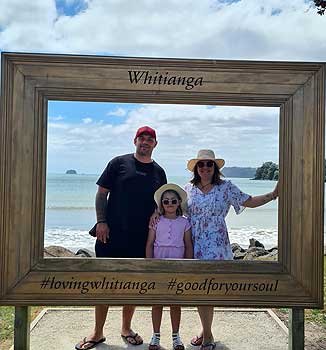 Reconnecting with Māori
In her spare time, Sam is a keen weaver. "I have taken an interest in raranga, a plaiting technique used to weave baskets and mats. I attend weekend workshops when I can and have joined a Facebook group to learn contemporary kākahu [traditional cloak] and the art of whatu [main technique for cloak making]. I am reconnecting with my taha Māori [Māori side/perspective] and am on a journey to further my knowledge in mātauranga Māori through mahi toi [craft], te reo and Rongoa [traditional healing].
"I am also a keen photographer and enjoy being creative, be it making candles, refurbishing old furniture, or creating bespoke gifts for my friends and whānau," she adds.
Sam is proud to be named after her grandfather Hamiora Te Waru Rewiri (Samuel Davis) on her father's side. "My grandmother on my mother's side migrated to Aotearoa from England with her parents as a teenager. I am my whānau and my whānau is me. My mother has endured many hardships in her life, she has taught me resilience and strength. My children are what drive me. They inspire me to follow my dreams, and in return, I hope that I can do the same for them.
"My husband and I have been married for almost nine years. We have two children – Jarome, 16 and Charli, seven. We also have a beautiful moko, Maleia-Rose."
And her dream job? " I would love to have my own practice, and offer a range of holistic therapies, workshops and advocacy support with a community hub for people to share resources and knowledge."