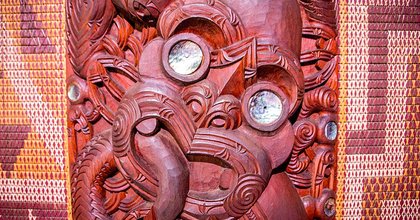 Te Rau Puawai is one of the most successful academic support programmes in the country. Over the last 20 years it has helped more than 400 health workers into the Māori mental health workforce.
The programme is a partnership between Health Workforce NZ and Massey University. It gives bursaries and learning support to students who want to begin or complete a Massey University qualification in the areas of:
psychology
nursing
rehabilitation
social work
social policy
Māori health
Māori studies
health science.
Te Rau Puawai students can study any combination of courses in these areas. For example, a Bachelor of Social Work could also include courses in psychology, social policy, economics, human development and Māori studies. This can be at any level – undergraduate, postgraduate, or doctoral.
We expect that Te Rau Puawai students will contribute towards improving Māori mental health by gaining employment in a relevant field after graduation. To help you get there, we offer a mentoring programme, a full-time administrator and academic coordinator, academic mentors, and academic tutors who all provide advice and general learning support.
How Te Rau Puawai works
Te Rau Puawai does not deliver any courses – instead, it provides you with a scholarship and learning support. You'll get:
contributions to cover your fees and travel costs (paid directly to the university)
an academic mentor
an academic support tutor
individual learning and personal support
help with course planning
an essay writing and study skills workshop
access to Māori community and student networks
visits from our team to your home or workplace
access to Te Rau Puawai whānau – a network of students from Kaitaia to Invercargill, at all levels in Māori mental health-related areas
access to a computer, printer and the internet at the Manawatū (Palmerston North) campus.
Students who are part of Te Rau Puawai must:
complete their courses through Massey University
attend classes, contact workshops and exams
attend Te Rau Puawai conferences and seminars
maintain regular contact with the Te Rau Puawai support team
focus their studies and employment in the area of Māori mental health
tell Te Rau Puawai staff and lecturers about any challenges that may affect their study progress
display leadership and act as role models
create a profile for inclusion in our annual publication, Kia Ora.
Reimbursements for costs
Students who need to be reimbursed for costs related to course fees or travel will need to complete a reimbursement form. Reimbursement forms are available on request by emailing teraupuawai@massey.ac.nz.
Where you can study
To be part of Te Rau Puawai, you must be studying at Massey. You can study in person at one of our three campuses, or online as a distance student.
If you choose to study by distance you may need to attend on-campus course workshops once or twice a semester, for one or two days. It may also be possible to attend an on-campus course workshop at Auckland or Christchurch.
For other courses, even if attendance is voluntary, we may ask you to attend a course workshop to help you improve your academic performance.
Time commitment
You can study anything between one course per year to eight courses per year. Eight courses per year is considered a full-time study load. The average part-time study load is two to three courses per year.
Each course at Massey has a credit "value". If a course is worth 15 credits, then you'll need to allocate 15 hours of study per week for that course. If a course is worth 30 credits, then you should allocate 30 hours, and so on.
You'll need to work out how much study you can take on, on top of your other commitments. If you decide to study full-time we recommend you don't try to work full-time as well. 
You can change your study load at any time – for example, you can change from part-time study to full-time, or vice versa.
Contact us
Contact the the administration team at teraupuawai@massey.ac.nz if you have any questions about the programme, or about your studies.
Byron Perkins
Te Rau Puawai Academic Coordinator, Office of the Deputy Vice-Chancellor Māori
Robyn Richardson
Te Rau Puawai Administrative Coordinator, Office of the Deputy Vice-Chancellor Māori
Robyn is currently away on extended leave until Monday 10 January 2022. In her absence, you can contact the administration team at teraupuawai@massey.ac.nz.