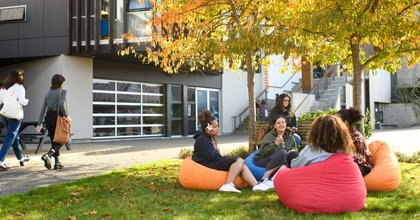 What is Green Impact?
Green Impact raises awareness of sustainability within an organisation by giving staff and students a focused and supported approach to making simple, positive, and effective changes to the workplace and our environment.
Green Impact is an opportunity for staff and students at Massey – many of whom have already been contributing towards green initiatives for many years – to connect with others, work alongside teams across the university, and get recognition for their achievements through the programme.
While the university focuses on institutional-wide challenges such the Climate Action Plan, Carbon Reporting and Sustainability Policies and Practices, staff and students can act on some of the issues we see every day.
Sustainability policies and practices
This programme is delivered in New Zealand and Australia by Australasian Campuses Towards Sustainability (ACTS) and is being implemented by over 400 organisations worldwide.
How does Green Impact work?
Massey staff and students can take part by completing sustainability-related actions in our personalised online toolkit. Green Impact teams may be composed of members from a department/ team/ office/ laboratory/ floor of a building – whatever suits you. Actions are assigned different points, depending on their impact and difficulty. These points equate to different levels of understanding:
Kua kitea – I see it!
Kua mārama – I understand!
Kua mōhio – I know what to do!
Kua mātau – I am enlightened!
At the end of the year once the toolkit has closed and been audited, teams will gather to celebrate and receive recognition for their mahi.
Will Green Impact be a lot of work?
No! You can really spend as little as half an hour a week doing it. You'll have 5 months to complete the actions and there will be lots of support available. If it's too much, you can do just a few actions this year; any actions completed will positively impact our university and the planet.
Why should I get involved?
Green Impact is easy, free, fun and rewarding. By participating you'll get to:
make your workplace a more enjoyable and efficient place
connect with new people from within and outside of Massey
learn about social, health and environmental issues and make a real impact
access a whole toolkit of sustainability ideas for your team
be recognised for positive actions you are doing already!
Getting started
2
Encourage colleagues to join your team
3
Explore and start completing actions from the toolkit!
Support
Charlie Potter
Sustainability Policy and Comms Coordinator
Direct line

Department

Sustainability, Policy & Comms

Campus

Wellington campus
Green Impact teams will receive regular communication from Charlie through the year and can contact her throughout the process with any questions.
Join the Massey Teams site for ongoing support, chat and resources:
ACTS also hold several online Green Impact sessions throughout the year.
DVC University Services, Shelley Turner, on Green Impact for Massey
Green Impact at Massey Launch Webinar