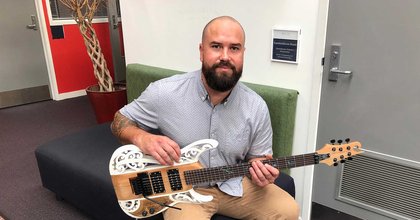 Those weighing up a career in engineering often face two pathway choices – a hands-on apprenticeship or an academic degree. Sean Rasmussen has proven you can have both.
Sean went straight from Gisborne Boys' High School to the NZ Welding School. He then went on to an apprenticeship and into work as a fabricator both here and in Australia. But on his return to New Zealand, the opportunity to work at Massey University as the technical services manager opened up, and the opportunity to also study for a degree.
"Not that there's anything wrong with being on the tools, but I just wanted a change and I've always been someone who is a continuous learner. Even when I was doing my apprenticeship, doing night school and stuff, I always thought I would take a back road and someday end up with an engineering degree. I didn't know it would be in mechatronics though."
Sean decided to study part-time for a Bachelor of Engineering with Honours majoring in mechatronics while working at Massey's School of Food and Advanced Technology on Massey's Auckland campus.
"It's good because when I do the project papers myself I can see where improvements can be made in the technical aspects and also give feedback from a student perspective."
He says the future opportunities engineering offers are boundless, especially working with hi-tech robots and artificial intelligence.
"There's a vibe that robots and artificial intelligence are taking peoples jobs and that's true to an extent, but they're also creating new jobs and a whole new type of workforce which is just going to transform what people do in the future."
Sean also enjoys the challenge of ergonomic design and the chance to see it put to good use and help people.
"We do a lot of projects with people, such as with those with cerebral palsy, to make their lives a bit easier. I do enjoy that side of it and coming up with simple ideas and solutions. A former student and staff member is now involved with Engineers Without Borders so being a bit like 'MacGyver' turning local materials into something that will help people's daily lives in poor communities."
Another exciting project came with a call from his cousin to go to Samoa to build the ceremonial cauldron for the 2019 Pacific Games.
We had two and half weeks before the games opened and they hadn't started and didn't know how to build it – so it was an interesting challenge.
Sean says it was amazing to see it light up at the opening ceremony. The locals were so appreciative to have a Samoan build it in Samoa. "That hadn't been done before so it was a very special feeling."
Of both Samoan and Māori descent, Sean is puzzled why so few Māori and Pacific people pursue engineering careers.
"I know so many people who are really intuitive and they can make something out of nothing but I think it's the academic side which scares people off – people see the maths and the physics and go – oh I can't be bothered with that."
He says that's one area where Massey has been a great help to him.
"I had to come back to academia 10 years after leaving high school which meant having to go back into this quite complex maths and physics, but Massey helped me through it and gave me the one-on-one support I needed."
Sean's advice is not to get hung up on the idea of academia.
"You can be the arty guy – the practical guy and the academic guy – it's just where you apply yourself really. I'm lucky to be able to balance those things."