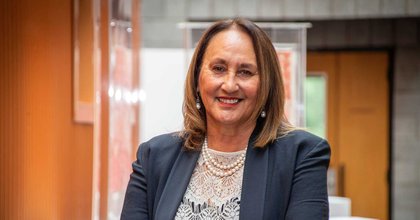 Tohua he reo hei panui i tenei
,
Choose a language to read this in
I haere mai a Ahorangi Huia Tomlins-Jahnke ki Te Kunenga ki Pūrehuroa i te tau 1991, ki te whakaoti i tana tohu paetahi i te mātauranga. I te wā i whakatau ia kia noho mai, i ui ia i te pātai ki a ia anō:
"Mēnā kei te mahi ahau ki ngā wānanga, ka pēhea e whai hua ai aku ake uri?"
I tana umanga tuatahi hei kaiako kura tuatahi i te tonga o Tāmaki Makaurau i nui ana wheako ki ngā āputa o te mātauranga mō Ngāi Māori me ngā uri nō Te Moana-nui a Kiwa – ā, koia tētahi wāhanga o tana whakautu:
"I whakaakona ahau kia whakapono ko ngā kaiako te pūtahi o ngā mātauraga katoa, ā, ko ngā tauira ngā kairiro. Heoi i makere tērā whakaaro i te wā i tīmata ahau ki te whakaako i te tonga o Tāmakai Makaurau, i tūtaki ahau ki ētahi tamariki i whakaatu mai i te ao o Poronīhia, me ngā moutere o Te Moana-nui a Kiwa, he tamariki whai pūkenga nō ō rātau ake whenua kāore au i mōhio. Waihoki, he reo rua rātau. Kotahi anake taku reo. I whai pānga nui ngā tamariki nei me ō rātau whānau ki ahau, i tipu i konei taku mātāpono whakaako, ako hoki – i whakaako mai rātau i te uara o te mātauranga o ngā tamariki me ō rātau whānau i roto i te ao mātauranga me ngā kura ako."
Ko te mātāpono nei ka noho hei tūāpapa mō te umanga o Ahorangi Tomlins-Jahnke. I tū ia hei Ahorangi Tūhono i te Mātauranga Māori, iwi-taketake hoki i te tau 2006, ko ia hoki te Upoko o Te Uru Māraurau i te tau 2011. Kua rangahaua whānuitia e ia ngā kaupapa pēnei i te mātauranga whakawhitiwhiti kōrero ā-whānau, te mana wahine, te whakawhanake hoki i ngā hapū me ngā iwi.
Kua whakamahi mai a Ahorangi Tomlins-Jahnke i ngā kitenga o ana rangahau ki te waihanga marautanga, tohu hoki mā ngā tauira i Te Kunenga ki Pūrehuroa. I te tau 1999, i tana kite ake ko ngā ritenga rangahau Pākehā i whakaakona ki a ia kāore i whakaae kia pātai ai ia i ngā pātai mō te iwi Māori me ō rātau hapori, i whakawhanake ia i ngā marautanga tohu paetahi me te tohu paerua tuatahi mō ngā ritenga rangahau Māori.
"Ko te anga rangahau o tauiwi ka whakangungu i a koe kia tawhiti ai koe i tō kaupapa, kia whai meka. Ko aku rangahautanga ki te whakawhanake i ngā iwi me ngā hapū, hei tauira, i kīia he taupatupatu, ā, i reira te pōhēhē kāore ahau e titiro meka atu ki aku rangahau me aku tātaritanga. Heoi mō Māori, ko te tikanga rangahau whānau, iwi, hapū Māori he rerekē – ko te āhei, ko te mōhio ki ngā horopaki rawa-tōrangapū kia taea ai te tātari motuhenga me te whakawā mā te tirohanga Māori. I whakaaro ahau me mātua whakangungu i ngā tauira Māori ki ēnei tukanga."
Inā tata nei kua ārahi ia i te whakawhanaketanga o ētahi kaupapa whakaako kaiako, ā, ko te kaupapa Māori kei tōna pūtake. Ko Te Aho Tātairangi me Te Aho Paerewa ka whakarite i ngā tauira mō ō rātau umanga whakaako i ngā pūnaha Kura Kaupapa Māori. I toko ake te whakaaro mō ēnei kaupapa ki a Ahorangi Tomlins-Jahnke i te wā i kī tētahi tira kaiārahi kaiako kura me whakangungu anō i ngā kaiako nō ngā kura mātauranga o tauiwi – ko ngā akoranga o ngā tauira i ēnei tohu kāore i hāngai ki ngā Kura Kaupapa Māori. Me whai wāhi ki ngā tohu nei ko ngā mātauranga me ngā wheako o ngā kaiako Kura, me te mātāpono o Te Aho Matua ka whāia e rātau – nā tēnei i mahi tahi a Ahorangi Tomlins-Jahnke me Te Rūnanga Nui o ngā Kura Kaupapa Māori ki te whakawhanake, ki te waihanga ngātahi me te whakaako i te kaupapa.
"Kāore mātau i hiahia i tētahi kape Māori o te kaupapa whakaako kaiako auraki – i te waihanga mātau i tētahi mea hou, tētahi mea whakatipu, ā, me whai wāhi ko ngā kāmura o te pūnaha Kura Kaupapa Māori."
Hei te tau 2022, ka whai a Ahorangi Tomlins-Jahnke i te karahipi Fullbright ki Amerika. Ka rangahau ia i ngā whakautu a ngā whare wānanga ki ngā wawata o ngā hapori iwi-taketake nō Amerika, ka whai wāhi tonu ōna pūkenga mātauranga ki te āki i ngā panonitanga mō ngā iwi-taketake.
Professor Huia Tomlins-Jahnke came to Massey in 1991, to finish her Bachelor degree in Education. When she decided she was here to stay, she asked herself a question:
"If I'm going to work in tertiary education, how do I make that count for my own people?"
Her first career, as a primary school teacher in south Auckland, had given her plenty of opportunities to see where education wasn't working for Māori and Pacific children – and it had also suggested part of the answer:
"I'd been trained to believe that we teachers were the font of all knowledge and the children we taught were receptacles. But that notion fell apart when I started teaching in South Auckland, and met children who introduced me to their world of Polynesia and the islands of the Pacific, children who could do things from their homelands that I had no skills to do. And what's more, they were bilingual. I was a monoglot.

These children and their whānau had a profound impact on me and shaped my philosophy of teaching and learning – they taught me to understand the value of the knowledge that children and their families bring to education and schooling."
This philosophy has underpinned Professor Tomlins-Jahnke's academic career in education. She became Associate Professor of Māori and Indigenous Education in 2006, and Head of Te Uru Māraurau, the School of Māori and Multicultural Education, in 2011. She has researched widely, on subjects from Māori education to intra-whānau communication, to mana wāhine [Māori women's discourses] and hapu and iwi development.
Professor Tomlins-Jahnke has drawn on the insights of this research to create innovative courses and qualifications for Massey's students. In 1999, finding that the Western research methods she had been trained in couldn't accommodate the questions she wanted to ask about Maori people and their communities, she developed the country's first undergraduate and postgraduate courses in Māori research methods.
"The Western model of research trains you to keep a distance from your subject, to maintain objectivity. A lot of my research into tribal and hapu development, for example, was considered a conflict of interest, and there was an assumption that I wouldn't bring an objective view to my research and analysis.

But for Māori, the tikanga, or ethicality of researching whānau, iwi and hapu is different – it's about access, knowing the socio-political context so you can apply an authentic analysis and critique through a Maori lens. I thought it was important that Maori students in particular should be trained in these methods."
More recently, she has led the development of two teacher training programmes with transformative kaupapa Māori aspirations at their core. Te Aho Tātairangi and Te Aho Paerewa prepare students for careers as teachers in the Kura Kaupapa Māori system of education.
The idea of co-constructing the programmes came to Professor Tomlins-Jahnke when a group of Kura headteachers told her that they had to retrain all the teachers who came to them from colleges of education – what students learned on their degrees wasn't relevant in the Māori-medium sector.
The new qualifications needed to incorporate the knowledge and experience of Kura educators and the Te Aho Matua philosophy they embraced – so Professor Tomlins-Jahnke partnered with Te Runanga Nui o ngā Kura Kaupapa Māori to develop, co-construct and teach the programmes.
"We didn't want a Māori-language version of a mainstream teacher training programme – we were creating something new, something transformative and we needed the architects of the kura kaupapa Māori system involved."
In 2022, Professor Tomlins-Jahnke will take up a Fulbright scholarship in the United States. Studying how universities respond to the aspirations of Native American communities, she'll continue to make her scholarly expertise count in driving transformative change for indigenous people.

Read Professor Huia Tomlins-Jahnke's academic profile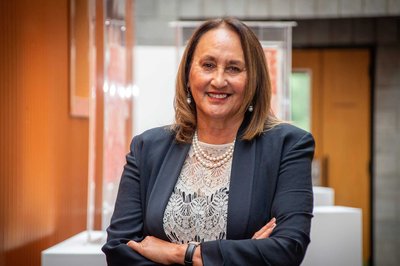 Professor Huia Tomlins-Jahnke
Ngāti Kahungunu, Ngāti Toa Rangatira, Ngāi Tahu, Ngāti Hine
PhD, MEd, BEd
Professor of Māori and Indigenous Education, Te Uru Māraurau School of Māori and Multicultural Education, Te Pūtahi-a-Toi, Manawatū campus