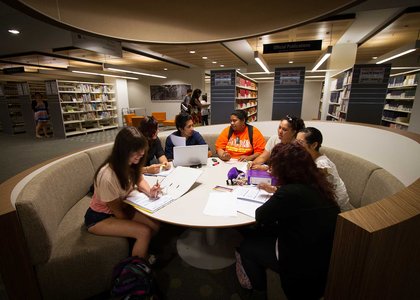 On this page
Pacific Learning Advisors
There are Pacific Learning Advisors based on each campus – Auckland, Wellington and Manawatū (in Palmerston North) – and for distance students.
The learning advisors are the people to see about all study-related issues, questions and problems. They are based in the National Centre for Teaching and Learning (NCTL) on each campus. These centres have a range of learning development services and resources to help with your study.
The Pacific Learning Advisors offer:
Pacific orientation, graduation and other events information
help to find tools for your study
resources to help with your assignments, your writing and using Stream
face-to-face meetings and support on-campus, or virtual meetings for distance students
assignment extension guidance and help
family bereavement support if you can't meet your assignment deadline or attend your exam
advice and support if you are feeling stressed about your study.
In-College support
Massey University has Pacific staff, including Pacific advisors, deans and tutors, based in a number of colleges.
Our staff at Pacific Student Success, Office of the Provost, can assist you to find in-college support if you need it.
Find the person you need to talk to in the Pacific Student Success team
Pacific Student Teaching Support
The Pacific Student Teaching Support (PSTS) is a tutoring programme to help Pacific students build confidence to understand their course materials and in their grade performance.
PSTS tutors have course-based content knowledge and close working relationships with Massey course lecturers, for the benefits of our students. They tutor undergraduate papers under the supervision of the Pacific Student Success office.
Our PSTS tutors:
provide advice on study preparation
help students understand lecturer expectations with assignment tasks and exam questions
are familiar with the courses they tutor and will advise the best practise for study and time management
work with Pacific students to build understanding of course concepts for both internal assessment and exams
provide tutorials in both a face-to-face and online learning environment.
There is no expectation that the tutors selected for this programme are from the Pacific – these roles are available for students of any ethnicity who wish to work with Pacific students.
To apply for teaching support, or to become a tutor for this programme, you should contact the college-based Pacific Student Advisors listed below.
College of Health
Andrea Meni
Phone: +64 6 356 9099 extension 84574
Email: A.Meni@massey.ac.nz
College of Science
Velonika Nikki Falaniko
Phone: +64 21 36882 or extension 43882
Email: v.falaniko@massey.ac.nz
Massey Business School
Vika Namoa
Phone: +64 9 213 6304
Email: V.Namoa@massey.ac.nz
College of Humanities and Social Sciences
Kotalo Leau (Psychology courses)
Phone: +64 9 213 6113
Email: K.Leau@massey.ac.nz
Toi Rauwhārangi College of Creative Arts
Alister Lavini
Phone: +64 6 951 9261
Email: A.p.Lavini@massey.ac.nz
Pacific Librarian
The Massey University libraries are your best resources for study. The Pacific Librarian can help with your research, from looking for journal articles to finding a quiet space where you can study.
The librarian can also provide information about the workshops and support provided to Pacific students within Massey's libraries.
The Pacific Librarian is based at the Auckland campus but can be contacted by Pacific students across all campuses and by distance students.
Contact the Pacific Librarian
Eirenei Taua'i
Phone: +64 921 36465
Email: E.Taua'i@massey.ac.nz
Library use for distance students
Massey distance students have access to the Massey libraries and can also contact the Pacific Librarian with any questions.
Distance students can borrow books (by having them couriered to their house) by logging in to My Library using their Massey login details.
When you have finished with the books, you can courier them back to the library for free using a sticker that will be sent together with your books, and by turning the courier bag inside-out to reuse.
Pasifika library research collection
Massey's Auckland Campus library has a Pasifika research collection for you to use. This is located on Level 3 of the library and includes books, print journals and audio visual material. The books can be identified by the frangipani label on the spines.
Learn more about the Massey libraries
Find more about the Massey University libraries, where they are and opening hours
Massey Academic Advisors
The Massey Academic Advice team can help you to connect with support services at Massey that will help you with your study. They also hold drop-in sessions for students who are looking for help, guidance and planning with their course.
Find out how the Academic Advice team can support you with your study
Computer software
If you have just bought a new computer or laptop for your studies and are unable to buy the software you need, we can help to provide this free of charge.
If you need help with finding or selecting your software, contact our Pacific Learning Advisors team.
Go to the Office 365 page to download software you need or find more information
Pacific Stream
Stream is Massey University's student intranet system, where all information about the courses you enrolled in can be found. You will receive login details once you have enrolled. Your assignments will also be submitted through Stream.
Within Stream, you will find a Pacific page. This is where our Pacific students can access support and information, or post a question on the discussion forum for one of our Pacific Learning Advisors to answer.
Online Writing and Learning Link
The Massey University Online Writing and Learning Link (OWLL) is where you can find online information, tools and resources to help you with your academic writing for your assignments. You can also talk to the Pacific Learning Advisors team for help and advice about your writing.
Go to the Massey University Online Writing and Learning Link (OWLL)
Massey College of Creative Arts Toi Rauwhārangi
Toi Rauwhārangi is dedicated to fostering and empowering Pacific students.
Find out more about the college, and the Pacific support available on the Massey University College of Creative Arts Toi Rauwhārangi website.
NIUPATCH
NIUPATCH stands for Navigate In Unity: Pacific Approaches to Community-Humanitarianism. It shines the light on how Pacific diasporic communities throughout Aotearoa/New Zealand and abroad respond to disaster and humanitarian challenges. We do this through the exchange of practice, ideas, projects and research.
As a central village of Pacific research, practice and innovation in Massey University's School of Psychology, NIUPATCH is the Pacific-arm of Joint Centre for Disaster Research (JCDR), Health and Ageing Team (HART) and Ending Poverty and Inequality Cluster (EPIC).