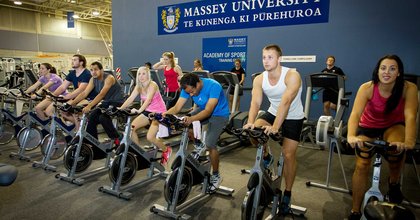 Members and casual users have access to modern cardiovascular and weight machines and equipment, a group fitness studio and a team of qualified fitness instructors. The recreation centre also has an on-site physiotherapy clinic and a café.
Health and fitness studio
The Auckland health and fitness studio is fully equipped to be a leader in the industry. The generous space includes computerised cardiovascular training equipment, weights and functional training areas.
Cardiovascular fitness equipment includes:
treadmills
cross trainers
steppers
upright and recumbent bicycles
concept II rowers.
Weights equipment includes:
cable machines
pin-loaded weights
plate loaded weights
free-weight training area.
The health and fitness studio has a team of qualified fitness instructors. They can help with your fitness goals by performing fitness appraisals and designing exercise programmes that are exciting, challenging and fun. Fitness programmes are included in your membership fees.
To get your fitness programme, book in a suitable time at reception.
For more information about personal training services at Massey University's Auckland Recreation Centre, see the Personal trainers at Auckland Recreation Centre
Group fitness studio
The group fitness studio at the Auckland Recreation Centre is used for a weekly schedule of group fitness classes and yoga, led by qualified instructors.
Each class is an hour long and bookings are not required.
Most scheduled classes are free for gym members and Massey University students to attend, while some incur an extra charge.
To find out more, see the Timetable for fitness classes for Auckland Recreation Centre
The studio is also used for Massey student club events and dance classes.
Physiotherapy
Back In Motion Physiotherapy is based at the Auckland Recreation Centre.
Services include treatment for:
back and neck pain
sporting injuries
workplace injuries
headache and migraine treatment
post-surgery rehabilitation
Back in Motion also offers tailored clinical pilates programmes, and exercise and rehabilitation sessions.
Back in Motion Physiotherapy services are not included in recreation centre membership fees. Appointments may be made by members and by the public.
Back in Motion Physiotherapy hours:
Monday – Wednesday , 10.00am–5.30pm
Thursday 7.00am–4.00pm
Friday 10.00am–5.30pm
Phone: +64 9 414 6972
Get more information and booking forms on Motion Health's website.
Scholars Café
Scholars Café is located inside the Auckland Recreation Centre. It is open to all students, staff and members of the public.
The café offers freshly roasted coffee, and a full breakfast and lunch menu featuring hot foods, salads, gourmet sandwiches, fresh muffins and slices as well as juices, smoothies, sports drinks and protein shakes.
With plenty of outdoor seating, it is an ideal place to relax and unwind. Scholars Café also offers catering on request.
Cafe hours:
Monday – Friday 7.00am–4.00pm
Contact Scholars Café:
Phone: +64 9 415 6485 or + 64 21 0233 0400
Cricket Centre
The Massey University Cricket Centre is located inside the Auckland Recreation Centre.
It has three lanes and a bowling machine. The cricket centre is managed by the Takapuna Cricket Club.
Massey University Cricket Centre hours:
Monday – Thursday 6.00am–9.30pm
Friday 6.00am–8.30pm
Saturday 9.00am–4.30pm
Sunday 9.00am–3.30pm
Public holidays – closed
Get more information about facilities and how to book
Sports hall
Auckland Recreation Centre members also have access to the Massey sports hall
The modern, well-equipped sports hall is used for a range of indoor sports, social sports leagues and clubs, and events.
Recreation centre hours
The Auckland Recreation Centre opening hours are:
Monday – Thursday 6.00am–10.00pm
Friday 6.00am–9.00pm
Saturday 8.00am–5.00pm
Sunday 9.00am–4.00pm
Public holidays – closed.
All activity areas close 15 minutes before the stated closing times.
Facebook page