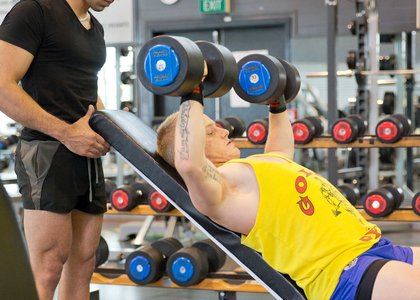 Personal training
We offer a full range of personal training and team options at the Massey Sport and Recreation Centre on our Manawatū campus. Our trainers have knowledge and skills in areas such as:
nutrition
exercise physiology
training programmes
assessments.
Things you can get help with include:
personal health and fitness goals of any level
preparing for a sports event
managing stress
improving flexibility
weight loss
developing speed, improving performance or other goals
simply feeling good again.
Contact a personal trainer directly to discuss pricing schedules and your needs. Personal training is not included in your membership fees.
Personal trainer profiles
Read our trainers' profiles to see who you might like to work with and contact them to get started.
Georgia Duck
Personal Trainer, Massey Sport and Recreation Centre
Georgia completed an Exercise and Sport Performance Certificate in 2014, then added on extra papers over 2015 and 2016 to expand her knowledge of personal training. In 2020 Georgia completed a Nutrition Diploma to nicely complement her PT Certificate.

Georgia takes a holistic approach to training by ensuring all aspects of life are well balanced and healthy, while giving clients the tools and motivation to achieve their goals.
Campbell Crawford
Personal trainer, Massey Sport and Recreation Centre
Email
Phone or text
Instagram
Campbell is skilled in a range of exercise styles and will help give you the confidence and knowledge to be successful in the gym environment.
Specialisations
Campbell graduated in 2021 with a Bachelor's degree in Sport & Exercise Science (majoring in Exercise Prescription and Training) from Massey University. His training philosophy is that progression comes from purpose, motivation, and sheer enjoyment.
Throughout his study, Campbell worked with a variety of clients with differing needs and goals, including sport-specific improvement, strength training, weight loss and rehabilitation. Helping clients to achieve their goals and being part of their journey brings the greatest enjoyment to Campbell as a personal trainer.
Achilles Papadopoulos
Personal trainer, Massey Sport and Recreation Centre
Email
Phone or text
Instagram
Achilles graduated in 2021 from Massey University with a Bachelor's degree in Sport and Exercise, majoring in Exercise Prescription and Training. During his time at Massey, Achilles worked with a range of people, all with different goals and requirements. Ranging from football teams, to those looking to gain muscle size or get in shape, rehabilitate an injury and clients who have existing medical conditions.
Achilles' method of training stems from his belief that each client should have some type of personal connection with their trainer and get along well together. He believes that comfortability and enjoyment will nurture and promote focus, motivation and in turn, success.
Contact reception
Massey Sport and Recreation Centre, Manawatū (Palmerston North) campus
Hours
Monday to Friday, 6am to 9pm; Weekends 9am to 4pm (Semester One and Semester Two)
Monday to Friday, 6am to 9pm; Weekends 8am to 4pm (Summer hours)
Location
Orchard Road
Massey University
Palmerston North
New Zealand 4442