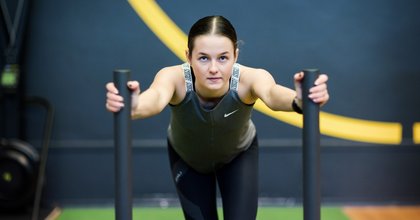 Velocity Five-0 is a four-week course of high-intensity training at Massey Sport and Recreation Centre in Palmerston North — offering a variety of sessions, the support of personal trainers, Myzone heart rate monitoring, and a focus on effort not your fitness level.
Classes are limited to just five people and are 50 minutes of high-intensity exercises designed to help you meet your personal fitness goals. You can choose to do one or two sessions each week.
Each session is designed and led by a qualified personal trainer. Your programme also changes every week.
Sessions
Tabata
A circuit-based session where participants exercise then rest for specific timeframes. Perform as many repetitions as you can in the allocated time before you move on to the next exercise.
Murder Board
Complete exercises from the board over a 50-minute period. Once you're done with each exercise, you can wipe it off the board.
Pyramid
A session of descending and ascending repetitions. Work your way through each round of repetitions to complete the session and beat the pyramid!
The Fifty
A wide range of exercise modalities (methods and equipment) to make up 50 in total: think 50 repetitions, 50 sets, 50 calories, 50 seconds — even 50 exercises. If it has something to do with 50 you can find it in this session.
Training approach and Myzone tracking
Velocity Five-0 is Myzone heart rate monitoring-supported training.
Your heart rate intensity and effort is wirelessly projected onto a television screen. You can compare and compete with your group during each session and throughout the course.
Velocity Five-0 focuses on effort, not fitness.
Myzone points system rewards your personal effort based on your metrics.
You can go as easy or as hard as you want.
Trainers can also adapt exercises to suit your needs. If you have a knee injury, for instance, talk to your trainer.
Prices
You need to pay for Velocity Five-0 separately from your gym membership if you have one. Prices are:
$60 for four weeks at one session per week
$100 for four weeks at two sessions per week
Courses and sessions are non-refundable if you don't attend.
All sessions must also be used within the allocated course block. If you are unable to attend your regular session for a given week, you can only request a different session within the same week.
We will send you payment details once your registration is complete.
Timetable and start dates
Course start and registration dates
Course dates and registration cut-offs for 2022 are as follows:
Round 1: 8th February – 4th March
Round 2: 14th March – 8th April
Round 3: 26th April – 20th May
Round 4: 30th May – 24th June
Round 5: 4th July – 29th July
Round 6: 8th August - 2nd September
Round 7: 12th September – 7th October
Round 8: 17th October – 11th November
Round 9: 21st November - 16th December

Velocity Five-0 registration form
Timetable
Timetable for Velocity Five-0 classes.
| Day | 6.10am | 12.10pm | 5.30pm |
| --- | --- | --- | --- |
| Monday | Velocity Five-0 | | Velocity Five-0 |
| Tuesday | Velocity Five-0 | Velocity Five-0 | |
| Wednesday | | | Velocity Five-0 |
| Thursday | Velocity Five-0 | Velocity Five-0 | |
| Friday | Velocity Five-0 | | |
If a course starts with no registered attendees, we reserve the right to remove the session for the remainder of the course.
More information
Get more information about Velocity Five-0 sessions:
Contact the office
Massey Sport and Recreation Centre, Manawatū (Palmerston North) campus
Hours
Monday to Friday, 7am to 12pm (Holiday period hours) - effective 20 to 24 December 2021 and Wednesday 29 to Friday 31 December 2021. Closed 25 to 28 December 2021 and 1 to 4 January 2022
Monday to Friday, 6am to 8pm; Weekends 8am to 4pm (Summer hours) - effective as of Wednesday 5 January 2022
Monday to Friday, 6am to 9pm; Weekends 9am to 4pm (Semester One and Semester Two)
Location
Orchard Road
Massey University
Palmerston North
New Zealand 4442
View maps to locate buildings, bus stops, cycle and car parks. Find out about parking regulations and permits, and bus cards (Bee Cards).