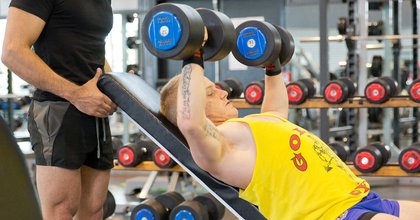 How to Gym training
Build your confidence at the gym. Ideal for beginners, when you sign up to the Massey University gym in Wellington you can get 12 free sessions with a trainer.
The How to Gym training programme aims to give you the skills and confidence you need to thrive in your workouts. Over 12 sessions you will learn a range of core gym movements and principles.
Your trainer will work with you to understand what your goals are and base the sessions around what will be useful to you.
What to expect
30 minute work outs
Trainer support at every session
A mixture of solo training sessions and small group sessions with others at your level
Sign up for How to Gym
Visit the Massey University Gym in Wellington to book your first session, or call +64 4 801 2545 to find a time that suits you.
Group Training
Find motivation and community with group training sessions at the Massey University Gym in Wellington.
Group Training is included in your membership fees, there's no extra charge.
Class details
4 times a day from Monday to Friday
40 minute training coached by the Massey University Gym team
Dedicated training room with state-of-the-art exercise equipment
Group training is included in your Massey University Gym membership
Group Training times
Monday to Friday: 8.00am, 12.00pm, 4.00pm & 6.00pm
Booking
Classes are open to anyone with a gym membership, but they sometimes fill up. If you want to guarantee a place call +64 4 979 3788.
Daily focus
Each day the group training workout has a different focus so that by the end of the week you've worked your whole body.
Monday: Legs
Strengthen and tone your lower body.
Tuesday: Low impact cardio
Work on cardio fitness while looking after your joints.
Wednesday: Core
Improve the stability and strength of your midsection.
Thursday: Arms + upper body
Focus on your upper body.
Friday: High intensity cardio
Push your body to the limit.
These sessions are only available with a Massey University Gym membership.
Yoga classes
Yoga classes for 2021 have now ended. If you'd like to be put on the contact list for the 2022 yoga classes, please email your name and contact details to d.driscole@massey.ac.nz.
Yoga classes at the Massey University Gym in Wellington are open to students, staff members and the community. They are suitable for people at all skill levels, from beginners through to experienced practitioners. 
Class details
Two classes a week on Tuesday and Thursday
Mats, blocks, and straps are provided
Non-gym members are welcome
Yoga classes are included in the Massey University Gym membership
Yoga class times
Tuesday and Thursday: 11.00am to 12.00pm
Yoga class prices
Yoga classes are included in the Massey University Gym membership. If you don't have a gym membership, check out your options. 
Tertiary student
Single class: $5
10 visit pass: $45
Non-student
Single class: $8
10 visit pass: $70
What to expect
The first two classes of the month cover the basics of yoga. These classes are a great place for absolute beginners to start as they lay the foundations for yoga practice.
Over the month the yoga classes become more physically and technically challenging as your practice grows. 
If you have done yoga before, or are reasonably fit with a good level of body awareness you can join the class at any stage of the month.
If you have significant injuries, health issues or you're pregnant, get in touch and we can discuss how to make yoga classes work for you.
Massey University Gym, Wellington
Hours
Monday to Friday, 6am to 9pm
Saturday and Sunday, 9am to 5pm
Email
Phone
Massey internal extension
Location
Building T32, Gate C,
1 Wallace Street, Mt Cook