The Zero Waste Academy (ZWA) aims to make it easier for academic staff to work on Palmerston North City Council (PNCC)'s Waste Minimisation and Management Plan (WMMP) and with the wider New Zealand waste and recycling industry.
ZWA was started in 2002 by:
Zero Waste New Zealand Trust
Massey University
Palmerston North City Council (PNCC).
What zero waste is
Waste is what's left when we have finished producing or using something. Taking a zero waste approach means treating what we currently call waste as a resource, instead of throwing it away, destroying or ignoring it. We can conserve waste, use it efficiently and recycle it back into the economy.
Zero waste is:
the sustainable management of resources throughout the full lifecycle of human activities
a key part of sustainability
a powerful way to cut energy and water usage, greenhouse gas (GHG) emissions, pollution and loss of bio-diversity
a support to employment, business innovation and the economy.
Zero waste involves:
a shift in how we think about and carry out production, consumption and economics
inspiring and empowering communities
innovative and effective recycling technologies
applying proven economic tools to give power producers and consumers
government making sure producers and consumers share responsibility for using resources in a circular economy.
What Zero Waste Academy does
The Zero Waste Academy (ZWA):
carries out research
offers consultancy and advice to industry and local communities
trains organisations and workers within the recycling industry
works with Palmerston North City Council to improve the city's waste management and recycling
teaches sustainability at Massey
works to make Massey University more sustainable, including waste minimisation, recycling and reuse.
ZWA expertise includes:
organics recycling and composting
litter monitoring and management
recycling and general waste
waste electrical and electronic equipment (WEEE)
resource recovery
product stewardship.
Zero Waste Academy projects
ZWA's work with Palmerston North City Council involves supervising Massey students working on research areas provided by PNCC.
Past projects include:
an INR summer scholarship project on recycling in rural and remote areas
providing the business model, operational analysis and technology appraisal for Palmerston North's 'organic recycling' master planning project
completing case studies of nine special waste types to help local communities manage waste
surveying users at the Fergusson St recycling depot
designing a project to promote recycling behaviour change
auditing waste and resource use in the business and commercial sector in PNCC's 'Sustainable City' project.
The Zero Waste Academy has also worked on projects with other partners, including:
Waste Management Institute of New Zealand (WasteMINZ) and CompostNZ – developing the 'Tool Kit for NZS4454: 2005 – The New Zealand Standard for Composts, Soil Conditioners and Mulches (2007)'
the Green Hub, supported by the Glass Packaging Forum, on the Glass Vac project on broken glass litter
eDay NZ – writing part of the 'eWaste in New Zealand 5 yrs on' 2011 report
Envision NZ – developing the 'Resource Recovery and Solid Waste Industry Training Implementation Plan (2009)
Waste Watchers Ltd – developing the 'Enabling Product Stewardship in Local Communities' report
Location and contacts
ZWA is on Massey's Manawatū campus in Palmerston North, in the School of Agriculture and Environment.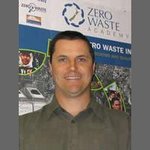 Jonathon Hannon
Zero Waste Coordinator
Phone