Botanical name: Lamium purpureum
Family name: Lamiaceae
Overview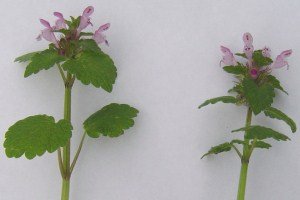 Red dead-nettle is a relatively small annual weed found in gardens and crops in most parts of New Zealand. It can grow throughout the year though is found more commonly at cooler times of the year.
It doesn't sting people despite having the word "nettle" within its name, which presumably comes from the leaves looking vaguely similar to nettle if looked at from a distance with poor eye-sight. Red dead-nettle tends to sprawl rather than grow upright.
Distinguishing features
Red dead-nettle can be easily confused with staggerweed and henbit (lamium amplexicaule), which are all small cropping weeds from the Lamiaceae family. All three have lilac flowers clustered at the base of leaves and also have square stems.
However, staggerweed has a much hairier stem than the other two, and the leaves of staggerweed and henbit near the ends of the stems are more likely to have no stalks than red dead-nettle. There are also subtle differences in leaf shape between the three species.
Control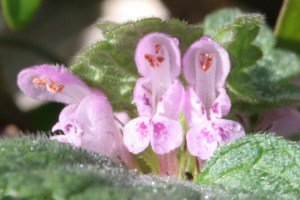 Like staggerweed, red dead-nettle can become a problem in crops following applications of selective herbicides, as it can tolerate many of the products used.
It appears to be poorly controlled by many sulfonylureas such as chlorsulfuron (Glean) and tribenuron (Granstar) and phenoxy herbicides such as MCPB, mecoprop and 2,4-D.
It is best controlled in cereal crops as young seedlings using bromoxynil (Bromotril) or by using iodosulfuron (Hussar). In other crops, trifluralin can control it, and in ornamental situations, it is susceptible to oxadiazon (Oracle).