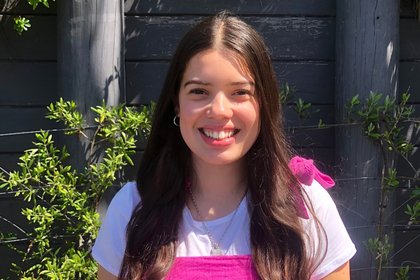 Last updated: Thursday 16 November 2023
Myah Miranda moved to Wellington from Palmerston North in 2018 to study for a Bachelor of Design (Hons) majoring in Photography. After completing her degree, she decided to study for the one-year Graduate Diploma of Learning and Teaching.
"I've always had a passion for teaching, though usually in the capacity of being a dance teacher. Teaching runs in my family, so it's always been part of my life. Plus it seemed like a secure career option," Myah says.
Myah is passionate about dance and has spent the last five years training and coaching dance at the same time as studying full-time. Massey's online teaching option was invaluable for her.
"As all of my dance commitments were in Wellington and I had set up my life here, it was incredibly valuable for me to have the option to study via distance. I was able to work around my other commitments, as well as maintaining the structure of set classes and Zoom meetings.
"It was also great to be able to go out on placement in an area that I would eventually apply for. I was able to make connections with the local community and get a feel for what it was like to be an educator in these school environments."
Myah's proudest achievements both at Massey and after graduating are all centred around children and the difference she has been able to make.
"Even while studying, I was able to experience so many of the magic moments that teachers get to experience in their careers. A particular highlight for me was getting to accompany my placement class on camp. Throughout the week I accomplished so much and formed great relationships.
"It goes to show how valuable the time on placement is, and looking back I'm really grateful that the course at Massey was so 'hands-on' and practical. Heading into the industry, I felt far more equipped and ready."
Myah got a job at one of her placement schools In Wellington before her study year ended.
"As I had the assurance of a job, I was able to spend the summer preparing for the year ahead. I'm about to complete my first year teaching at a school that I absolutely love. I have had the best year with my lovely year one and two class, who are full of personality and diversity."
Myah's love for dance continues and she runs an independent dance company, Myah Miranda Arts. She continues to train and encourage young dancers to excel in competitive street dance.
"Recently, I was able to travel to Portugal for the Hip Hop Unite World Championships with my crew NOVA, which comprises 18 young dancers between the ages of nine and 13. We won the world championships, and it was so special to be able to give them this opportunity. My school has been incredibly supportive of my other extracurricular passions and I'm thankful to be able to do both, it's been such a dream."
Myah would encourage anyone who was planning to study at Massey to go for it.
"The years fly past and the whole process is really enjoyable. All of the lecturers are incredibly supportive and everyone wants you to succeed. The course definitely had its challenges but that was essential for optimum growth and development as a learner. Every step of the way there are people encouraging you and helping you through. My years at Massey are definitely a highlight and have set me up well for my future."
You can find out more about the Graduate Diploma of Learning and Teaching here:
Thursday 2 September 2021
Graduate Gina Kelly provides an insight into studying with Massey and then joining the workforce.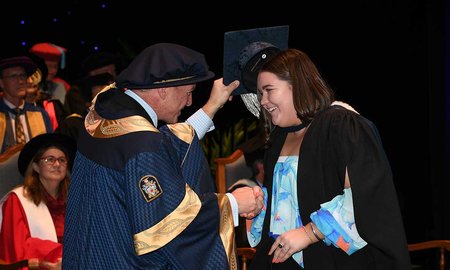 Wednesday 14 December 2022
For thousands of people, studying by distance had been a game changer long before COVID-19 forced a mass switch to online learning. In fact, here at Te Kunenga ki Pūrehuroa Massey University, distance learning has been changing lives and careers for the past six decades.