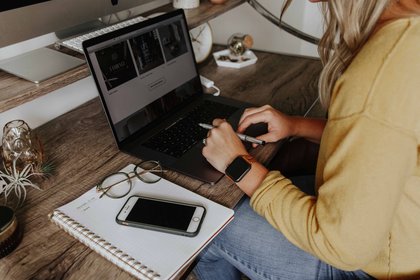 Last updated: Friday 27 January 2023
Whether it is referred to as extramural, online, blended and digitally enabled, distance, 'outside the walls', or simply online learning, this year marks our 60th year of delivering study via distance to people of all ages, locations and backgrounds throughout the world.
From sportspeople to politicians, farmers to creatives, business leaders, teachers, parents and all in between, our distance offerings have been working to help enable equity since the 1960's. Whether this life-changing study journey is embarked on from the couch while the kids are watching TV or after they've gone to bed, from a seat on a plane, between sports events, from inside a prison cell, on work breaks or beyond, the ability for students to study via distance has meant you could be almost anywhere in the world, at any time and still get a tertiary-level education.
Being able to study flexibly around family, work, travel, training or community obligations is all very well, but the key to success goes deeper than a technological transfer of knowledge from lecture theatre to computer screens. Dr Ella Kahu, a Senior Lecturer in our School of Psychology and longtime champion of online learning, says it relies on academics understanding that their students juggle numerous pressures.
Dr Kahu began her academic career doing one undergraduate psychology paper by distance in her early 30s when her children were aged two and four. She knows the territory well. She started before the digital era and took eight years to complete her Bachelor of Arts. She went on to do a PhD on the experiences of first-year distance students and her research has led to many journal articles as well as the Kahu Framework of Student Engagement and an Apple podcast.
Technology, teaching and the attached semantics have evolved together – students might be geographically dispersed, but they don't need to feel 'distant' thanks to the array of online platforms, apps and learning support, as well as online contact with lecturers, tutors and mentors.
Dr Kahu says all teaching, not just distance teaching, is about good relationship building.
"It's about being responsive to students and their needs, and being friendly, warm and communicative and excited and enthusiastic about the material. That's the thing that makes the difference."
From the history books to the MacBooks
Six decades ago, extramural students received bulk photocopied course material and textbooks in the post and they would have to post back their hand-written assignments, alongside attending regular contact courses on campus. There are many stories of 'breaking speed limits' to drop assignments off before the postbox was cleared, before the jammed-up fax lines, and then the lost dial-up connections on the internet.
Our extensive history means Massey's name goes hand in hand with distance learning, so it's no surprise that more than half our student cohort is enrolled to study via distance either full or part-time. But despite the large distance population now, it did take a while to catch on to the idea that you could gain higher education 'outside the walls'.
In 1960, there were 510 extramural students on Massey's books. By 1961, there were 700, and now there are more than 15,000 extramural students studying at Massey.
History Professor Michael Belgrave says Massey's experience means, "We know what we're doing – because we've been doing this since the '60s." His research on extramural learning is referenced in his landmark history of Massey, From Empire's Servant to Global Citizen.
"What was called 'extramural education' gave people who could not aspire to go university for all sorts of reasons, the opportunity to get educated in ways that they wouldn't have otherwise, particularly women at home," he adds.
"We adapted with changing technology. But the most important thing is that we have this long tradition of supporting students at a distance, of knowing what their needs are, and working with them to meet their goals. And that requires a lot more flexibility on the part of the lecturers who are providing the teaching."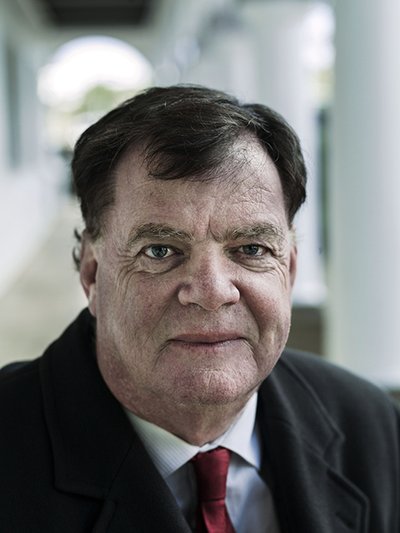 John M.R. Owens writes in Campus beyond the walls: "The first 25 years of Massey University's Extramural programme, show that there are two main features to the Massey approach when it comes to extramural teaching. That it is 'community based' and that it is 'dual-mode' - that is, that the extramural goes hand in hand with the internal teaching."
An excerpt from an unnamed student says: "Extramural study requires more discipline, dedication and determined stickability than internal study. It is not for the faint-hearted or the insecure, but it must be a lifesaver for many as a second or only chance for advanced education."
Teaching and learning
According to Jean Jacoby, Director of the Centre for Education Transformation, Massey's experience providing university distance learning from pre-degree to doctoral level is unsurpassed in Aotearoa New Zealand. "We're seeing more and more students opting to study part or all of their degrees by distance as this allows them to manage the complexities of everyday life and study at the same time," she says.
Distance and part-time provision make a university education accessible to many who would otherwise not have the opportunity. This includes students with health and accessibility challenges, first-in-family, mature-age and working professionals. We're also seeing more and more learners who have historically been excluded from the academy by virtue of their culture or economic background, taking up the opportunities offered by Massey, and contributing to the vibrancy and diversity of our cohorts.
"This trend reflects patterns seen worldwide resulting in universities shifting from primarily catering to the social majority and educational elites, to a much more universal and inclusive model," Ms Jacoby adds.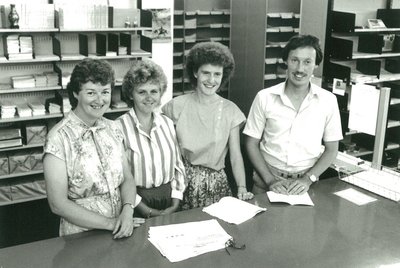 From learner to teacher: a tale of two halves
In the late 1960's, Professor Emeritus Gary Hermansson had just returned to New Zealand after studying social work in America. He was 27-years-old with a new family in tow and took on a position as a social worker in Gisborne. Keen to continue his learning journey but challenged with being in the provinces, there was only one option – do something via a method called 'extramural study', through Massey in Palmerston North.
In 1969, he enrolled in papers toward a Diploma in Education and soon started receiving bundles of course material in the post. As a social worker, Professor Hermansson travelled often and would do readings and assignments during work breaks and from his hotel room in the evenings.
"The papers were fairly tightly structured and straightforward to follow, and there was a good sense of connection with the teaching staff. It was good to be able to work without being too distracted, even though there was quite a bit of noise from the bar, and before retiring for the night I could pop down for a beer if I felt like it."
Over the following few years Professor Hermansson moved around a lot, but his extramural study experience remained consistent and connected.
"Once I became familiar with the operation it was straightforward and being able to continue working full time and have the flexibility to fit study around work and family was particularly special."
Toward the end of his diploma, Professor Hermansson lived close enough to the Manawatū campus to travel back and forth periodically where he was able to meet with his teachers.
"That face-to-face connection was an enrichment of the engagement the staff had managed to already create within the distance context. It just added something a little extra."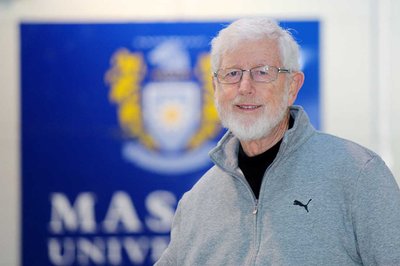 After completing his Master's, Professor Hermansson joined Massey as a staff member in 1973 to teach within a newly created counsellor education programme. He was now involved in having to create distance education study materials for students spread across the country, as well as running contact courses when students came onto campus. He found having the experience as an extramural student to draw on was very helpful in creating the study materials and teaching from a distance.
"I looked to maintain a similarly strong sense of personal connection with the students within the materials, through communication at large, and regarding assessments, feedback and support. That had been an important quality of what mattered to me as a student, so I sought to engage similarly with students as best I could as a teacher."
Professor Hermansson worked at Massey from 1973 – 2005 and noted considerable differences over the years in such things as administrative structure and support, library resources and connection with distance students, the quality of materials through the expansion of the printery, and the increasing use of technology.
Over the years the distance teaching and learning identity of Massey strengthened and became a distinctive feature of the university, both nationally and internationally.
"It was never perceived by the teaching staff or the students as a second-best option, and it provided opportunities for people around the country and overseas to learn and obtain qualifications that would help them personally and in their future aspirations."
After a break from Massey, Professor Hermansson returned in 2012 for four years to teach within the domain of Sport and Exercise Science.
"Massey's distance efforts were in full operation still, but now I was faced with the teaching and learning experience being fully online via Stream. Documents and resources were digitalised and at that time Skype was the primary means of face-to-face communication around the nation."
Now, in 2022, almost six decades after he first experienced extramural learning, Professor Hermansson is back teaching within the counsellor education programme that he was the coordinator of for so many years.
"Now, most other universities within New Zealand and internationally have incorporated aspects of distance education into their offerings. However, Massey has distance learning within its DNA, and it has both the embedded history and the capabilities to continue to lead the way on this front."
Support from afar
Dr Kahu is adamant that while many of the younger students who are straight out of high school seek the vitality and social life of being on campus, online study is the first choice for the mature demographic.
"It requires a level of motivation less necessary for internal students. I think a distance degree is more valuable because it demonstrates an ability to self-regulate, to self-manage, to time-manage and to juggle. If an employer doesn't want that, they are an idiot!"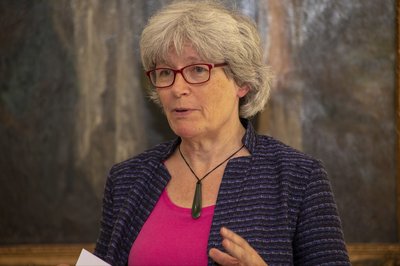 Massey has a range of support services available to distance students including our Massey Career Centre, online workshops and learning support tools such as OWLL and any of our one-to-one supports such as our Student Achievement Coaches. There are regional 'Getting on Track' visits held over summer where all new distance students can come along, meet staff and help get prepared to start studying at Massey.
Jax Watt and Jacalyn Clare have been Co-Presidents of Massey@Distance for the past two years.
"The distance community at Massey is super diverse, just like Aotearoa. The distance tertiary sector has grown by 53 per cent since 2014 and mature students are the unseen majority," Jax says.
Jax and Jacalyn will be the final presidents for Massey@Distance as all ten Student Associations are merging to step forwards as one unified voice in 2023, under the name 'Te Tira Ahu Pae'.
"This will mean all Massey students are treated the same and get the same level of service with their Student Association no matter where they are studying from. It is the culmination of 10 years of negotiations, and we have been personally working on this amalgamation for two years, so we are so pleased to finally see this get over the line, and we're proud to have been the Presidents at the time.
"Although the majority of tertiary students are employed before enrolling in a university, the vocational backgrounds of students is vast and distance students are no exception. We have students who work chopping firewood, to those competing at the Olympics. We have full-time parents as well as people working in high level city council positions. The backgrounds of our distance cohort are a technicolour of various vocational backgrounds and life experiences," Jax says.
Athleticism and academia
For Bachelor of Sports Management graduate Regan Gough, the ability to study online was exactly what he needed as a full-time elite athlete.
Regan had been chipping away at his studies, completing two papers a semester by distance over six years while training and racing at two Olympic Games. And while he says the academic workload wasn't overwhelming, it was still a challenge to find the time and motivation to complete his study around his training.
"The hardest thing was finding the right time to actively study to be able to take it all in. I train most days, therefore coming home and having to hit the books at times was difficult as all I wanted to do was rest and relax."
Regan, who was named Distance Sportsman of the Year at the 2020 Blues Awards, says completing his degree gave him the same challenge and satisfaction, as pursuing his cycling goals.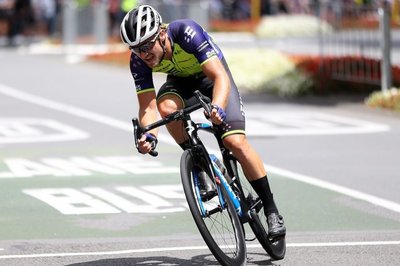 With the Olympics on his mind, Regan isn't giving too much consideration yet to life after sport, but he knows having a degree under his belt will help him secure his career after cycling.
"I wanted to show my potential employer that I can stick out a degree, which has equipped me with a number of skills. It also comes back to having something else to focus on and it gave me a real purpose."
Standing out from the crowd
Catherine Tu'akalau is Wellington's first Pacific Nurse Practitioner and one of only a handful in Aotearoa New Zealand specialising in child health. Catherine was drawn to Massey due to the flexibility of learning via distance.
"I took on postgraduate study while working full-time as a registered nurse and being a busy wife and mother, so distance stood out to me. Massey also offers numerous scholarships, and I was the recipient of the Massey University Pacific Postgraduate Scholarship.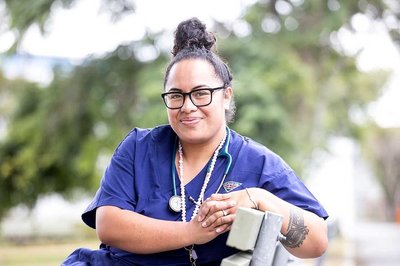 "One of the lecturers for the child health course I did is a nurse practitioner in child health - Professor Karen Hoare. Karen was one of the reasons why I stayed with Massey to complete my Master of Nursing, as I knew she would be a great support for me going into the nurse practitioner course. Being able to establish a professional relationship with your lecturers, I believe, is vital, especially with studying towards a masters. Karen and her academic team have stuck by me through what I think has been the most difficult year to study with COVID-19.
"Working on a children's ward, not only were we dealing with the pandemic, but a Respiratory Syncytial Virus [RSV] surge during the winter period too. It took a toll on me because, at the same time, I would come home and have to try to find the energy and motivation to study and do assignments. Thankfully I had great support from my lecturers and the university."
New mum and new career
Mother of three Justine Saunders spent two decades in the sports industry before deciding it was time for a change. Having tried her hand as both an early childhood teacher and a lecturer at a tertiary institute, she knew she wanted a career that was 'people-centric'.
"I had always been interested in people and workplace culture and had a friend working in human resources which sparked my interest in this as a career. Having gained prior qualifications from Massey, most via distance, I didn't consider enrolling elsewhere."
With a young daughter and twins on the way, going back to study full-time wasn't an option, so Justine planned to continue working while doing her Postgraduate Diploma in Human Resource Management.
She completed her diploma over two years of part-time study and is now working as a Human Resource Advisor in the public sector.
"Having life commitments outside of study meant it was often challenging to fit it all in. But knowing that I could learn in my own time, and having teachers who understood that actually, study couldn't be at the top of my priority list no matter how hard I tried, was invaluable."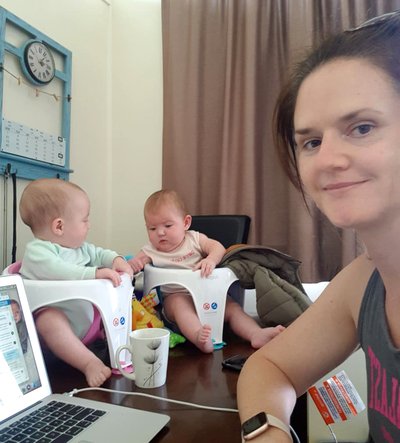 Wednesday 9 September 2020
Online learning is just one feature of a brave new world for the pandemic-hit planet as millions configured a 'new normal', switching to Zoom and other online platforms.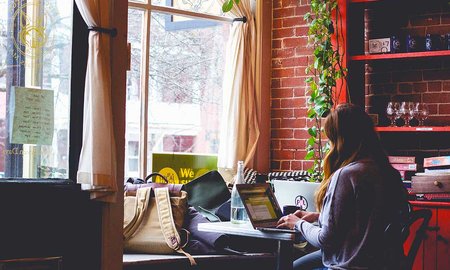 Friday 20 March 2020
No doubt about it, the Covid-19 pandemic is encouraging all of us to think 'around corners', to look creatively at what we can do differently in the context of a crisis, says Professor Giselle Byrnes.