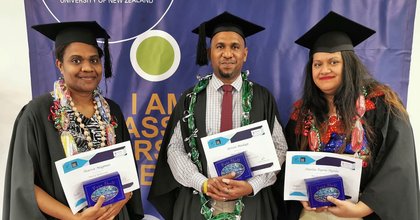 We offer a range of Pacific scholarships for current and intending Pacific students, at all levels of study. These scholarships will help fund your education, and are available at different times during the academic year.
Find Massey University scholarships and awards
Tips for applying for scholarships
Qualities of scholarship winners include:
leadership ability
peer review
community activities
creative side
strength of character
passion
sports and hobbies
connecting with others.
Once you have chosen a scholarship from the list to apply for, you should:
make sure you understand exactly what information is needed and what you need to organise for your application
check the opening and closing date of the scholarship you want to apply for, as it may close before your study starts
choose your referees early and give them plenty of warning so they can prepare
when you have filled in your application, check you have everything you need, ask someone to proofread it to check your spelling and grammar are correct.
Further information and support
For further information about the scholarships available or if you require support with your application please contact Sesimani or Janice.
Sesimani Havea
Pacific Postgraduate Learning Advisor, Pacific Student Success
Email: S.Havea@massey.ac.nz
Phone: +64 6 356 9099 extension 85097
Janice Ikiua-Pasi
Distance Learning Advisor, Pacific Student Success
Email: J.Ikiua-Pasi@massey.ac.nz
Phone: +64 4 979 3298