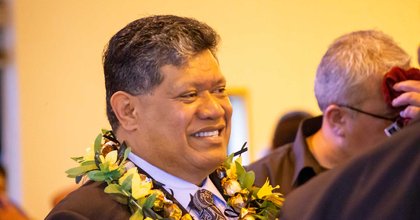 It is with great pleasure that I welcome you to Pacific Massey where you will enjoy success in an environment that gives you a strong sense of belonging, a strong sense of worth, and a strong sense of security.

We are here to help you on your learning journey, and to guide you on the pathway that leads to the fulfilment of your academic aspirations and beyond, by providing culturally appropriate services that support you in whichever mode of study you have chosen, whether on-campus or online learning.

This site offers information that will help you on your academic journey as well as connect you to our Pacific College Advisors and many other services. We understand your needs, values, your diverse Pacific backgrounds, and the challenges your learning journey may encounter along the way. So, please do not hesitate to contact our friendly team.
In 2013 the Pasifika@Massey Strategy: Growing Pearls of Wisdom outlined a strategic framework to support the educational aspirations and economic needs of Pacific communities. It is from this recognition that, in 2020, a new team – Pacific Student Success (PSS), Office of Provost – under a new strategy, with me as Dean, was established.

We pride ourselves in believing in the potential of all our Pacific students. We will be working closely alongside existing Massey student support services to achieve this. Our focus is on meeting the needs and wellbeing of our Pacific students, academically, socially, and spiritually. You can also apply for our Pacific scholarships and our team are here to work with you in your applications, every step of the way.
We feel honoured that you have chosen to take this learning journey with us here at Massey, and we can ensure that in studying in a collaborative partnership with us and with God's guidance, that you make yourself, your family, your community (national and Pacific) proud.

Furthermore, we offer an academic career that will not only meet your academic goals but also offer further opportunities to put you on the "centre stage" globally in becoming Pacific Island 'problem solvers and leaders', that help to improve and sustain a better way of life for our Pacific people.

We are committed more than ever in ensuring Massey University plays its part in supporting the development of Pacific peoples with relevant research and highly qualified graduates. By fostering relationships and working together here at Massey, it is our mission that this time will be truly rewarding and a blessing for your future pathway in life!

'Ofa atu