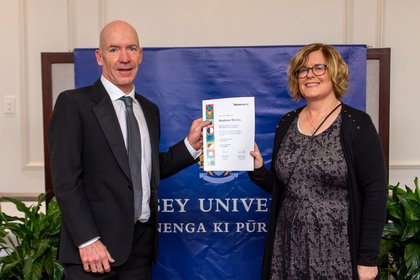 Last updated: Thursday 4 August 2022
The staff, who achieved these fellowships in either 2021 or 2022, were celebrated for their achievements at ceremonies across the three campuses this week, as well as at an online celebration.
The internationally recognised AdvanceHE programme aims to improve higher education across the world for staff, students and society. Teaching staff choose to participate in these self-driven pathways to assess and advance their teaching practice.  
Professor in Sport and Physical Education Andy Martin has become the second ever Massey academic to be awarded the Principal Fellowship. 
Principal Fellowships are the highest level of recognition available and are given to people who have a sustained record of effective strategic leadership in academic practice and make a key contribution to high quality student learning. College of Humanities and Social Science's Director of Teaching and Learning Professor Lisa Emerson is Massey's other Principal Fellow.
"The HEA award provided an international context to critically analyse my teaching, scholarship and leadership to further enhance students' learning experiences," Professor Martin says.
"This award also acknowledges Massey University's international commitment to excellence in work-integrated learning, which was formalised by the signing of a global charter promoting the area in 2019. Becoming a principal fellow allows me to mentor this community of academics who are committed to excellence in this practice."
Nine staff were granted Senior Fellowships, 47 were awarded Fellowships and a further 39 achieved Associate Fellowships.
"It is fantastic to see so many Massey staff putting in the effort to improve their teaching and leadership," Director of the Teaching Academy Associate Professor Maggie Hartnett says. 
"To be able to celebrate them is a special occasion, especially after Covid-19 cancelled last year's event. The recipients were invited to bring their line managers to the event as a way of acknowledging this self-driven professional development."
Click here for more information about the AdvanceHE programme. 
Associate Fellows 2021 and 2022:
Cassie Andersen
Ruth Ardo
Nicole Ashley  
Amy Best 
Thao Thui Phuong (Alice)Bui
Mabel Costa
Alberto de Rosa
George Guoyu Ding
Keren Dittmer
Catherine  (CeeJay) Donovan
Heshani Edirisinghe
Evans Effah
Lisanne Fermin
Flynn Grace
Sabrina Greening
Emma Gulliver
Max Guy
Shelley Hanlon
Danielle Hodson
Corrin Hulls 
Jennifer Kirby
An Thi Hoai Lee
Stephanie Leggett
Camille Manning
Kerry McKelvey
Amarachukwu Nnadozie Nwadike
Abiodun (Abbey) Omidiji
Tenneal Prebble
Glen Ross
Thomas Slade
Marion Tan
Raymond Tan 
Alaina Tessier
Nicolette Trueman 
Shawn Varghese
Alisha Verrenkemp
Melody Whitehead
Danette Whitehouse 
Andrea Zorn
Fellows 2021 and 2022:
Claire Badenhorst
Christie Balcomb
Nadine Bishop
Charlotte Bolwell
Mikael Boulic
David Brougham
Nicola Brown
Andrew Cardow
Stefano Cataloni
Greg Chawynski
Jason Cordier
Niluka Domingo
Debalina Dutta
Raewyn Eden
Erica Gee
Ruth Gibbons
Megan Gordon
Belinda Hardy
Faraz Hasan
Wei-Huei (Wendy) Hsu
Kerri-ann Hughes
Hamed Jafarzadeh
Fatima Junaid
Tanya Jurado
Ravindu Kahandawa
Daniel Konings
Wayne Macpherson
Natalie Mathews
Chris McMillan
Germana Nicklin
Solomon Opare
Blake Perry
Grace Yue Qi
Diyako Rahmani
Eziaku  Rasheed
Christine Roseveare
Robert Sawicki
Philip Steer
Benjamin Sykes
Mitsue Tabata-Sandom
Cherie Todd-Williamson
Andries (Hennie) van Heerden
Priya Vishnu
Te Awatea Ward
Jimena Yapura
Ivayla Yozova
Mui Kuen Yuen
Senior fellows 2021 and 2022
Lucila Carvalho
Angela Feekery
Carolyn Gates
Elizabeth Gray
Eloise Jillings
Linda Laven
Jennifer Lawn
Jenny Poskitt
Emily Saavedra
Principal fellow 2021 and 2022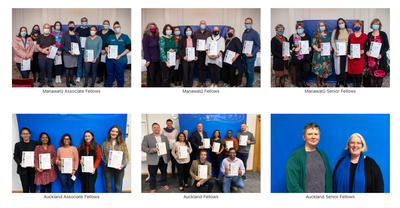 Wednesday 10 March 2021
Professor in Sport and Physical Education, Andy Martin is the second Massey academic to be accepted into the small international group of principal fellows.