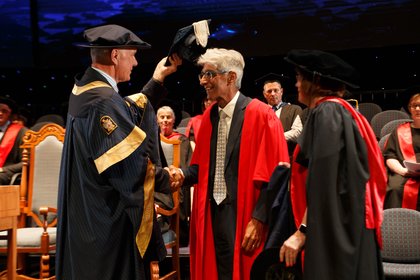 Last updated: Monday 28 November 2022
The award presentation took place at the Manawatū graduation ceremony in Palmerston North on Friday 25 November.
Mr Haque is a well-respected educator, having worked as a teacher, principal, and national education agency executive in Aotearoa since he migrated from the United Kingdom in 1982. He graduated from Massey University in 1995 with the degree of Master of Educational Administration and Leadership (Hons).
Mr Haque has been principal of four diverse secondary schools and served in elected leadership roles with two secondary principal peak bodies nationally. He has served as Deputy Chief Executive with the New Zealand Qualifications Authority and chaired the Ministerial Taskforce to Review Tomorrow's Schools.
He currently works as an educational consultant to secondary principals and to secondary schools in challenging circumstances. At present he undertakes a range of education and community board governance roles. Mr Haque has also published two books on secondary schools, one aimed at policy makers and educational leaders, the other at parents.
Vice-Chancellor Professor Jan Thomas says, "Bali Haque embodies the graduate attributes of the Massey educational leadership programme. Since graduation he has gone on to make a distinguished contribution to schooling in New Zealand, one characterised by a scholarly analysis and a socially critical disposition.
"As a whole, his career has been, and continues to be, one of outstanding public service. Mr Haque exemplifies the 'value add' of a professional postgraduate qualification undertaken in mid-career and amply demonstrates the multiple ways in which talented Massey University graduates contribute significantly to the national economic and social good."
Head of Institute of Education Associate Professor Alison Kearney says, "Mr Haque is a frequent contributor to public debate on schooling issues and his highly regarded and widely respected for his commitment to public education and public service."
Last year Mr Haque was made a Member of the New Zealand Order of Merit for services to education governance.
Massey University honorary doctorates are awarded to individuals of distinction who have made a significant contribution to the university, the nation, or the public.
Friday 25 November 2022
Former Massey University Vice-Chancellor, the Honourable Steve Maharey CNZM, has been awarded an Honorary Doctorate of Literature at a graduation ceremony in Palmerston North today.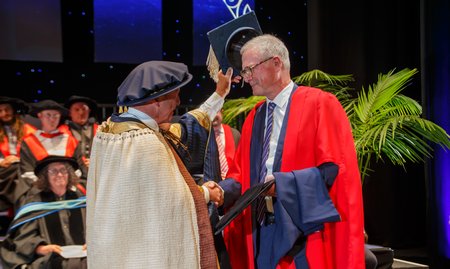 Wednesday 23 November 2022
For most people, completing their first degree is hard enough as it is, but Suraya Goss, Te Ātihaunui-a-Pāpārangi, took on the added challenge of completing her entire qualification in te reo Māori.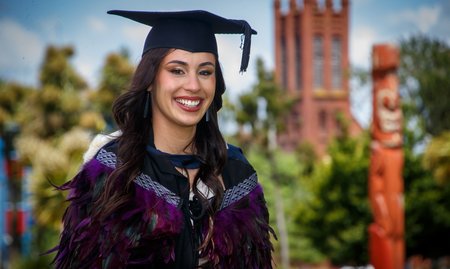 Monday 21 November 2022
More than 1100 students will cross the stage at The Regent this week at graduation ceremonies in Palmerston North.