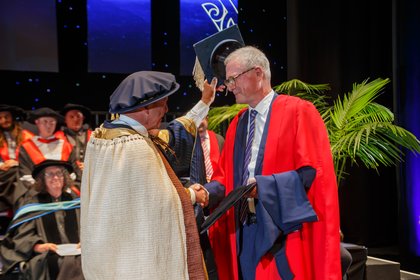 Last updated: Friday 20 January 2023
Mr Maharey has received the Doctorate in recognition of his outstanding service to the public of Aotearoa New Zealand and for his long service to the university, in particular his eight years as Vice-Chancellor from 2008 to 2016.
Prior to his role as Vice-Chancellor, Mr Maharey served six parliamentary terms as the Member of Parliament for Palmerston North (1990–2008). For eight of those years he also served as a senior Cabinet Minister. His portfolios – including education, housing, social development and employment – were at the core of those governments' policy agendas. Many of the changes made on his watch, such as the introduction of 20 hours of free early childhood education, the establishment of a national curriculum and Working for Families, have made a constructive difference to people's lives.
In 2009 he was appointed a Companion of the New Zealand Order of Merit for his services as a Member of Parliament. 
Mr Maharey has strong and enduring ties to the university, which began in 1972 when he embarked on a Bachelor of Arts. He also holds a Master of Arts from Massey, and has been employed as an academic in both business administration and in the Department of Sociology. He retains extensive personal connections within and a deep attachment to the university.
During his tenure as Vice-Chancellor, Mr Maharey demonstrated strategic leadership across a range of significant initiatives, including in the areas of agriculture and food, and in the pursuit of collaborations between the university and other domestic and international institutions. 
Professor Richard Shaw, who nominated Mr Maharey for the accolade, says that one of the signal achievements of his leadership as Vice-Chancellor was the articulation of a distinctive institutional identity for each of Massey's three physical campuses, and for the university as a whole.
"By drawing on Massey's past history of innovation – in distance education, for instance, and in the contributions of Riddett, Peren and others to the primary production sector – he articulated a clear strategic narrative about Massey's contribution to the shaping of the new New Zealand," Professor Shaw says.
Mr Maharey remains active in the education sector as the Chair of Education New Zealand and a Director of UCOL. He was, until recently, the New Zealand Government representative on the Council of the University of South Pacific, as well as a past member of the Varkey Foundation former Ministers of Education Atlantis Group, which is an invitation-only group of former heads of state and ministers of education who provide advice to policy-makers on challenges and solutions in global education.
In addition to these positions, Mr Maharey currently chairs the boards of Pharmac and ACC, is a member of Governance Group Finance, Information and Procurement at the Ministry of Health, and is the Panel Chair on the Ministry of Business, Innovation and Employment's Wellington Science City Project.
"Mr Maharey has reached the heights of both academia and representative politics, and it is appropriate that the university acknowledge the scale and significance of these contributions through the award of an Honorary Doctorate," Professor Shaw says.
When accepting the award, Mr Maharey spoke highly of his time at Massey, both as a lecturer and the Vice-Chancellor, before imparting some words of wisdom to graduates.
"You are graduating at a time of extreme global turmoil; climate change, the cost of living crisis, a global pandemic, Elon Musk. It is therefore your job to help people understand what's going on, and find answers. The knowledge and skill you have gained here at Massey are needed now more than ever.
"The American writer Mark Twain said there are two important days in your life. The first is the day you are born, the second is the day you find out why. I hope you find your why."
He also paid tribute to the late Stuart Morriss, former Deputy Vice-Chancellor Global Engagement.
Massey University honorary doctorates are awarded to individuals of distinction who have made a significant contribution to the university, the nation, or the public.
Wednesday 23 November 2022
For most people, completing their first degree is hard enough as it is, but Suraya Goss, Te Ātihaunui-a-Pāpārangi, took on the added challenge of completing her entire qualification in te reo Māori.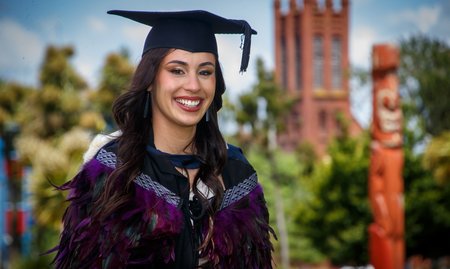 Friday 3 June 2022
Fuimaono Karl Pulotu-Endemann has been presented with an Honorary Doctorate in Health (honoris causa) in recognition of his outstanding service and contribution to the health of Pacific people.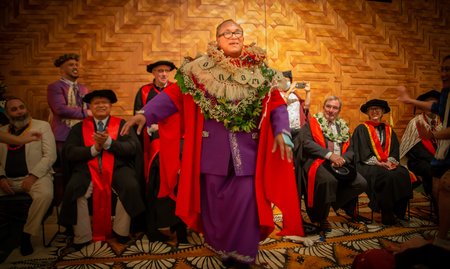 Wednesday 30 May 2018
Steve Maharey has broken with tradition.