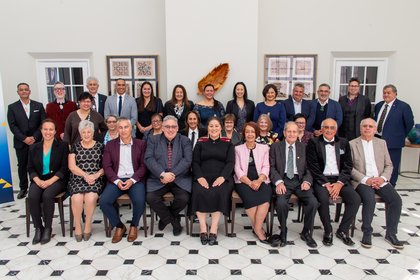 Last updated: Thursday 19 October 2023
More than 50 Māori scholars with connection to Te Kunenga ki Pūrehuroa Massey University have come together to celebrate 20 years of Te Mata o Te Tau, the Academy for Māori Research and Scholarship.
Governor-General of New Zealand Her Excellency the Right Honorable Professor Dame Cynthia (Cindy) Kiro, who is one of the Founding Fellows of Te Mata o Te Tau, hosted an event at Government House to mark the occasion, last week.
Te Mata o Te Tau is focused on advancing Māori scholarship and research by bringing people together from a range of disciplines, departments, and research centres. It was launched in 2003 under the leadership of one of Aotearoa's leading Māori academics Emeritus Professor Sir Mason Durie, who was Associate Vice-Chancellor Māori at the university at the time.
The academy has two forms of membership: ngā pūkenga (fellows) and ngā ākonga (associates) and members include current and former staff with doctorates. Its purpose includes providing an opportunity for collaboration across disciplines and subject areas, promoting quality research that contributes to new knowledge and positive Māori development, creating leadership opportunities for academics, and fostering links between wider Māori research interests and indigenous communities.
Dame Cindy said she was honoured to mark this milestone alongside former colleagues and friends, many of whom she has known for many years.
"We can all be proud of the long line of scholars and researchers who have been supported by the academy over the years.
"When a researcher hits a roadblock or is trying to weather criticism or scepticism of their work, they may falter. That is when the manaakitanga of our colleagues and wider research networks is crucial. We can all be thankful to have experienced that support from Te Mata o Te Tau."
On presenting Sir Mason with the first life membership of Te Mata o Te Tau, she expressed thanks and gratitude for his wisdom and leadership in establishing the academy's kaupapa of whanaungatanga and interdisciplinary exchange.
"As someone who has benefitted from his influence, I have committed to use my opportunities as Governor-General to promote the value of education, research and scholarship in informing decisions we make as a country as part of his legacy."
On receiving his life membership, Sir Mason reflected on the past 20 years.
"For many years we had struggled to equate science, philosophy and geography with Mātauranga Māori. This was an attempt to focus on one of those: Mātauranga Māori, but not ignore the others. It was not about integrating bodies of knowledge, it was about having them walk side by side."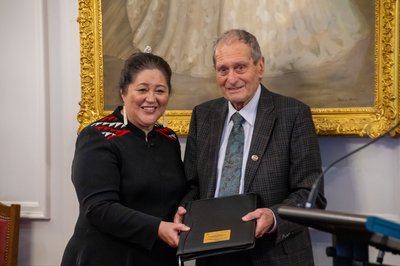 He said it is now time to look ahead to what Te Mata o Te Tau can contribute to the future.
"The next 20 years will bring situations we have never dreamed about, including around the environment, mass immigration and migration, ups and downs across countries, diseases we have never known before. The academy could become a leader in Māori research leadership for future focus."
Te Kunenga ki Pūrehuroa Massey University Chancellor Michael Ahie said Te Mata o Te Tau recognises the transformative role of Māori scholarship and the inherent strengths that come about with virtue of kotahitanga. "Our university has undergone much transformation in recent years, particularly the way in which we seek to uphold and honour Te Tiriti o Waitangi and I thank everyone here who has made contributions to that work."
One of the three founding fellows, Professor Chris Cunningham says the approach of Te Mata o Te Tau is centred around bringing people together through their Māori affiliation, not academic or disciplinary areas.
"Those in the academy are related by whakapapa in different ways, so we use that as a way of organising ourselves, which is different to how other areas in the university operate. It is about having an independent academy that operates in a Māori way, based on whakapapa."
Te Putahi-a-Toi School of Māori Knowledge Associate Professor Fiona Te Momo says highlights from the past 20 years include supporting the first Māori doctorate Dr Taiarahia Black to complete his PhD completely in te reo (thesis title: Kāore te aroha-- : te hua o te wānanga), as well as having a coordinated approach to increasing the number of Māori doctoral students.
Between 2000 and 2010, a goal of Te Mata o Te Tau was to support 25 doctoral students to complete their PhDs. However, that number reached 54. In July 2019, the new International Indigenous Centre for Critical Doctoral Studies Te Wheke a Toi was launched to continue the facilitation of this mahi and support. Another highlight was a Massey-hosted conference completely in te reo including all speakers and papers, in what is believed to be the first in Aotearoa.
Fellows and associates were individually recognised at the event and the Chair of Te Mata o Te Tau and Deputy Vice-Chancellor Māori Professor Meihana Durie says the future of Māori research and scholarship is looking bright.
"This represents an important milestone for Te Mata o Te Tau, for Te Kunenga ki Pūrehururoa and for Māori. We celebrate the past and present, but also look ahead to the future where Māori scholarship will remain absolutely critical in terms of driving transformative outcomes both for Te Iwi Māori and for Aotearoa more broadly."