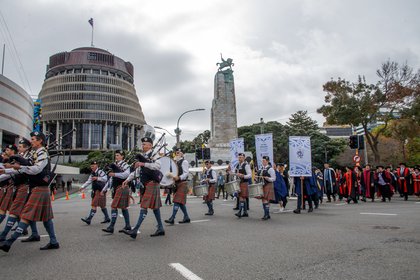 Last updated: Monday 1 May 2023
Amongst the hundreds to graduate at Te Kunenga ki Pūrehuroa Massey University's graduation ceremonies in Wellington this week were ten members of the university's staff whānau. Like their fellow students, they walked across the stage at the Michael Fowler Centre to have their degrees conferred.
Ranging from postgraduate diplomas to doctorates and everything in between, the success of the newly-graduated staff was celebrated as they were welcomed into the alumni whānau.
Here is a snippet of some of their successes:
Matt Tini
Matt Tini, Waikato, Ngāti Tiipa, Ngāti Rākaipaaka, Ngāti Kahungunu graduated with a Master of Fine Arts with First Class Honours. He is a senior tutor at Ngā Pae Mahutonga Wellington School of Design.
Mr Tini was selected as the valedictorian of the Whakapōtaetanga Māori (Māori Ceremony), which he said was a great honour.
In his speech, he likened his journey of further study as a volatile cocktail of caffeine, determination, desperation and probably a little spite. He joked about fantasising about setting fire to temperamental printers and crashing computers.
Ready to take on the future with his newfound knowledge and skills, Mr Tini says he's looking forward to sharing what he has learnt with his students by helping shape and nurture their love for art.
"Now is the time for us to be kind. To use the skills we have developed here to think critically about our fields of practice and how we operate within them to ensure we are uplifting our communities."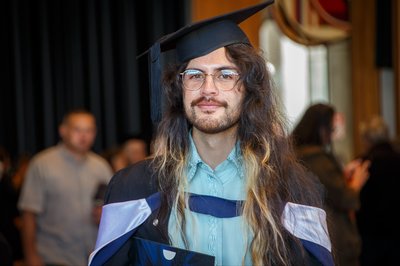 Dr Clare Ladyman
The Sleep/Wake Research Centre's Dr Clare Ladyman graduated with a Doctor of Philosophy. Dr Ladyman's award-winning research demonstrated the connection between maternal sleep health and depression.
Originally from Perth, Dr Ladyman and her family relocated to Wellington for a few years while her husband worked on the Transmission Gully project. As an avid sleep science specialist, she was delighted to learn that Wellington was the home of Massey's Sleep/Wake Research Centre and after a visit to meet staff she discovered there was a PhD scholarship available on the exact project she had been considering. It was truly a dream come true, pun-intended, to land such a winning combination!
"I wanted to be able to help other mums and mums-to-be with early invention of tools and strategies to create better sleep hygiene, without the use of medication," Dr Ladyman says.
Dr Ladyman's research investigated showed that poor sleep is related to perinatal depression, with severe and long-lasting outcomes for mother and child.
A legacy that Dr Ladyman is extremely proud of is her sleep education material that was repackaged into a book that Massey University Press published in 2020, titled Sleeping Better in Pregnancy. This provides women and perinatal health providers with easy-to-understand information about sleep in pregnancy and practical strategies to help women get the best sleep possible throughout pregnancy.
Since completing her PhD Dr Ladyman has continued working at the Research Centre on a number of sleep and fatigue projects.
Other staff to graduate included:
Gabrielle Amodeo – Doctor of Philosophy
Jesse Austin-Stewart – Doctor of Philosophy
Ryan Greer – Master of Design
Zak Komene Bachelor of Design with Honours
Ashleigh Nicholson – Graduate Diploma in Occupational Health and Safety
Thao Nguyen – Doctor of Philosophy
Ashley Oswin – Master of Design
Madaleine Trigg – Doctor of Philosophy
Monday 17 April 2023
With the pandemic delaying his plans to travel overseas, Matt Tini, Waikato, Ngāti Tiipa, Ngāti Rākaipaaka, Ngāti Kahungunu, decided to broaden his horizons by continuing his academic journey.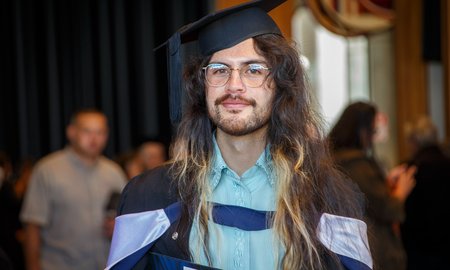 Thursday 20 October 2022
Three staff members celebrated their academic achievements, including two doctorate degrees, at graduation ceremonies at the Michael Fowler Centre in Wellington on October 11.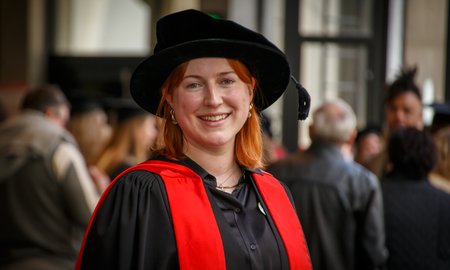 Friday 11 March 2022
Eight Massey University staff are among the graduands to have received doctoral degrees this summer.