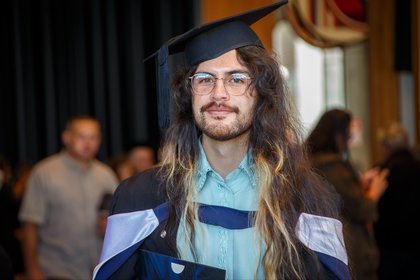 Last updated: Wednesday 24 May 2023
Matt left Waikato for the creative capital of Te Whanganui-a-Tara Wellington to start his path with Te Kunenga ki Pūrehuroa Massey University. He says he was seeking a change of lifestyle and was ready to find new ways of thinking about and making art.
"I've always loved art and saw that Massey offered a diverse arts education. Massey has a lot of highly skilled artists, academics and technicians with a lot of incredible equipment and resources, so I knew it was the perfect place to expand and develop my art practice."
After completing a Bachelor of Fine Arts, Matt maintained momentum and continued advancing his study by starting a Master of Fine Arts in 2021. He says the master's programme helped challenge him and push his art practice.
"The programme helped me develop new vocabulary, both visually and literary, to articulate things that are important to me. I learned so much about myself and parts of my identity I hadn't previously been able to communicate. I've learned that ambiguity and indefinable things are cool and open up space for creativity and agency."
Matt's work focused on expressions of cultural agency, with his master's research exploring the complex realities of contemporary tangata whenua.
"I wanted to delve into the lived experiences that are far more expansive and diverse than can be contained by the representations created and maintained by our colonisers in art, design and media."
One of Matt's favourite projects he worked on was a moving image work he completed in 2021, which he says was his first experience of venturing into that medium.
"It was titled where do we come from | what are we | where are we going (after gauguin) and gave me the opportunity to explore video and different editing software, as well as additional ways of thinking about space and visual media. It was really fun, especially as I knew my practice had potential to expand in this area."
Matt's advice for those wanting to pursue similar study is to always be open to new things and make what excites you and is important to you.
"Think of art as a way to explore ideas and ask questions, rather than offering or demanding complete resolutions. I've found the most exciting moments for me are when you're stewing on a question and really grappling with ideas, then suddenly have a breakthrough in understanding. The flow that comes after is so exhilarating and drives the art, writing and thinking into exciting places."
The 27-year-old graduates this week and had the opportunity to address his cohort as valedictorian of the Whakapōtaetanga Māori (Māori Ceremony). He says it was extremely nerve-wracking but also great to be acknowledged in that way.
"I come from a wider family with a number who have gone through various levels of tertiary education, so I feel very honoured to continue that legacy."
His valedictorian speech centred around the important mahi being done to shift perceptions of the capability and capacity of tangata whenua by continuing to demonstrate Māori excellence.
"Looking out across this room, I see just how beautifully diverse, creative, innovative and resilient we are. We are the embodiment of the dreams and spirit of our tupuna who resisted and fought against so much. We bear that same fire and passion for the betterment of ourselves, our whānau and people."
Matt says he has a lot to be grateful for as this part of his study comes to an end.
"I loved all the resources available to me, including lecturers, supervisors and technicians who continuously challenged and supported me in my art making. I have so many people to thank, including my classmates, friends and family."
When asked what's next, Matt says he has plenty to keep him busy, including working in the City Arts team at Toi Pōneke Arts Centre and teaching in Massey's School of Design, alongside having various exhibitions in galleries around Wellington. He says he's also considering a doctorate but "not for at least another five years!"
Monday 17 April 2023
Talia Brewer, Te Ātiawa ki Whakarongotai, Ngāti Raukawa ki te Tonga and Ngāti Toa Rangatira, Ngāti Ruanui, Ngā Ruahine, is graduating not only with a Master of Applied Social Work but with a reinforced sense of self and purpose.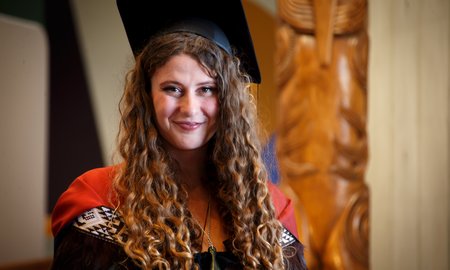 Thursday 23 June 2022
Student Central on Massey's Pukeahu campus (Wellington) is home to a vibrant new mural, thanks to the artistic talent of Bachelor of Fine Arts graduate Miriama Grace-Smith Ngāti Hau, Ngāti Maniapoto, Ngāti Toa Rangatira, Ngāti Porou.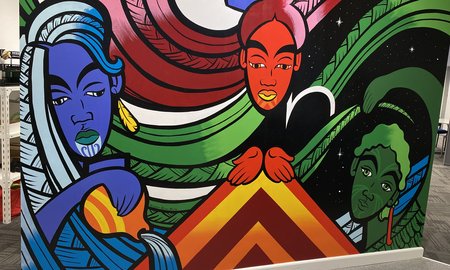 Friday 29 October 2021
Christian Hawira-Seanoa is studying a Bachelor of Fine Arts at the College of Creative Arts. In his spare time, he helps fellow students with their studies as part of the Tukutuku Māori mentorship programme.