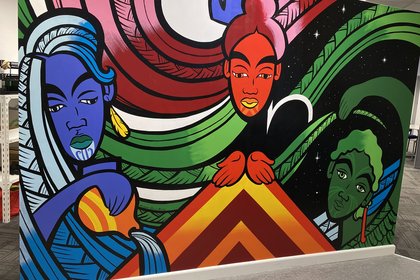 Last updated: Wednesday 29 June 2022
Miriama says the mural acknowledges the whakapapa of Pukeahu, where Massey stands, and the people depicted are mana whenua. "The blue wahine pours water from a calabash as an acknowledgement of the lake that once lay at the basin reserve which provided water and kai for the people. The tāne on the right is an acknowledgement of the native plants that once surrounded Pukeahu. The wahine in the middle has her hands above a taniko design called Aronui, which refers to the pursuit of knowledge. In this mural, this represents the immense amount of knowledge that Massey has to offer to its students. The shape also represents Pukeahu (the sacred hill), and the red brick colour acknowledges the history of war, the people, and the prison that once stood in the area."
Miriama adds that one side of the mural is light while the other is dark, which represents the both sad and beautiful whakapapa of Pukeahu. She says the mural brings these stories together, bringing balance.
Senior Advisor Māori, June Nicklin, says the mural is in alignment with Massey's Te Tiriti o Waitangi aspirations. "We sought to emphasise the centrality of the mana whenua narrative through the medium of Mahi Toi Māori. There is so much depth and richness beneath the surface of the lands that we occupy as an institution, and it is vitally important that we engage with mana whenua, in this case Te Ātiawa, in ways that authentically strengthen and enhance our relationship as we continually navigate how best to give effect to Te Tiriti o Waitangi. The addition of this outstanding artistic work by Miriama Grace-Smith will help further indigenise our shared environment at Pukeahu, by building upon all of the work and contribution that has gone before, including Te Rau Karamu Marae."
Miriama is a full-time artist based in Pōneke, Wellington, where she works from her studio at Toi Pōneke. She dabbles in a few different areas within the creative arts, as a curator, muralist, illustrator, fashion designer, and art director. She completed her Bachelor of Fine Arts with Massey in 2012.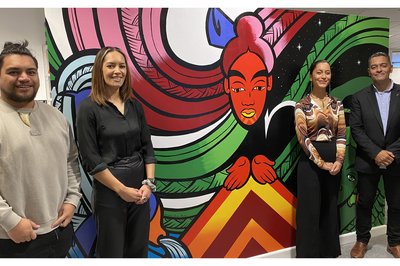 Thursday 26 November 2020
A new mural by artist Xoë Hall (Kāi Tahu) has been unveiled at Massey University's College of Creative Arts showcasing the creative spirit on the Pukeahu Wellington campus.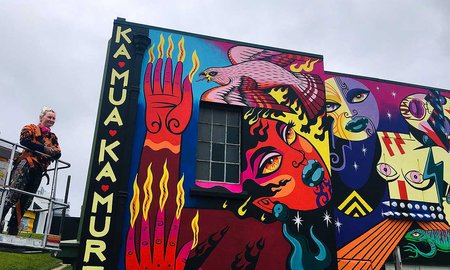 Friday 6 May 2022
Tāwharau Ora - School of Veterinary Science recently blessed and opened the second stage of their building upgrade.