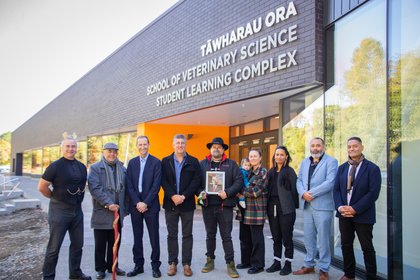 Last updated: Friday 6 May 2022
Kaumatua Manu Kawana and representatives from Rangitāne o Manawatū led a dawn karakia, waiata, and walk-through of the new areas, which was attended by key members of Tāwharau Ora and the College of Sciences, as well as those involved in the construction and design of the building. The karakia was important in lifting the tapu (spiritual restrictions) and freeing up the pathway for all staff and students to inhabit and use the building safely. The School also celebrated the recent gifting of their name Tāwharau Ora and their ongoing relationship with Rangitāne o Manawatū.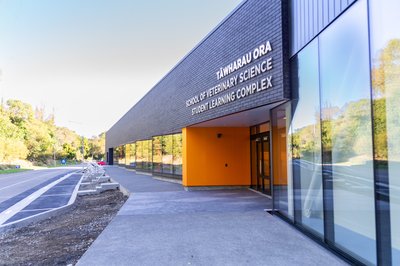 The building contains two large learning spaces connected by a mural designed by an acclaimed local Māori artist, a modern foyer and seating areas for students, and supporting preparation spaces. Teaching in the new areas has now commenced.
College of Sciences Pro Vice-Chancellor Professor Ray Geor said the opening was a day of pride and excitement. "I'm looking forward to the generations to come who will benefit from this world-class facility and from our partnership with Rangitāne o Manawatū."
Dean and Head of Tāwharau Ora - School of Veterinary Science Professor Jon Huxley says, "Together with a new curriculum and increased BVSc class size (both starting in 2023), opening these new facilities forms a major and very exciting part of our ongoing whole-of-school renewal programme. We are very proud to be working with Rangitāne o Manawatū to create a shared cultural narrative for our school's future."
Artwork
The internal wall artwork, Huia Tapere Nui, was created by Reweti Arapere, Ngāti Raukawa, Tuwharetoa, Ngāti Porou, who completed a Master of Māori Visual Arts through Massey University in 2010. Mr Arapere has exhibited and commissioned work throughout Aotearoa New Zealand and internationally.
Mr Arapere says the waiata of Tautu and his Mōkai Huia is the inspiration for the artwork, Tautu being the grandfather of Reretua, the second wife of Whātonga. His composition is a visual representation of these Rangitāne cosmological narratives.
"The artwork aims to inspire vet students and faculty to view the dualities of nature being part of human existence. This design responds to the impact of humanity in the environment. Captured in the memories of Rangitāne are the values of reciprocity and unity with diversity."
Huia, which feature heavily in the artwork, symbolise hope and curiosity. Mr Arapere says the placement of the huia and their juxtaposition focus is on movement and rhythm. "The repetition and symmetry represent whakapapa. Huia are tuakana (senior) to ira tangata (humanity), which reinforces the notion of various ecosystems working in harmony."
He adds that just as customary Māori whare wānanga scholarship requires the student and tutor to work in collaboration, this artwork promotes the re-indigenising of learning spaces to evolve learning by returning to the wisdom of the past to project into the future.
The new areas
The continuing veterinary school upgrade is to ensure that the Bachelor of Veterinary Science programme (BVSc) continues to meet Australasian and international course accreditation requirements, and continues to provide high quality, internationally recognised qualification. The new building will support the School's increased class sizes in modern, fit-for-purpose facilities. One of the learning spaces is designed to support students learning anatomy, while the other space provides an open-plan, flexible learning environment to practice the skills they will need in clinical practise.
Both spaces include several bespoke pieces of equipment, such as specialised gantry rails and tables, responsive mannequins, and other digital technologies to assist students with their learning. In most cases, the specialist equipment has been manufactured in New Zealand.
Associate Professor Laryssa Howe says the new space will greatly benefit the approximately 125 students who make up each year group of the five-year BVSc degree.
"These spaces support the different stages of student learning. In early years of the programme, the focus is on learning anatomy and how various animals are 'put together' by examining how muscles, nerves and bones work together, and what happens when they don't. In the later years, we teach students 'how to vet' by teaching them how to talk to clients and ask the right questions to get a patients' history. We teach them how to take blood samples, vaccinate animals, help in a birth, suture wounds, and assess cardiac problems, among a wide range of other skills. The students will be able to use the clinical skills teaching space where they can practice on mannequins and use the real equipment they will be using. This style of learning is very hands-on and helps to provide a safe learning environment which ultimately improves animal welfare and student wellbeing."
She adds that various industry sponsors have also provided financial support for the new space.
Gifting of the name
The School of Veterinary Science was gifted the name Tāwharau Ora by Associate Professor, Pukenga Reo Hone Morris and the Māori Language Advisory Group in 2019. School of Veterinary Science Senior Lecturer Eloise Jillings were instrumental in deciding on the name and informed the gathering attending the karakia that the name encapsulates the school's aim of being a place of wellbeing, healing and recovery for animals but also for staff and students. "Tāwharau can be translated as shelter or haven, and the meanings of ora include health, safe, recover and heal."
Background
The Veterinary School upgrade is a 10-year, approximately $160 million dollar capital project, which includes new buildings and renovations of existing spaces, and is expected to be completed in 2024. The final stages will include a farm animal hospital, a new research and student support building, and a refresh of the existing Small Animal Clinic. Taken together, the new facilities will enable students to learn in a modern environment with safe working practices and animal welfare at the forefront of their experiences. Modern building technologies will also provide environmentally sustainable research, clinical and learning spaces with links to New Zealand's unique culture and heritage.
Thursday 4 March 2021
The latest QS World University Rankings results see the school up an additional nine places, from 28th in the 2020 results, to 19th in 2021.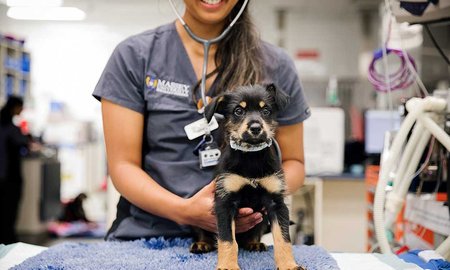 Friday 29 April 2022
This year, World Veterinary Day on 30 April brings attention to an important issue in the veterinary world with the theme being 'Strengthening Veterinary Resilience'.