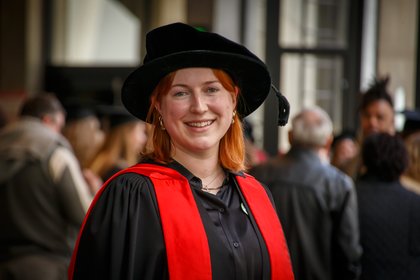 Last updated: Wednesday 14 December 2022
The ceremonies were held to give graduates the chance to don academic regalia and cross the stage after graduation ceremonies in April were cancelled due to the uncertainties of COVID-19 restrictions.
Although their qualifications were conferred in April, Dr Vanessa Gerrie, Dr Maria O'Toole and Bryant Wang celebrated the occasion with their family and friends at the event.
Lecturer at Te Rewa o Puanga School of Music and Screen Arts, Dr Vanessa Gerrie completed her Doctor of Philosophy in 2021. Her thesis, 'Borderless Fashion Practice: Contemporary Fashion in the Metamodern Age', conceptualised the term "borderless fashion practice" and established a conceptual framework for the critical analysis of fashion phenomena and ephemera.
Dr Gerrie uses borderless fashion as a term to define contemporary fashion practitioners who work across disciplines through collaborations and communicate their work in a multitude of cross-platform ways. "Borderless fashion practice describes contemporary fashion practitioners whose work intersects with other creative disciplines and fields, such as art, technology, science, architecture, and graphic design."
Dr Gerrie came to this research topic after studying art history, theory and media studies at undergraduate level, and working as fashion and culture writer. She says her work is driven by the desire to unpack the value of fashion in contemporary culture, and "to map the changing ways that contemporary fashion creatives are working that mirrors the current zeitgeist – fashion is not an empty vessel but one filled with a myriad of discourses rich in socio-cultural reflections and meaning that is centred around our intersectional identities, cultural values, creative expression, and historically - geographical location."
Dr Gerrie highlights several designers and artists working in borderless fashion practice in her thesis. "Iris Van Herpen, who integrates architectural and scientific materials and methodologies into her practice, the late Virgil Abloh, who worked across graphic design, music, architecture, animation; Eckhaus Latta, who are trained in fine art and utilise similar conceptual methods; and Aitor Throup, who makes entirely conceptual work across multiple fields including dance, sport and music and has most recently produced NFTS."
Her thesis is being adapted into a book, to be published by Rutgers University Press in 2023. She says the PhD journey has been amazing and foundational. "Being given the time, space and support to work on one project has been such a privilege. Despite popular opinion, I would actually do it all over again."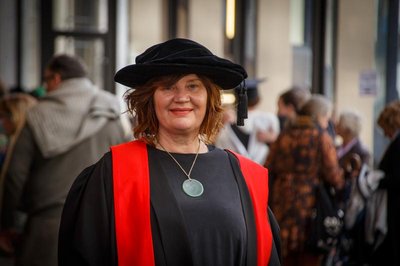 Artist and Senior Tutor at Whiti o Rehua School of Art Dr Maria O'Toole says the research topic for her doctoral thesis Drawn Chorus, a methodical drawing study on how "sound" is experienced as pressure from a whale's perspective, chose her, not the other way around.
"I had been wanting to align my drawing practice with environmental concerns for some-time. The PhD gave me the opportunity to experiment with ways of giving visual form to unseen ecological human impact and its effect on non-humans. In this first experimental iteration I chose ocean mammals, actually the truth is they chose me. My practice is open-ended, and it was while travelling in Tonga on a trip unrelated to my research that I became entranced with humpback whales and then developed concern for their birthing journey through the coastal regions of Aotearoa on their way to Tonga and back to Antarctica."
Her research creates a methodological framework for drawing as research for the purpose of re-learning ways of knowing the world. "I explore the intertwined space in-between humans and whales to better understand and give a visual language to unseen human-generated undersea noise, experienced as pressure by whales."
She swam with whales with an ethical indigenous guide in Tonga and recorded their sounds as part of the research for her thesis. "I also reached out to NIWA scientists who had placed hydrophones in the Cook Strait for the purpose of understanding species and numbers of ocean mammals travelling through the area. They were generous, we met and they shared their recordings with me."
Dr O'Toole received a scholarship her study, which she says enabled her to undertake the research. "It is an incredible opportunity to be given a space and an extended period to create a body of work. I appreciate the hard-working School of Art lecturers, supervisors, support staff and my peers and am grateful to those that have encouraged my post-graduate study and offered critique. The relationships I have made, and the generosity of my peers is what I cherish most from my Massey experience." She is looking forward to getting into her home studio more in 2023.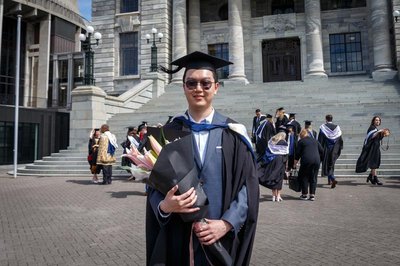 Bryant Wang studied Visual Communication Design as an international student and graduated with a Bachelor of Design with First Class Honours, before taking a role at Massey as a Graphic Designer. He celebrated his academic achievement on graduation day with his partner Tina.
Mr Wang came to New Zealand from Northern China in 2014 and spent three years at high school in Dunedin, where he studied woodworking, art, physics, industrial design, computing, math, and more. "And, among all these classes, I discovered that the creative process of art and design was my favourite." He decided to study at Massey after his art teacher took him to Wellington for the university's Open Day. "I really liked the vibe of creativity and culture of Massey, as well as the city of Wellington, so I applied to Massey and was accepted very quickly."
He says studying design was a lot of fun. "My lecturers were very professional and approachable. I also had a variety of electives to pick from, which was not only enjoyable but also highly valuable for my career."
His path to working at Massey began in 2020, when his design from the second-year elective course Typography System was chosen as the starting point of Massey Exposure exhibition branding that year. "That led me to be a Junior Designer at Open Lab, and I also contributed to the design process of the Exposure branding 2020. During my time at Open Lab, I met a lot of wonderful people. Heather Crichton from the Marketing team contacted me after I graduated and offered me a job at Massey. I had always wanted to use the skills and knowledge I had gained at Massey to give back and help Massey, so I jumped at the chance without hesitation.
"First and foremost, I'd like to thank the lecturers, classmates, family, and friends who have supported and guided me during this journey. I can't imagine completing four years of study on my own without assistance. I'm also very proud of my peers who finished their degrees despite the pandemic and recurring lockdowns and restrictions."
Monday 10 October 2022
More than 500 students will cross the stage at the Michael Fowler Centre on Tuesday 11 October at graduation ceremonies in Wellington.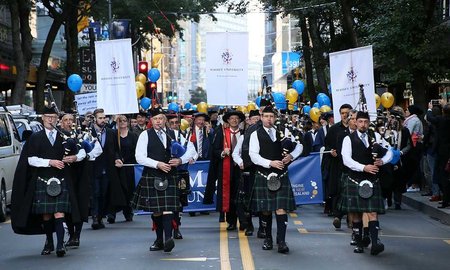 Friday 11 March 2022
Eight Massey University staff are among the graduands to have received doctoral degrees this summer.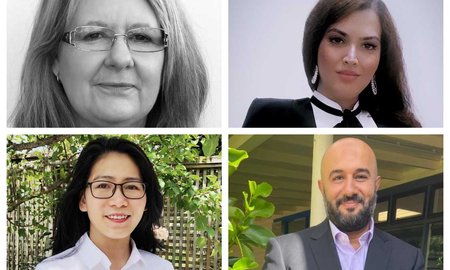 Monday 11 July 2022
Mother of five Krystine Nation says no matter how old you are, how many kids you have, or how smart you think you are, you can absolutely work towards a qualification.