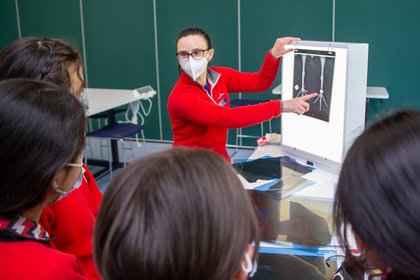 Last updated: Tuesday 3 October 2023
The participating children were aged between seven and 12 years, from Longburn School, Te Kura o Wairau, Takaro School, and Riverdale School.
After being welcomed on to campus by Vice-Chancellor Professor Jan Thomas, students were taken through activities across a number of areas of the university.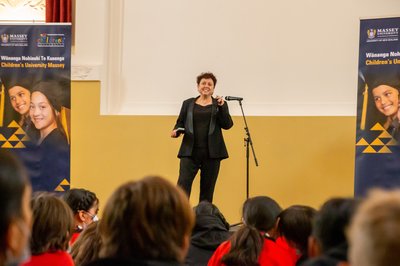 At the School of Veterinary Science Tāwharau Ora, they were shown a cat skeleton, able to get hands-on with model cows and dogs used for training purposes, and shown bird x-rays.
Students were taken under the wing of current Sport and Exercise students at the Recreation Centre, where they tested their reaction times and vertical jump.
A song and dance session led by Spanish Tutor Cynthia Landa highlighted the language study options on offer at Massey. The students also paid a visit to Radio Control headquarters, and participated in an amazing race style campus tour.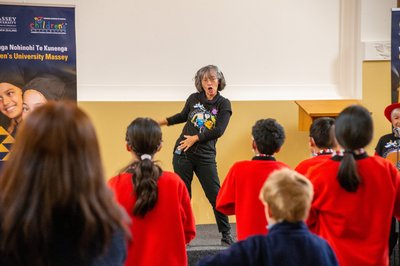 Te Kura o Wairau School Coordinator Ruth Alefaio says the students had a great time on campus, and went away feeling inspired. "The students came away with so much more in their learning kete. The biggest highlight is their motivation and eagerness to learn from other students, adults, and other experts.
Programme coordinator Hey Joung Choi says planning is underway for an event on the Pukeahu campus in Wellington.
"The aim of the programme is to help tamariki discover what interests them, and pursue their passions. We try to show off different areas of the university that students might now know existed or that they're unfamiliar with," Ms Choi says.
Children's University is a charity programme that supports and encourages young learners to participate in educational experiences outside the classroom. The programme identifies learning destinations where tamariki can explore, gain confidence, and develop a passion for learning. Massey is the only university in the North Island to offer the Children's University programme, which started in the United Kingdom in the 1990s.
To join the programme, tamariki apply through their participating school and once they're enrolled, they receive their Passport to Learning. With their passports, tamariki can visit local learning destinations of their choice. Visits are recorded, and each entry is validated in their passports by the learning destinations.
They also get membership to an online portal with information about local destinations, along with a wealth of online activities for days they can't get out and about. Once 30 hours or more are earned in their passports, tamariki receive a certificate at a graduation ceremony to celebrate their achievements. Massey Children's University Wānanga Nohinohi Te Kunenga held its first graduation ceremony in December 2021.
More information about Children's University is available here.
Friday 10 December 2021
Te Kunenga ki Pūrehuroa recently welcomed students, parents and staff from Longburn School and Te Kura o Wairau in Manawatū to celebrate the first graduating class of Children's University at Massey.