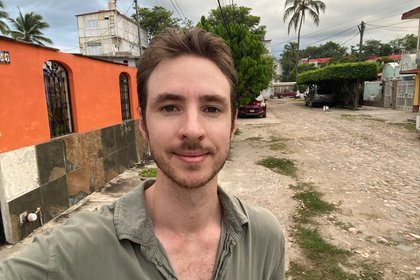 Nick Davies, who is studying a Bachelor of Communication majoring in journalism with a minor in Spanish, has found the time to write his first novel, which was published in March.
"The book is called El Flamingo. It is about a disillusioned actor who leaves Los Angeles and heads to Mexico where he is mistaken for a rogue assassin known simply as 'El Flamingo.' To survive, he is forced to assume the assassin's identity and is subsequently pulled into the world of Latin American espionage. It has a comedic premise but I use that device in the story to ultimately strive for a deeper theme and point."
Nick had been working as an actor for several years in Aotearoa New Zealand but felt he wanted to do something completely different that was more than pretending to be other people.
"I wanted to get far away from the world I had known, so I went to Colombia to write an escapism novel with a comedic element and the plot just grew from there," he explains.
Nick is originally from Wellington, but now lives in Mexico where he is in his second year of studying journalism and Spanish by distance.  
"I chose to study journalism because I think it is in a state of crisis in the current political and economic climate in the world. With all the misinformation, clickbait and shortening attention spans, I think there is a dire need for a return to honest reporting to restore at least an element of public faith in journalism. It's one of those things where the public will criticise the media (often rightly so), but if the world were to be completely without it, there would be no fourth estate to verify the information that feeds and shapes the societal agenda, and most importantly, hold those in power accountable."
Nick finds Mexico particularly interesting in that regard.
"Journalism is experiencing a human rights crisis here, according to the United Nations, as the fight against corruption and criminal organisations has made the very act of telling the truth a risk to human life. Eighty-six journalists were killed here last year, usually in relation to investigating organised crime, political corruption and other connected issues such as femicide and enforced disappearances.
"My minor in Spanish is for the purpose of strengthening and hopefully perfecting my Spanish."
Nick says he finds Massey's distance study extremely rewarding and efficiently run.
"I am able to manage the workload and the time differences in lectures and tutorials. I am blessed to have incredible tutors who always give me a prompt answer when I reach out with an academic question. I can't really think of any negatives, aside from the isolation and lack of robust discussion and debate with classmates and teachers, but this is a part of distance study, which has allowed me to live over here while being immersed in what I am passionate about.
"It's thanks to Massey that I am able to be where I am now, so the two have gone hand in hand."
Nick has some great advice for others who are studying by distance or considering it.
"Kia Kaha. Keep calm and carry on. Things of that nature. One day at a time, I guess. When starting out, it's all very daunting. Multiple papers at once, learning the Stream site, etcetera. Don't get too wound up in 'getting your degree' or 'getting your diploma', remember to enjoy the process of learning along the way and take pride in the small victories.
"It often gets stressful and there will be more stress ahead of me personally, so these are things I tell myself. I heard somewhere once that three inescapable things of life are pain, uncertainty and a hell of a lot of work. If you can come to terms with the fact that versions of those three things will always be around in some shape or form, and still be okay, then you're going to be fine. Also, the staff at Massey are incredible and so is the academic support. You're never alone, so reach out, ask questions, and stay inspired."
Nick's book is published by YBK Publishers New York, a small press house in the United States. It is available in bookstores in New Zealand, or at online retailers. There is also an ebook version available on Amazon.
Friday 24 March 2023
We caught up with Booker Prize-winning author and Massey alumnus Shehan Karunatilaka during his recent trip to New Zealand, when he dropped in to visit the Manawatū campus.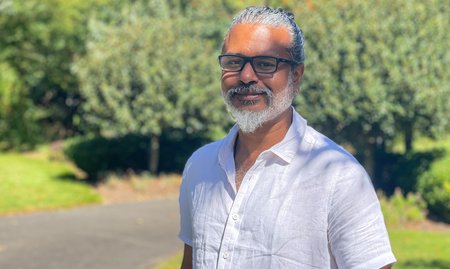 Monday 5 September 2022
Massey journalism graduates have had outstanding success at the recent 2022 Voyager Media Awards, winning several of the top categories.