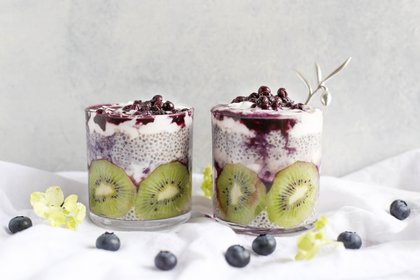 Entries for the 2022 New Zealand Food Awards are now open, and award organisers say there is no product or business too big or small to enter.
The New Zealand Food Awards, powered by Massey University, have celebrated New Zealand's food and beverage manufacturers, focusing on innovation and excellence, since 1987. The awards are open to small and large food and beverage manufacturers, primary food producers, food service providers and ingredient supply companies. This year, the awards will continue to build on the "Food Hero" theme, developed during the 2020 lockdown to celebrate the way Kiwi companies are responding and reacting to the global pandemic.
The awards' gala dinner will be held in Palmerston North this year – a first for the event – after the cancellation of the 2021 gala dinner due to COVID-19 restrictions.
Massey University Vice-Chancellor Professor Jan Thomas says the standard of entries each year is outstanding, and the calibre of previous winners is testament to that.
"We've seen some incredibly innovative entries over the years. The global pandemic has pushed the boundaries in terms of businesses, large and small, having to navigate through some tough times, and respond to ever-changing consumer needs. It's very exciting to see what Aotearoa New Zealand's food and beverage producers have come up with in the past 12 months, and I would invite businesses of all sizes to put themselves forward to the judges.
"Through our excellent industry-engaged research and teaching, Massey plays a key role in the success of the food and beverage sector," Professor Thomas adds. "We are honoured to be able to support the innovators and success stories through these awards and we are extremely proud of the role the awards have had in recognising the excellence and importance of our world-class food and beverage industry."
Products are judged by an expert judging panel which provides feedback and helps businesses to benchmark themselves against industry peers, providing valuable insights for future development and approaches. The award categories provide many opportunities for manufacturers to showcase different products aimed at national and international markets.
There are 12 categories this year, with products and business judged across three areas:
Product awards
Business awards
Community awards
Each category has set criteria and only entrants exhibiting the highest levels of the awards' core characteristics will progress to being named a finalist, winner and supreme winner. The judging process reflects the New Zealand Food Awards' brand values of innovation, sustainability and excellence.
The judging process is built on the pillars of technical capability, consumer acceptability, regulatory compliance and food quality and safety. Entries are required to meet their category criteria and baseline scoring for each judging phase to progress. This ensures consumers can trust any brand wearing the New Zealand Food Awards quality mark, know the product is manufactured here in New Zealand and that it represents outstanding food technology, production, manufacturing and marketing.
The supreme winner is selected from the winners of each of the individual category awards. Businesses can enter each product in up to three categories and in addition to this, there is free entry into the Food Safety Culture and Food Hero categories.
The New Zealand Food Awards is proud to be represented by a panel of New Zealand's leading food and beverage experts as judges. The judges represent a cross-section of the industry and bring technical, culinary, scientific, and commercial expertise to the awards.
Massey University is proud to be principal sponsor and owner of the New Zealand Food Awards. The university's involvement stems from the leading role it plays within food-related education and research in New Zealand and globally, for a range of health and science programmes and research centres. From food science and product development to nutrition and dietetics, as well as farming and horticulture, Massey's name is synonymous with New Zealand's innovative food sector.
The awards' programme is made possible with the support of Palmerston North City Council, New Zealand Food Safety, Countdown, Cuisine Magazine, BNZ, New Zealand Food Innovation Network, AsureQuality, Kiwiso, FoodHQ, Americold, FMCG Business, New Zealand Trade and Enterprise, The New Zealand Institute of Food Science & Technology Inc., XPO Exhibitions and Villa Maria.
2022 Categories
Product Awards
Beverage – Sponsored by New Zealand Food Innovation Network
Artisan – Sponsored by Cuisine
Chilled – Sponsored by Americold
Below Zero – Sponsored by FoodHQ
Pantry – Sponsored by Countdown
Primary Sector – Sponsored by New Zealand Food Safety
Health and Wellbeing – Sponsored by Countdown
Novel – Sponsored by Kiwiso
Product Lifetime Achievement Award – Sponsored by AsureQuality
Business Awards
Business Innovation – Sponsored by BNZ
Food Safety Culture – Sponsored by New Zealand Food Safety
Community Awards
Food Hero – Sponsored by Palmerston North City Council
Key dates
2 May – Entries open
31 May – Entries close
4-8 July – Judging week
17 August – Finalists announced
18-31 August – People's Choice voting open
13 October – Gala dinner and winners announced, Central Energy Trust Arena, Palmerston North, 7pm-11pm
For more information, visit www.foodawards.co.nz
Thursday 1 July 2021
Judging for the New Zealand Food Awards kicks off tomorrow with some of the industry's biggest names bringing technical, culinary, scientific, and commercial expertise to the judging panel.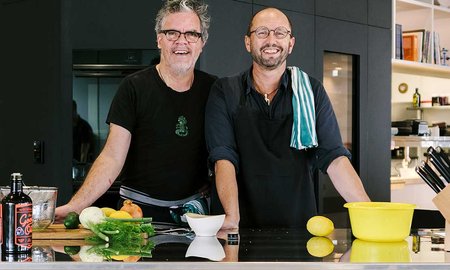 Thursday 15 July 2021
Fair Food Charitable Trust is excited to announce it's partnering with the New Zealand Food Awards this year, to salvage the surplus food following judging.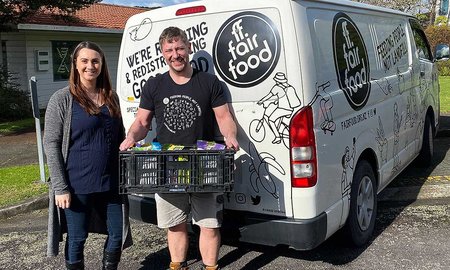 Wednesday 24 November 2021
A fermented sauerkraut with pūhā (sow thistle) has won the Massey University Supreme Award at the New Zealand Food Awards.