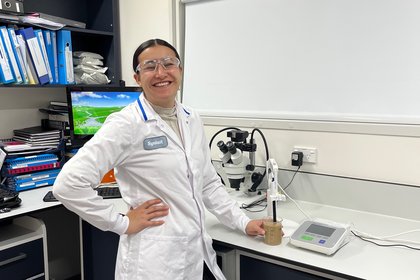 The 27-year-old chose food technology as a career because of the way it combined science with creativity.
"I was always interested in science but wanted to be able to do something creative, rather than repetitive tasks. I picked food technology out of a careers book in Year 13 as it sounded interesting and seemed like a good way to combine my love of food and science," Zara says.
Once she had selected what she wanted to study, it was easy for Zara to decide that Massey was the place to do it.
"I did some research and found out that Massey had the best reputation for their Bachelor of Food Technology with Honours. It also helped that Palmerston North was an affordable city with free buses, which made student life a lot easier than it would have been in the larger cities." 
In 2014, Zara, who was raised in the small far North town of Okaihau, moved south to Palmerston North to complete a Diploma in Engineering Studies before embarking on a Bachelor of Food Technology with Honours.
The summer internships were the highlight of Zara's time studying.
"The summer internships I had were amazing learning opportunities. I was fortunate enough to do an internship at Lion Dairy and Drinks here in Palmerston North (now Goodman Fielder) where I was involved in some awesome projects around the cool chain and yoghurt.
"I then went on to do a summer internship at Tip Top Ice cream in Auckland which was an amazing experience. I was on the research and development team and had some excellent mentors, I got to help on new products and taste a lot of amazing ice creams along the way! The best part of these internships was meeting amazing people who I still stay in touch with today."
Zara completed her fourth year Honours project with Synlait, a milk nutrition company. This experience led her into her first food technologist job with the company, and she is still there, nearly four years later. She is a food technologist on the liquids development team and works on a number of products and projects, including ambient drinking yoghurt, ultra-heat treated (UHT) flavoured milks and UHT whipping cream.
"I have also developed my sensory skills as we didn't have a dedicated sensory scientist in our team, so I volunteered to help with this. I have learnt a lot about this aspect of new product development (NPD)," Zara explains.
"In addition to my technologist role I have also had the opportunity to project manage implementation projects which involve a number of teams across the business and commercial scale trials."
Zara's favourite part about working at Synlait is seeing projects go from concept to bench /pilot scale trials, to commercial trials, and eventually to supermarket shelves.
"We are lucky enough to work collaboratively with Massey using experts in areas like the pilot plant, microbiology lab, nutrition lab and the Riddet Institute."
In January 2022, Zara made the move to Christchurch to work at Synlait's Dunsandel site.
"I moved to our Dunsandel factory to expand my NPD and manufacturing knowledge, as well as network and build relationships with the wider team. It also enables me to be involved in the implementation and commercialisation of the products we developed in Palmerston North over the last few years."
In addition to experience as a food technologist, Synlait has offered Zara many development opportunities, including completing a project management course in Brisbane, participating in a four-month long virtual women in leadership course, having mental health first aid training (and being a mental health representative within the company) and the chance to be involved in commissioning of a new liquids plant.
Zara's experience as a food technologist has highlighted how people skills are just as important for the role as scientific knowledge.
"It is important to do well in your studies, but it is equally if not more important to develop your networking and teamwork skills. Food technology is a very collaborative career pathway and you need to be able to work with a range of people to be able to get jobs done."