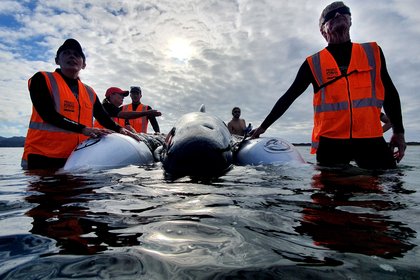 Last updated: Monday 19 September 2022
The Massey University-led study surveyed the opinions of over 200 respondents to identify how factors such as level of experience and designated roles can impact perceptions and expectations of how strandings should be managed in New Zealand. The study, published last week in the international journal Marine Policy, reveals the complexity of challenges faced by the Department of Conservation (DOC) when managing human expectations at strandings around the country.
Professor Karen Stockin, lead author and inaugural Bob Kerridge Animal Welfare Fellow, says a disjunct exists between people's perceptions of animal welfare and survival. "While the majority of respondents prioritised survival over welfare, the undeniable link between compromised welfare and poor survival outcome appears to get lost in translation. In some cases, this can lead to ongoing calls to rescue non viable animals rather than provide a humane end to suffering, either via palliative care or euthanasia."
Findings of the study highlight how public antagonism faced by DOC may potentially lead to decision making which prioritises human sentiment over animal welfare needs. "High profile cases such as Toa the neonatal orca, who died weeks after stranding while in extended human care, speak loudly to the social science data presented in this latest study," Professor Stockin says.
DOC, and marine mammal rescue charity Project Jonah, have welcomed the ongoing research insights provided by the Massey team.
Project Jonah General Manager Daren Grover says strandings are highly emotional events, and all those involved are hoping for the best outcomes. "Sadly, we have seen events where the weight of public expectation has seen suffering of sick or injured whales and dolphins prolonged in the hope of a happy outcome. This paper supports our position that education leads to greater understanding, and shows that our training gives volunteers more realistic expectations of all possible outcomes at stranding events."
Rebecca Boys, senior author of the study, says New Zealand has the opportunity to be a global leader in strandings response. "However, that will require us getting the correct balance between animal welfare, survival probability and public sentiment."
Another recent international study published in Animals by the same team at Massey's Cetacean Ecology Research Group, highlights key animal welfare indicators that can be comprehensively assessed at strandings. The authors recommend such indicators be applied to better support decision-making during New Zealand stranding events.
Thursday 11 August 2022
New research reveals some fascinating insights into the age-old relationship between Australasia gannets and common dolphins.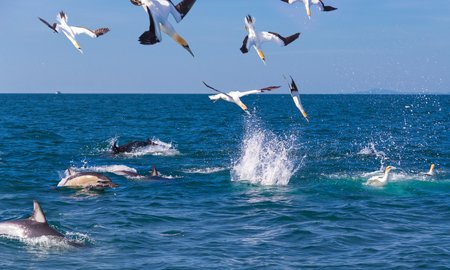 Tuesday 9 August 2022
New research using stable isotopes has shed light on how New Zealand's diverse range of toothed whales and dolphins coexist.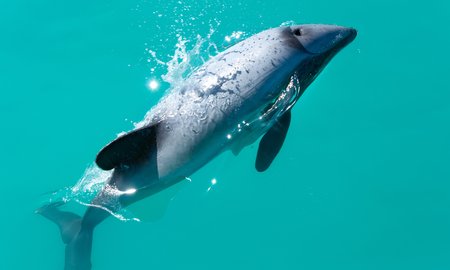 Monday 4 October 2021
Scientists have revealed emerging environmental contaminants of concern within New Zealand dolphins, with similar pollution levels to Japan.