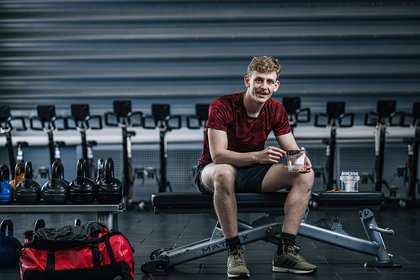 The James Dyson Award competition celebrates, encourages and inspires the next generation of design engineers to think differently and create products that work better.
Industrial design student Nick Holland's entry into the competition was a user-friendly drug testing kit called Pre-Podium which offers design improvements that are particularly useful for women and people with disabilities.
The current drug testing kit offers very few accommodations for these athlete groups, often leading to athletes spilling samples on themselves and the equipment.
To mitigate this, the unique design of Pre-Podium means the athlete provides their urine sample into the ergonomic collection vessel, which has an updated shape and handle to minimise spills and facilitate easier collection. The vessel is then placed on top of two locking transport bottles and drained by pressing the tabs on either side of the vessel.
Pre-Podium is the first athlete drug testing kit that seriously considers the athlete's experience across all stages of the testing process, offering improvements in sample collection, distribution, packaging and laboratory testing. It has the potential to improve the testing experience for thousands of athletes every year.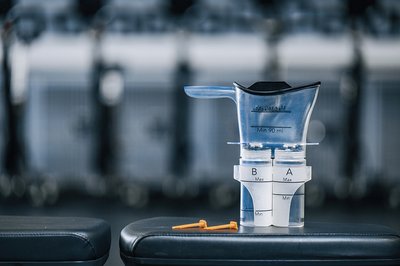 Nick is an athlete himself, having played hockey at a regional and national level for a number of years. He became aware of the unpleasant and uncomfortable process associated with drug testing following a discussion with a friend who had been tested, which spurred him into creating a solution.
"Drug testing is essential to protect clean sport and ensure athletes are competing on a level playing field. As an athlete, fair sports is close to my heart, so I was surprised to learn how stressful and unpleasant the process often is. Pre-podium is a drug testing kit designed to improve the athlete experience throughout the testing process, with a particular focus on increasing ease and minimising urine spills during the sample collection and distribution stages. I am proud to be selected as the national winner for this year's James Dyson Award. It is a great acknowledgement of the thinking, development and time that I put into solving this previously ignored problem."
As the national winner, Nick receives $9,500 towards the project.
He plans on using the funds to help pay for the costs of developing the invention to make it more manufacturable, sustainable and then contribute to getting it on the market.
The national winners were chosen by an external panel in collaboration with a Dyson engineer. The judges gathered to review the entries submitted from university students and graduates across the country, before selecting the New Zealand winner and two runners up.
Head of Operations and judge Craig Douglas says what particularly impressed him was how Nick addressed the problem area in a way that was compatible with other elements of the system, focusing his energy on the area where the most development was needed.
"Pre-Podium is a good example of how form and function complement each other with an intuitive, user-focused design. Good solutions need not be complex – in fact, they are often simple."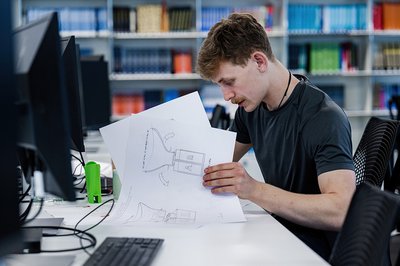 Another judge, engineer and nanotechnologist Dr Michelle Dickinson, says Nick's clever design solves two problems – one for the athlete and one for the lab testers – while maintaining the requirement of being tamper proof from start to finish.
"Nick has really thought about how to solve a real problem with a sleek and functional invention in a way that all of the judges felt could be a globally commercial product."
Massey has a history of performing well with the James Dyson national award, with 2023 being the ninth consecutive year a Massey student has won the top prize, and for 17 out of 22 years that the competition has been running it has been won by a Massey student.
Runner-up Rayflect was also the brainchild of a Massey student, Oliver Mortimer. Rayflect is a face shield that helps to protect physicians from dangerous radiation from medical equipment.
The other runner-up, Pull Dry, was invented by Joshua Unwin of Victoria University of Wellington. Pull Dry is a solution that allows for transporting, washing and drying clothing without electricity, using a barrel with a rope threaded through for spinning and tumble washing clothing. For drying, four attached strings help to spin the barrel at high speed, forcing water our through centrifugal force.
The three New Zealand finalists now move on to the international stage of the competition, with the international top 20 announced on 18 October and winners announced on 15 November.
Thursday 8 September 2022
Three Massey University industrial design graduates have taken top honours in the James Dyson National Awards, making this the eighth consecutive year Massey students have won the competition.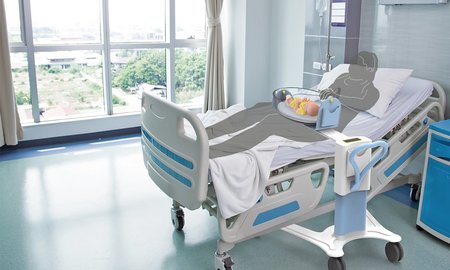 Friday 18 September 2020
A recent Massey University graduate has once again come out on top in the annual national James Dyson awards with an innovative design for fully biodegradable running shoes.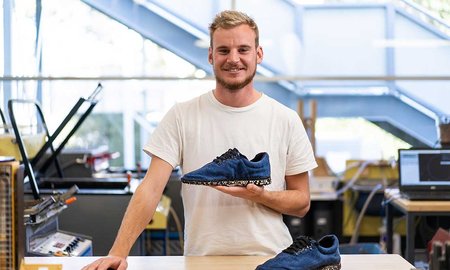 Wednesday 5 September 2018
Industrial design graduate Holly Wright's specialised saddle for disabled riders has won the top prize in the New Zealand section of the 2018 James Dyson Award.