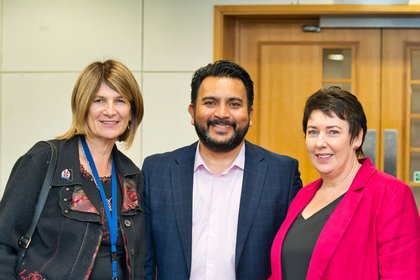 Last updated: Friday 25 November 2022
The symposium was a collaborative event that showcased the two organisations working together to build nursing capability and leadership in the clinical speciality of older persons health. Oceania Healthcare is one of New Zealand's largest Aged Residential Care (ARC) providers, employing nearly 500 nurses, 10 nurse practitioners, and approximately 1400 Healthcare Assistants in 47 facilities across New Zealand.
Head of the School of Nursing Professor Nicolette Sheridan welcomed members of the Oceania Clinical Leadership Team and over 50 nurses onto the Auckland campus for the event. During her welcome speech, Professor Sheridan acknowledged the theme of this year's International Nurses Day, and highlighted the importance of investing in nurses for the future of global healthcare.
The symposium was facilitated by Dr Felix Ram, Director of the Centre of Excellence for Person-Centred Aged Care, who leads the Medical, Education, and Research Team at Oceania Healthcare. He says the collaboration marks a new era in the approach to older persons' care.
"Massey University School of Nursing and Oceania Healthcare are entering a period of transformation in aged care. We welcome the opportunity to engage in the co-development of postgraduate nursing courses that relate to the contemporary care of older people."
Oceania Healthcare's Chief Executive Officer Brent Pattison attended virtually, and acknowledged the talent and tenacity of Oceania nurses who have continued to care for residents throughout the pandemic. The symposium was the first time clinical leaders had been able to come together and connect in over two years, and was a celebration of the incredible work being done by nurses in the aged healthcare sector.
Keynote presentations by the International Council of Nurses Associate Director David Stewart, and the inaugural New Zealand Aged Care Commissioner, Carolyn Cooper, were highlights of the day. Oceania Healthcare Group General Manager Clinical and Care Services Dr Frances Hughes was also in attendance, and reflected on the importance of the nursing profession. "There is no security within countries without a stable, viable health service. There is no stable health service without nurses."
Dr Hughes is well-known nationally and internationally, having previously served as Chief Nurse for the Ministry of Health, and Chair of the International Council of Nurses.
The presentations given by attendees provided insights into complex clinical and health issues, all with a common focus on improving health outcomes. Invited Massey speakers included Professor Karen Hoare (Nurse Practitioner, Nursing) and Professor Carol Wham (Public Health Nutrition).
Professor Hoare provided an overview of postgraduate nursing programmes, including the Nurse Practitioner programme, and emphasised the pathway for registered nurses in ARC. Professor Wham gave a talk on the prevalent risk factors of malnutrition and sarcopenia among ARC residents.
Professor Sheridan says Massey clinicians, academics, and Oceania Healthcare play an important role in the education of nurses at undergraduate and postgraduate levels, and together can change the future.
"We share a vision of excellence in nursing leadership and a commitment to improving health care. Partnering with Oceania Healthcare creates opportunities, most immediately, to develop professional educational pathways for registered nurses working within the sector and to grow the future nursing workforce by offering student nurses exceptional clinical learning experiences."
Thursday 12 May 2022
With the immense challenge of the last two years, it is more important than ever to celebrate the incredible work being done by extraordinary people within the nursing profession. On this day and every day, we thank all of you for your hard work, care, and dedication and wish you a happy International Nurses Day!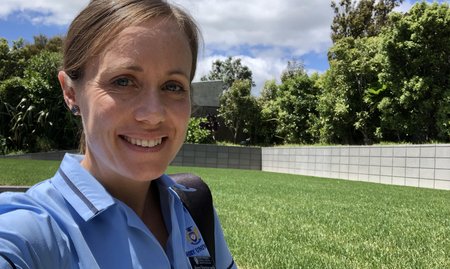 Thursday 12 May 2022
Sarcopenia, a disease resulting in loss of muscle mass, has been described amongst aged care residents in New Zealand for the first time as a result of a journal article written by Massey academics.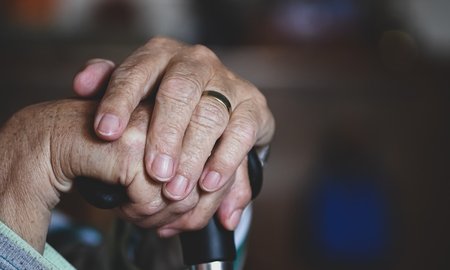 Friday 12 July 2019
Primary health care research specialist Professor Nicolette Sheridan has been appointed head of the School of Nursing in Massey University's College of Health.