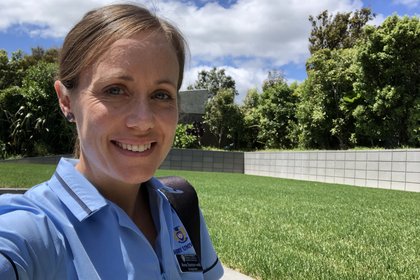 This year's theme is 'Nurses: A Voice to Lead', which brings a focus to the importance of supporting and investing in nurses to strengthen the future of healthcare. This applies not only to the great nurses currently leading within the space, but those beginning their journey into a profession that has ultimately changed forever after bearing the heavy impact of a pandemic.
Dr Rhonda McKelvie of Massey's School of Nursing has a strong understanding of how deeply COVID-19 has affected the profession as an expert in the matter of nurse staffing.
"Aotearoa New Zealand, like the rest of the world, was facing a significant nursing shortage before the pandemic caused havoc in hospitals and nursing education facilities globally. Now more than ever, the training of new nurses and ongoing education of registered nurses is critical to our workforce pipeline," Dr McKelvie says.
The School of Nursing has a long history of success and expertise in nursing education, ranking in the top 150 universities in the world. Since 1973, it has produced graduates at bachelor's, master's, and doctoral level who make major contributions across the health sector.
As part of International Nurses Day, we wanted to put a spotlight on one of our students undertaking Massey's Master of Clinical Practice (Nursing) programme. The two-year graduate entry programme offers nursing education to those who want to build on their previous education and career and become a registered nurse.
Anna Stanton-Wells says it's equally an exciting and daunting time to be entering the nursing profession and at forty years old, she didn't always have her sights set on nursing as her dream career.
Anna originally completed a Bachelor of Arts in 2003, double majoring in Sociology and Media Studies at the Manawatū campus. It wasn't until her youngest child started school that she began thinking about her career as she faced the decision to return to work.
"I realised that I didn't want to go back to the office-based corporate environment I'd been in before having children. I wanted something active and interesting, a career that I could build on and develop even though I was making a slightly later start to it. I'd always had an interest in health and wanted to do something that would make a significant contribution to my community."
Anna decided to return to Massey because the Master of Clinical Practice programme meant she could utilise her existing degree and put it toward her career change.
"During the upheaval of the pandemic and the various times of lockdown and traffic light restrictions around the country, the flexible nature of the course meant we could carry on studying with relatively little interruption.
"We've had to be adaptable and resilient to all of the changes that have occurred due to the pandemic, especially when on clinical placement, but we've been well supported by Massey along the way and been able to complete our practical clinical hours as planned," Anna says.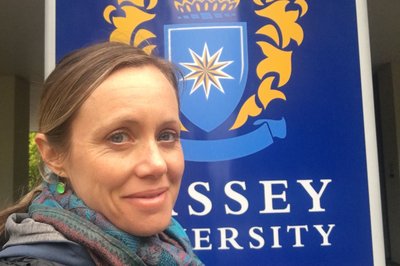 While it's been an exciting time in Anna's life, she says there have been definite highs and lows. One of her favourite parts has been spending time on the Manawatū campus with her peers and the academic staff, as well as reaching various nursing milestones.
"It's amazing, the sense of achievement I get when I master a nursing skill, when I've been able to advocate for a patient within the wider health care team, and when I got through my first shift with my own patient load.
"Also, when I realised that I'm not too old to take on a challenge this big and thrive!" Anna adds.
Alongside the disruption and uncertainty of the pandemic, Anna says there have been other tough moments.
"There are the late nights writing assignments, the lack of hospital parking, and the income. It's also been very challenging at times to be both a student and a parent. I've had to be flexible about when and where I study to fit it all in and still prioritise my family. I haven't always got the balance right."
It's been Anna's family who have been her biggest support during her career change.
"I have a fantastic, supportive husband Kenneth. He was the first one to encourage me to take the risk of embarking on this course of study. He's also been the one to keep me going when things have been tough. My extended family and community of friends have also been amazing in offering encouragement along the way and helping with after-school and holiday childcare."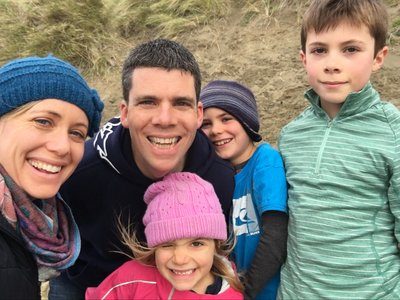 Anna's appreciation of her kids: 12-year-old Evan, 10-year-old Blake, and seven-year-old Petra, has only grown as they've had to adjust to her new schedule and way of life.
"My kids have had to get used to the constantly changing face of mum: focused assignment writing mum, absent on campus block course mum, stressed out studying for an exam mum, and busy on clinical placement mum. They've had to be adaptable dealing with all the changes to our family dynamic," Anna says.
Anna's nursing journey has taught her a lot about herself and what she's able to accomplish, as well as her existing potential born from unexpected places.
"It's built my confidence in what I am capable of, both academically and practically. It's never too late to start something new at any stage of life. Life experience, past academic and career pursuits – even parenting – are a strong foundation for a nursing career."
When she manages to find some time for herself, Anna is a keen trail runner and says it's important to have an outlet that is completely removed from study and the workplace.
"I can clear my head running up in the hills near my home. It gives me a fresh perspective on things and helps me deal with the more challenging aspects of both student and nursing life. I see running continuing to be a valuable way for me to manage stress when I'm in the nursing workforce, too."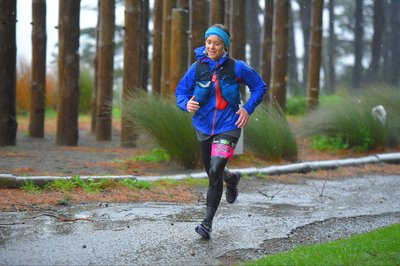 Anna is looking forward to the next few months as she completes her last practice placement and sits her final exams in July before heading out into the workforce. This journey takes a community of nursing leaders and Anna says she's thankful to all who have helped her get here.
"I want to thank Dr Rhonda McKelvie, the Master of Clinical Practice course coordinator and our very own 'camp mum', for supporting all our cohort on their journey to becoming registered nurses. And thanks to the many registered nurse preceptors I've had during clinical placements. They have all been so generous and patient in providing me with opportunities to develop my clinical skills alongside their other work responsibilities."
In light of International Nurses Day, Anna wants to extend her appreciation to those who have forged the paths before her in the nursing profession and acknowledge her own role in the changes still to come.
"I am grateful to those walking ahead of me who have fought for more adequate and equitable pay, and who continue to champion for safe staffing. However, the theme of International Nurses Day this year calls for investment in nurses to strengthen healthcare as a whole and as a nursing student, I add my voice to that call."
Professor Jenny Carryer from the School of Nursing builds on Anna's sentiment, stating that she has mixed feelings around International Nurses Day as it is a time for appreciation but also to bring recognition to the work that must still be done in this space.
"It's an important opportunity to acknowledge and celebrate the work of the nurses and nurse practitioners in every single corner of the health sector," Professor Carryer says.
"Nurses lead a wide range of organisations, they lead service delivery, and they provide complex, sensitive care and health teaching to people in all aspects of health and illness. Currently, they are doing so in a situation of high demand and high stress, but as much as we should celebrate nurses, we still have a lot of work to do. We need to ensure that funding of health services recognises that investing in adequate nurse staffing and leadership is an investment in patient safety, patient comfort, and the efficacy of service delivery."
Looking to the future of the profession, Professor Carryer explains that this change can in part come from investing in the nurses of the future, through developing and supporting their skills and providing comprehensive education opportunities.
"We have further work to do in developing the leadership capacity and the policy and political skills of nurses so that their in-depth understanding of patient perspectives and experience is more often translated into high level decision making."
Monday 28 March 2022
The road to become a mātangi tapuhi (nurse practitioner) has been a long but exceptional one for Kate Te Pou, spanning more than two decades.
Monday 28 February 2022
Catherine Tu'akalau is Wellington's first Pacific Nurse Practitioner and one of only a handful in Aotearoa New Zealand specialising in child health.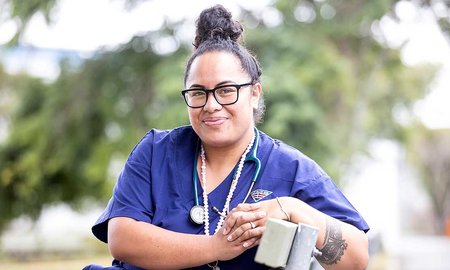 Monday 28 March 2022
A medical incident onboard a flight spurred Master of Clinical Practice (Nursing) student Stacey Boyce to return to study.