Last updated: Friday 25 November 2022
Catherine Tu'akalau is Wellington's first Pacific Nurse Practitioner and one of only a handful in Aotearoa New Zealand specialising in child health.
The 28-year-old graduated with her Postgraduate Diploma in Nursing in 2020 and recently completed a Master of Nursing. Until recently, Catherine was working on the children's ward at Hutt Valley District Health Board but is preparing to move to a new role as a practitioner at Group Medical Chambers, a general practice in Palmerston North.
Pursuing a career in nursing was a very personal decision, she says.
"Witnessing a lot of my close relatives in hospital, dying from health conditions that are preventable, that's what got me into nursing. I began to grow a strong passion for child health in the early stages of studying nursing as I loved the family-centred care approach."
Catherine lives in Levin with her husband Alfred and four-year-old daughter Juliet. "My family, alongside my parents and siblings, have been my support system during my studies. After giving birth to my daughter, I was motivated to pursue postgraduate studies, and with the support of my husband, it has definitely been something special."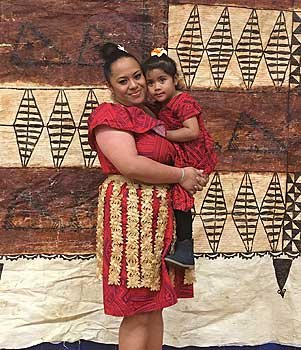 Going the distance
Catherine was drawn to Massey due to the flexibility of learning via distance.
"I took on postgraduate study while working full-time as a registered nurse and being a busy wife and mother, so distance stood out to me. Massey also offers numerous scholarships, and I was the recipient of the Massey University Pacific Postgraduate Scholarship.
"I strongly encourage those deciding where to do their postgraduate studies to study with Massey. As I specialise in paediatrics, one of the lecturers for the child health course I did is a nurse practitioner in child health - Professor Karen Hoare. Karen was one of the reasons why I stayed with Massey to complete my Master of Nursing, as I knew she would be a great support for me going into the nurse practitioner course. Being able to establish a professional relationship with your lecturers, I believe, is vital, especially with studying towards a masters. Karen and her academic team have stuck by me through what I think has been the most difficult year to study with COVID-19."
Catherine says the pandemic made studying challenging to do things face to face – an essential aspect of nursing.
"Because of COVID-19, the majority of our block course days were conducted via Zoom. In terms of work, there was a period of stress and uncertainty, with colleagues burnt out. Working on a children's ward, not only were we dealing with the pandemic, but a Respiratory Syncytial Virus [RSV] surge during the winter period too. It took a toll on me because, at the same time, I would come home and have to try to find the energy and motivation to study and do assignments. Thankfully I had great support from my lecturers and the university."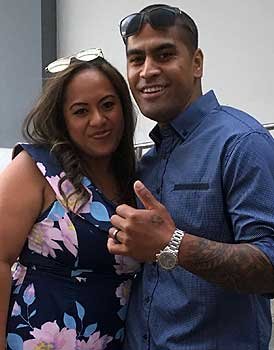 Raising awareness
Catherine says Nurse Practitioners and their work are not widely recognised.
"A lot of people ask me what we do, which is telling in itself. Before, I used to say it's like being a doctor, without the Dr title, but now I say I am a nurse, working at the optimum scope of my practice. I have the same responsibilities as a doctor, for example, taking a health history, performing physical examinations, ordering pertinent tests, prescribing rights, formulating a meaningful plan of care and being a leader in my community, encompassing my years of nursing experience.
"I believe there are not enough registered nurses moving up into clinical or leadership roles such as being a nurse practitioner. We are frontline workers but are also advocates for our patients and families. Being a nurse practitioner allows you to be part of that decision making informing health guidelines or changing local policies," she adds.
"I think we need more nurse practitioners, particularly Māori and Pacific nurses. The percentage of Māori and Pacific people in our health system extremely outweighs the percentage of Māori and Pacific health professionals. Inequity in health absolutely exists and the ultimate goal is to establish a health system that enables better access to healthcare services to improve health outcomes for all."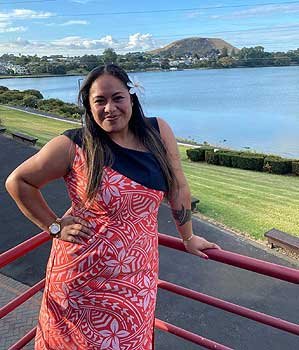 Giving back
In early 2020, she was deployed to Samoa, alongside 14 other nurses, doctors, psychiatrists, and clinical specialists, to help respond to the country's measles epidemic.
"To be given the opportunity to go back to the motherland and share my knowledge, and to work alongside Samoan nurses, was a humbling experience," she says.
Catherine, who is of Samoan and Tongan descent, hopes to inspire young Pacific students.
"We all have and are on our own journey, but coming from a Pacific heritage, we never do things for ourselves. We carry our ancestors before us; we carry our family name, our children, friends, and our communities – these areas of my life, as well as my colleagues and supervisors, have played a significant part in my study journey thus far. To be a trailblazer is a significant milestone for me and my family. I hope this will encourage more pacific students to be trailblazers in their own discipline.
"My undergraduate degree was a conjoint health science and nursing degree. I had two degrees, so I could give one each to my parents. I dedicate my master's to my daughter in the light of the six phases of Fonua, a Tongan health model ­– Kumi Fonua - search, explore, navigate new Fonua; Langa Fonua - form, build and construct; Tauhi Fonua - maintain and sustain; Tufunga Fonua - reform and re-construct; Tauhi Va - maintaining the relationship; Liliu - Change. Fonua accepts change as natural."