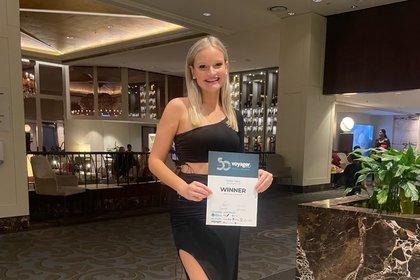 Katie Ham is a reporter for Stuff, a role she began in 2022 while in the second semester of studying towards her Postgraduate Diploma in Journalism. Originally from the United Kingdom and having lived overseas when she was younger, Katie says she always loved the idea of a career that would allow her to continue to travel.
"The postgraduate journalism course at Massey particularly stood out to me because of its emphasis on producing international journalists, so enrolling seemed like the best way of setting myself up to be able to do that."
She says she would highly recommend the Massey's journalism programme.
"I still remember feeling totally overwhelmed during our first week and wondering how on earth I was going to find my way with journalism, but bit by bit I fell in love with it.
"The tuition I received from Bernie Whelan, James Hollings and Kelly Dennett was easily a highlight of my time with Massey. They pushed me further than I thought I could go and I'll always be grateful to them for that. Without a doubt, everything I do from now on will be a testament to the teaching I got at Massey."
Since completing the diploma, she has continued to work for Stuff, covering a number of stories as a crime reporter. However, she says the favourite story she's ever written was the first one she completed as a postgraduate student.
"I spoke to a man in Kharkiv, Ukraine through a translator in the early weeks of the Russian invasion. He was hiding in his basement in the dark while he talked me through how, in the space of days, he'd gone from being a wedding photographer to photographing the atrocities of the frontline of the war in case they were ever needed as evidence in a war crime trial. I still think about him often and check in on his progress as he continues to navigate a new way of life."
Katie says winning the Student Journalist of the Year award came as a happy surprise.
"I was a bit overwhelmed to be honest! The past year has been an absolute whirlwind and I'm still learning so much every day. Journalism has exceeded my expectations tenfold, so it was really just the icing on the cake of the best and craziest year."
Winners across 65 awards were announced at a gala dinner in Auckland in May. To determine who came out on top, 102 judges based across five countries co-judged in groups of two to four to select winners from a total of 1650 entries.
When deciding on Katie as the winner, judges Coen Lammers and Mike Fletcher commented, "Katie has the keys to success. Her portfolio demonstrated an acute sense for news and strong skills in storytelling. Katie understands the importance of human interest."
Journalism Discipline Coordinator Dr Bernie Whelan says it was no surprise that Katie won the award because of the curiosity and drive she brings to journalism and because of the programme's design.
"This is the second year running that a Massey graduate has won the Voyager Student Journalist award. It's a testament to the restructured programme we rolled out in 2021.
"The programme gives students like Katie the flexibility to be interviewing people in a Ukraine basement in week five, to working directly with a newsroom and then, in the middle of the year, being hired and completing the programme as a working journalist," he says.
While Katie says she's not sure where she'll end up career-wise, she's loving being at Stuff and learning from her colleagues.
The Voyager Media Awards, organised by the News Publisher's Association, are held annually to encourage, showcase and acknowledge the best of Aotearoa New Zealand's news media across all platforms.
Among the list recognised for outstanding journalism in 2023 are Massey alumni Baz Macdonald who won Video Journalist of the Year and Tova O'Brien who took out Broadcast Reporter of the Year.
Friday 3 February 2023
Isabella Cleary is at the tail-end of a journalism scholarship in Jakarta and will soon be returning home to take up her first reporter role in Masterton.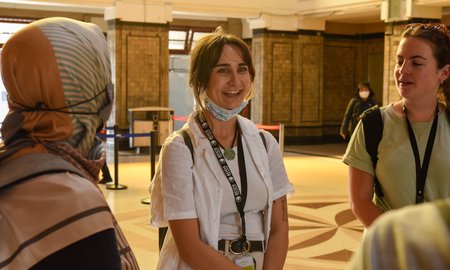 Monday 5 September 2022
Massey journalism graduates have had outstanding success at the recent 2022 Voyager Media Awards, winning several of the top categories.