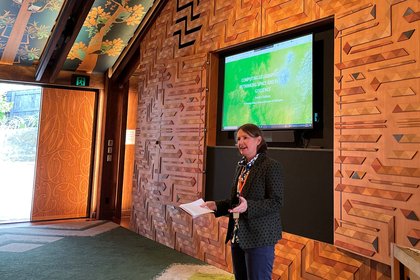 Last updated: Wednesday 12 October 2022
The conference saw 76 attendees from different universities, Crown Research Institutes, iwi, Government representatives and the private sector.
With the theme of 'finding our way to an open world', Conference Chair and Director of Massey Geoinformatics Collaboratory Dr Kristin Stock highlighted the need for a truly open and collaborative approach to research processes.
"Information about where significant events occur is key to challenges we're facing today. Location information is available in a wide range of different forms, but needs particular methods for processing, knowledge extraction and analysis. This reality can only be realised with collaboration across institutions and sectors. The conference provided a forum to continue the work towards open geospatial research," Dr Stock says.
Awards
The Best Paper Award was won by a team led by Massey's Dr Renata Muylaert. The paper highlights the increasing risk of pandemics resulting from habitat loss from bats. The researchers conducted ecological niche modelling for bat hosts of SARS-like viruses and predicted changes in bat hotspots resulting from climate change.
"This was my first in-person conference in a long time. It was great to connect with Geographic Information System GIS researchers and exchange information on interesting approaches developed and applied in New Zealand and internationally," Dr Muylaert says.
The Best Poster Award was won by The Institute of Geological and Nuclear Sciences, whose poster explored the accuracy of crowdsourcing reports of tsunamis, particularly studying the timing and distribution of reports of booming sounds and unusual sea conditions following Tonga's Hunga eruption.
Australian researcher Dr Claudia Cialone won the conference People's Choice Award for her paper describing the use of GoPros, GPS and Google Earth to study the way West Arnhem Land Aboriginals navigate and understand the landscape. She found that the Bininj Kunwok navigate using cardinal directions (e.g. turn west) or landscape features (e.g. turn upstream) rather than egocentric terms (e.g. turn left).
The Massey-led He Tātai Whenua project was presented, discussing the use of natural language processing methods with a 28 million-word collection of historical documents in te reo Māori to study Māori conceptualisations of land.
Workshops
School of Agriculture and Environment Associate Dean Māori, Professor Jonathan Procter and Pukenga Reo Associate Professor Hone Morris hosted He Hīkonga Tangata, He Ara Mātauranga – A journey inspiring knowledge. This bus tour took attendees to locations around Te Whanganui-a-Tara (Wellington) to illustrate stories behind Māori place names and their links to the landscape and geology of the area.
"Participants were invited to listen to the stories of places of the Wellington region. Narratives handed down from ancestors of Ngāi Tara, Rangitāne, Te Āti Awa and Toa Rangatira. It is essential that people retain these stories. As Māori we listen to the land talking through the names left behind, as my PhD supervisor Professor Cynthia White said at the beginning of my PhD journey, 'the language is in the land and the land is in the language,'" Associate Professor Morris says.
Other workshops explored the future of geospatial education in Aotearoa and career paths for postgraduate students in geospatial science.
Click here to find out the full conference report.
For more information:
Thursday 26 May 2022
A new research paper identifies locations of bats that may host coronavirus based on climate, native forests, and caves where these bats inhabit.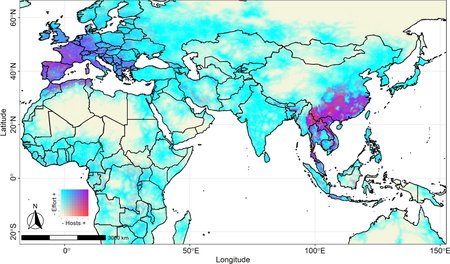 Tuesday 30 August 2022
School of People, Environment and Planning Associate Professor Trisia Farrelly spoke at the three-day workshop in Suva, Fiji, organised by the Secretariat for the Pacific Regional Environment Programme (SPREP).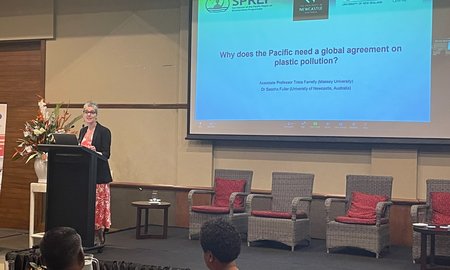 Wednesday 10 August 2022
PhD Food technology student Haroon Qazi celebrates his poster competition win at the New Zealand Institute of Food Science and Technology (NZIFST) Conference.