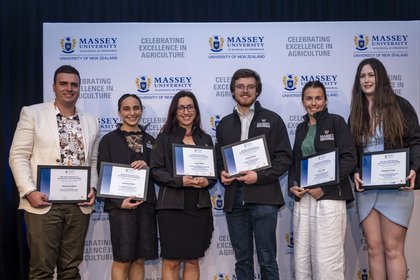 Last updated: Friday 25 November 2022
The top six students from agricultural science, agribusiness, animal science, horticulture, earth and environmental sciences were announced, as over 250 people gathered at Palmerston North's Convention Centre for the 29th annual awards evening.
The awards bring together students, industry partners and educators to celebrate and reward excellence inside and outside of the classroom.
Traditionally, the awards have focused on agriculture and horticulture, but this year saw a bigger and better event, after a two-year hiatus. Awards for excellence in animal science, earth science, and environmental science were included – all disciplines that are crucial to the primary industries.
The three new awards were sponsored by Horizons Regional Council (Excellence in Earth Science), Lowe Environmental Impact (Excellence in Environmental Science) and LIC and Aviagen (Excellence in Animal Science). The traditional awards for Excellence in Agriculture and Horticulture (sponsored by Ravensdown, Ballance Agrinutrients, Zespri, Beef and Lamb New Zealand, and The New Zealand Institute of Agricultural and Horticultural Science) were also awarded.
The sixth award, the William Gerrish Award, is the top award of the evening and is made possible by the Gerrish Family in memory of Bill Gerrish, who championed an annual prize to recognise an outstanding farm management student. The student also needs to demonstrate a high level of personal integrity, intellectual curiosity, vision, and social conscience.
This year's William Gerrish Award winner was Adam Honeyfield, a Bachelor of Agribusiness student from Tauranga, who is majoring in rural valuation. Adam has a keen interest in farm management due to growing up on a farm, and now works part-time for a rural valuation company in Tauranga while he finishes his degree. Adam says he was humbled to receive the award.
"I was quite surprised to be honoured. It's been a long journey for me - four years of hard work by distance, so it's a nice way to wrap things up. The hard work has all paid off."
Adam grew his family from one to three children while he was studying. "It was very challenging to build a family, work full-time and study. You need the right mindset, but I didn't put too much pressure on myself to finish in a certain time. I took it at a steady pace to keep up my motivation. This last semester my work and family were very supportive so I could complete the year. I've just the exams to go, but this is a fairy tale ending."
The top students this year in agriculture and horticulture were Erika Lilley and Lachie Barrett respectively. Erika has grown up on dairy farms in the Bay of Plenty, and completed her degree this year from home to enable her to work part-time to help pay for her degree. Lachie also grew up on a dairy farm in Taranaki, and developed his interest in horticulture after working for a commercial medicinal cannabis grower.
Erika says the student culture at Massey has been amazing.
"It was hard to become a distance student, having completed the first semester as an internal student. The nature of the student community is so supportive and a lot of fun. To learn via distance was very different, but I was able to focus more. So, it feels great to be back together with everyone to celebrate this evening. It's amazing to be here. The opportunities being offered and the network in this room is incredible. It was hard work over the three years, but getting good grades and now this prize has been worth it," she says.
Erika is currently based in Te Anau and has a rural banking graduate role with Bank of New Zealand.
Lachlan is heading off on a Prime Ministers Travel Scholarship to visit agricultural universities in Chile, before taking up a role with Balance Agri-Nutrients in Hawke's Bay on his return. Growing up on a dairy farm in Taranaki, he says he enjoyed learning about horticulture.
"I enjoyed going to lectures and intended to come to university to learn as much as I could in a specific topic, so its great to be recognised for that."
Top animal science student was Brooklynn Taylor from Tirau. Brooklyn is just completing her Animal Genetics and Breeding major in the Bachelor of Animal Science, and has decided to return next year to do postgraduate studies that will further her interest in animal breeding.
Top Earth Science and Environmental Science students Ingeborg Smythe and Joanna Wood were thrilled to be the inaugural winners of their respective prizes. Both students have completed their degrees completely through distance education and produced very high grades despite working from home. Inge is based in Hawera and Joanna works part-time on a dairy farm south of Whangarei where she helps look after 26 hectares of native bush.
Both Ingeborg and Joanna commented on the teamwork and community that enabled them to study towards their degrees.
"The Massey University staff have been amazing, and my student network that I have studied with have been such a support. It's been an amazing journey. I have four children and a full-time job, and Massey just makes it work for you. Especially over COVID times, there is a lot of understanding, and it has been life changing," Joanne says.
Ingeborg says she felt honoured to be given the prize amongst so many others who have worked hard over the last few years. "The lecturers are really student focused, passionate about what they do and they inspire you to achieve. I really appreciated that."
Both Ingeborg and Joanne are deciding on their next career steps, with both considering further study. But, in the meantime, they will be applying what they have learnt during their degree to their current roles.
Head of the School of Agriculture and Environment Professor Paul Kenyon says he was delighted to hold the dinner once again after two years of disruptions.
"Holding the dinner again after a break last year and a smaller version of the event in 2020 was a great return to celebrating excellence in agricultural education. These students have shown great resilience and courage to navigate their studies over the last couple of years, and this was a just celebration of all that they have achieved."
"It was a great honour to present 26 students with academic, practical and leadership awards. We are proud of each of our students, prize winners or not, and this was a fantastic end to the academic year once again."
All prize winners are listed on the awards website.
Friday 19 October 2018
Massey's School of Agriculture and Environment has named its top students of the year at their annual Agriculture Awards Dinner.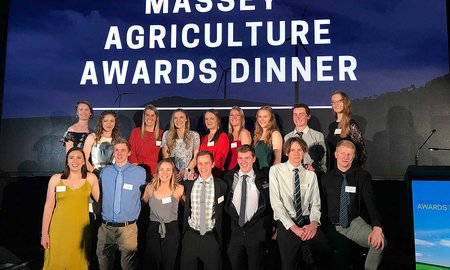 Friday 20 October 2017
Over 250 people gathered at Massey University's Sport and Rugby Institute on Friday night for the Agriculture Awards Dinner.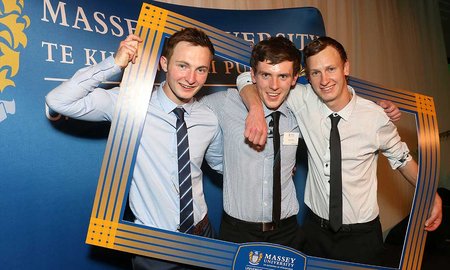 Saturday 19 October 2019
Massey University's rising stars have been named at the 26th annual Agriculture Awards Dinner in Palmerston North.