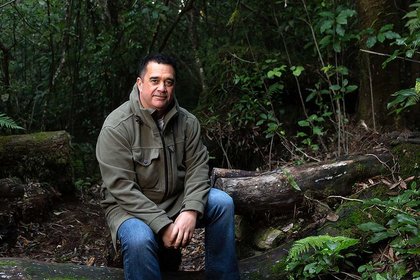 Last updated: Thursday 23 June 2022
Shortly after joining Te Pūtahi-a-Toi, School of Māori Knowledge as Professor of Mātauranga Māori in September 2021, he was shoulder tapped by the Prime Minister to be Chief Advisor Matariki and Mātauranga Māori, as the Government explored the creation of a new public holiday.
He says it was a once in a lifetime opportunity he could not refuse.
"I was in a Zoom call with the Prime Minister who asked me if the country was ready for Matariki to become a national holiday. I said, 'Absolutely,' but never in my wildest dreams did I think it would happen. It's a huge step."
He chairs the Matariki Advisory Group which has provided advice to the Government around identifying a date, how best to celebrate Matariki, and the education and community resources that are needed to improve understanding and knowledge of Matariki across Aotearoa.
Matariki is the first public holiday to recognise Te Ao Māori and is an abbreviation of 'Ngā Mata o te Ariki Tāwhirimātea', 'The Eyes of the God Tāwhirimātea', and refers to a large cluster of stars, also known as the Pleiades. 
The predawn rising of Matariki in the mid-winter sky marks the changing of the seasons and the beginning of the Māori New Year. At the heart of the celebration is remembrance (honouring those who passed since the last rising of Matariki), celebrating the present, and looking to the future.
Professor Mātāmua says Matariki is about connecting everyone to their environmental responsibility.
"Each of the stars in Matariki are associated with different parts of the environment. I have nine in my cluster: one is connected to the dead, another is a wishing star. The others represent the earth, forest, fresh water, salt water, rain, and wind.
"All these elements are celebrated…because that's where our wellbeing comes from. We must be responsible for those spaces and ensure they are healthy and well, so we are healthy and well. One of the workstreams we are really getting into [with Matariki] is supporting all New Zealanders to reaffirm their bond and responsibly to different parts of the environment."
The road to becoming an expert on Matariki
Born in Palmerston North and raised in Levin, Professor Mātāmua went to boarding school at Hato Paora College near Feilding. He says education was a priority for his parents and grandparents, but science was not something he considered for his future.
"I hated science when I was younger because I had no connection to the subject matter, I couldn't see myself in a periodic table or a Bunsen burner. But what I loved was Sci-Fi and the scientific principles that sit at the heart of the narratives of films like Star Wars and Star Trek, including speed, lasers, elements, and interstellar travel. What holds that science together is the narratives and stories."
During his first year at university he became intrigued about his whānau knowledge on Matariki and turned to his grandfather for more information. Coming from a long line of astronomers, his grandfather presented him with a 400-page manuscript on Matariki written by an ancestor in the late 1800s, which was passed down generations.
"It was rich with astronomical data, including more than 980 Māori names for stars, 103 constellations, when they rise and set, what they mean and what they are connected to. Embedded in the manuscript was a curriculum on how to teach Māori astronomy."
He says the manuscript was personal, tribal, and sacred knowledge to his family and not something he ever imagined sharing, but his grandfather had other ideas.
"When my grandfather was on his death bed his last words to me were, 'You need to find a way to share the book. Knowledge that isn't shared isn't knowledge'".
It was that moment that paved the way for a 20-year career in disseminating traditional Māori astronomy knowledge. Professor Mātāmua has been the recipient of multiple awards including the Prime Minister's Science Prize in fields such as Māori astronomy, science communication, Māori navigation, indigenous knowledge and te reo Māori, and is a Fellow of the Te Apārangi Royal Society of New Zealand.
Returning home
When he needs to reset and rest, he returns to Ruatāhuna in Te Urewera where his grandfather's whānau is from. He has built his own house there and spent years of his life hunting deer, trapping possums, and tending to his gardens and orchard. "I was possibly the highest qualified possum trapper in the country," he laughed as he recalled a three-year break living there after completing his PhD at Massey.
He returned to academia after that break, moving to the University of Waikato where he spent nearly eight years and became Professor of Māori and Indigenous Studies. He says he feels a close connection to Massey and is thrilled to be back.
His new role focuses on leading Te Pūtahi-a-Toi's graduate programme to help meet Māori tauira increasing demand to write in te reo Māori and engage in mātauranga Māori-related projects, as well as supporting staff to develop their careers.
"There are some real stars and academic leaders at Te Pūtahi-a-Toi and Massey University. It's our job to support another generation of academics to come through and grow."
Tuesday 21 June 2022
Matariki is a significant occasion for all people of Aotearoa and marks the beginning of a new year in te ao Māori. It is an opportunity for whānau and communities to come together to reflect on the past year and prepare for the year ahead.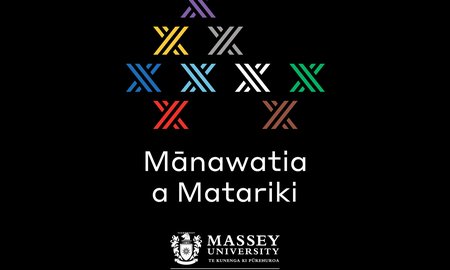 Wednesday 8 September 2021
One of Aotearoa's foremost Māori scholars, Rangi Mātāmua, Ngāi Tūhoe, has been appointed as a Professor of Mātauranga Māori at Massey's Te Pūtahi-a-Toi, School of Māori Knowledge.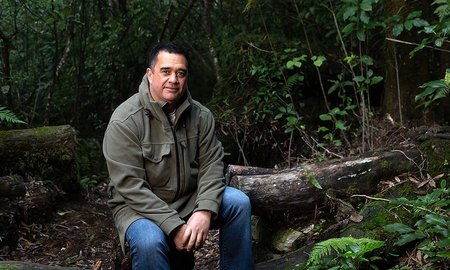 Tuesday 21 June 2022
Mana Moana, the artist-led collaboration between Māori and Pacific visual artists, musicians, writers, and choreographers, is screening two different programmes across two cities for Matariki this year.