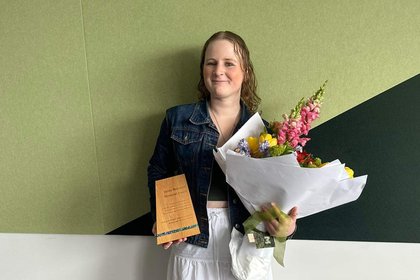 Last updated: Tuesday 21 November 2023
The Jodee Redmond Memorial Award was created in 2020 to honour the life of much-respected community nurse Jodee-Anne Genevieve Redmond Wager.
The Award was created by her family to recognise a first-year Bachelor of Nursing student who demonstrates personal qualities that are important within the nursing profession. These include a generosity of spirit, empathy towards patients and whānau, honesty, integrity and the ability to positively influence others through words and actions.
Twenty-year-old Meg Higgs is the 2023 recipient, and says she's honoured to be chosen.
"I really struggle to give myself credit where it's due and this award really helped me to do that. To be recognised for the work I put into my degree has been really lovely and such an honour."
Meg originally thought she wanted to be a doctor, but realised she enjoyed the one-on-one patient care involved with nursing.
"I was sick a lot growing up and I realised I wanted to give the comfort and care that nurses gave me, to others."
She says her first year of studying was a struggle.
"Studying nursing takes up a lot of time, resources and mental capacity, but I wouldn't want to be doing anything else. My first year allowed me to develop many skills that I will use throughout both my life and my career."
Meg, who grew up in Napier, says she chose to study at Massey's Pukeahu campus in Wellington as she wanted to be in the capital and had heard good things about the offering. She says the campus is in a great location and she was able to develop a great group of friends through the course and living in Massey halls.
School of Nursing Senior Lecturer Dr Claire Minton says, "Meg was chosen as a student who demonstrated through first year to be a very caring and generous student who, despite challenges, did not let them hold her back. Staff felt she encompassed all that the award seeks to celebrate in nursing students."
While Meg says she's just taking things as they come for now, she wants to get into paediatric nursing at some point, and after a couple of years of experience she'd like to volunteer for Mercy Ships.
Interested in a career in nursing?
Wednesday 14 December 2022
Campbell Thompson's parents were the inspiration for him to make a career change to become a nurse.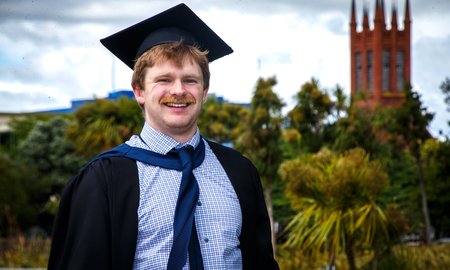 Monday 28 March 2022
The road to become a mātangi tapuhi (nurse practitioner) has been a long but exceptional one for Kate Te Pou, spanning more than two decades.
Wednesday 8 May 2019
Third-year Bachelor of Nursing student Ruth Trow has been awarded the inaugural Summerset Graduate Nurse Scholarship.