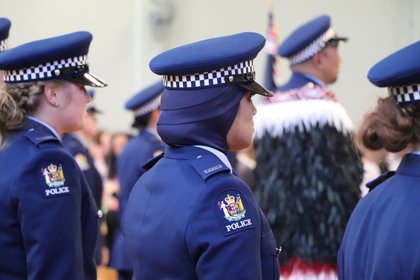 Last updated: Wednesday 23 November 2022
The award is given to a person or team who has invented or created a unique and ingenious structure, device, product, design, system, process, services or artefact which is significant in its economic, cultural, social or environmental impact.
It is the second time that the award has been given, following its inception in 2020.
New Zealand Police recognised that the absence of an operational hijab in their uniform suite was a potential barrier to prospective Muslim police officers. This was especially poignant after the 2019 Christchurch terror attack.
As a result, they approached Associate Professor Deb Cumming and Lecturer Nina Weaver from Ngā Pae Māhutonga Wellington School of Design to help create one.
Ms Cumming and Nina Weaver carried out a thorough design process including consultation with Muslim women, design and development to produce the samples, production specifications and final prototype for wear. The design allows for the freedom of movement and rigorous performance that policing demands and can be worn with all police issue headwear. The co-design development process was especially important in responding to the needs of a modern police service that reflects the communities they serve.
Constable Zeena Ali was New Zealand Police's first member to wear the hijab as part of her uniform.
"Having a police-branded hijab means women who may not have previously considered policing can now do so. It's great how the Police incorporated my religion and culture, and I'm thrilled that Police went out of their way to make sure the hijab I have on meets health and safety requirements as well as my own personal needs."
The hijab has been licensed through commercial contracts around the world, allowing Muslim women in policing, emergency response and government to benefit from the inclusivity, efficiency and safety that the design brings. The product was trialled and passed health and safety testing for Leicestershire Police and is now officially licensed to the Home Office UK for manufacture and distribution to frontline services.
In New Zealand, it has also been manufactured for St John Ambulance and the Department of Corrections.
The nomination for Ms Cumming and Ms Weaver stated: "The Operational Hijab Design fills a gap in fundamental uniform requirements for Muslim policewomen. This innovative design means that more Muslim women might consider policing as a career option, supporting inclusive police services that can better reflect the communities of Aotearoa and the world."
Provost Professor Giselle Byrnes says the hijab is an excellent example of how creative innovation and design research can come together to provide real-world benefit.
"This speaks also to your ambition at Massey to continue to support high-quality research conducted in partnership. We are so very proud of Deb and Nina and delighted that their work has been recognised though the highly prestigious Tahunui-a-Rangi award."
Background
The Tahunui-a-Rangi award for invention and creation was first awarded in 2020, with the support of Callaghan Innovation. It is awarded in even numbered years to a person or team who, while in New Zealand, has invented or created a unique and ingenious structure, device, product, design, system, process, service or artefact(s) which is significant in its economic, cultural, social or environmental impact.
Such an invention or creation must demonstrate world-class ingenuity and/or creative use of new knowledge and would not normally be based on published research. Nominations are invited from any of the private, non-profit and public sectors.
The name Tahunui-a-Rangi translates to 'Great Glowing of the Sky'.
The medal was designed by Ross Hemera, former Professor of Māori Art and Design at Massey University. In reference to the name, the design acknowledges the luminosity of the Southern sky. In this instance, the design is inspired by the notion of movement and innovation. The design uses acrylic material to enhance the translucency of light, and the imagery celebrates ngā rangi tūhāhā – the separately spaced heavens as portrayed in 12 bird figures.
Thursday 10 November 2022
For his work in population genetic theory and international recognition as a research leader, Professor Cox has been granted this prestigious award.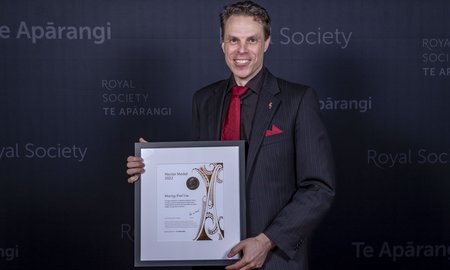 Friday 12 March 2021
Four Massey academics have been elected to the Academy of the Royal Society Te Apārangi for their distinction in research and advancement of science, technology or the humanities.