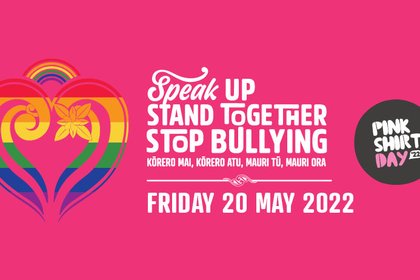 Last updated: Thursday 19 May 2022
Tell us a bit about yourselves and what you do here at Massey.  
Eliza: Tēnā koutou, ko Eliza Melling tōku ingoa. I'm Massey's Sexual Harm Prevention Advisor. This is a new role for the university, and I am grateful to be here leading Massey on this journey to creating a safer environment free from sexual harm and one that is grounded in consent, conscious communication, and community. Every day looks different for me, but the overarching kaupapa of my role is to develop and deliver a sexual harm prevention strategy. This will involve implementing education initiatives and awareness campaigns that support prevention, and creating robust policies and procedures that support response to sexual harm.  
Connor: Tēnā koutou. Ko Rangitāne o Wairau te iwi. Ko Connor Mcleod ahau. A large part of my role here as Diversity & Inclusion Advisor at Te Kunenga ki Pūrehuroa is to start and strengthen initiatives that recognise, respect, and enhance the mana of our rainbow and takatāpui communities. My background is in youth work, intersectionality education, and community development. I live and work in Te Whanganui-a-Tara (Wellington) with my husband and two cats, and am also a Master's student here at Massey in social anthropology. 
What is Pink Shirt Day, and why do people participate? 
Eliza: Pink Shirt Day is a day where people come together and wear pink to celebrate diversity and promote kindness, empathy, and inclusivity, with the wider kaupapa of stopping bullying and harassment. The campaign aims to inspire organisations like Massey to create a community where all people feel safe, valued and respected, regardless of gender identity, sexual orientation, age, ability, religion or cultural background. 
Can you tell us a bit about the history of Pink Shirt Day? 
Connor: Back in 2007, a Year 10 high school boy in Canada was experiencing homophobic bullying and harassment by his peers. His crime? Simply daring to wear a pink shirt in a cisheteronormative society like ours that enforces strict, sometimes damaging gender roles. In this case however, there was an outcry: a couple of older students had heard about the bullying and decided to organise a pink protest. Soon, pink shirts were being bought, word was spread, and hundreds of students wore pink in solidarity, and against harassment at the school. Pink Shirt Day took off, and has been celebrated in Aotearoa New Zealand since 2009. While many individuals and organisations take part in the campaign, it is important to acknowledge Pink Shirt Day's whakapapa as situated around the effects of homophobia, transphobia, and gender-based discrimination. 
Bullying and harassment are obviously serious issues, but how much of an impact do they have at universities? 
Connor: It's important to remember that bullying doesn't begin and end at the playground during childhood, and that harassment sadly forms a very real part of some people's university experience. These power plays demonstrate the ways in which people value hierarchy and authority and control over others. In a wider postcolonial context, racism, sexism, xenophobia, homophobia, biphobia, transphobia, ableism, and other forms of discrimination are a part of everyday society – and of course these translate over. A recent Tertiary Education Union survey found that a third of their respondents had experienced discrimination, bullying, or harassment in their workplace, with Māori, Pasifika, and disabled participants overrepresented. Hierarchy and authority are entangled within tertiary structures, and so bullying and harassment are too. 
Pink Shirt Day is a great initiative, but what else can we do to create a more inclusive university? 
Eliza: Shifting the culture of our university is big mahi, but we're here for it, and every little bit counts. From a sexual harm/harassment perspective, we need to teach our community how to consciously communicate, set and honour boundaries, look at everything we do through a lens of respect and consent, and call out (or in) harmful behaviours when we see them happening. I'm always looking for new ways to collaborate and at the moment am supporting our staff with sexual harm disclosure processes, and organizing two webinars for MAWSA's sex week – Sugar Dating with Aotearoa NZ Sex Workers' Collective and Sexual Harm Police Processes with our community police liaison Jacqui.
Connor: I believe we need intersectional, and Tiriti and community-led approaches to work that provides safer, more inclusive campuses for our students and staff. This Friday I'll be chatting with June Nicklin (Senior Advisor, Māori), Cherie Wu (International Student Wellbeing Advisor), and Penny Hay (former Disability and Inclusion Advisor, now Director – Centre for Learner Success) in a panel to discuss this and more, so come along and feel free to ask any more questions.  
What sort of support is available at Massey for people who might be facing bullying, harassment, or discrimination on campus?
If you are a student facing bullying, harassment or discrimination on campus, there are many support services available to you. You can find them here. You may also want to reach out to your student advocate which you can find here.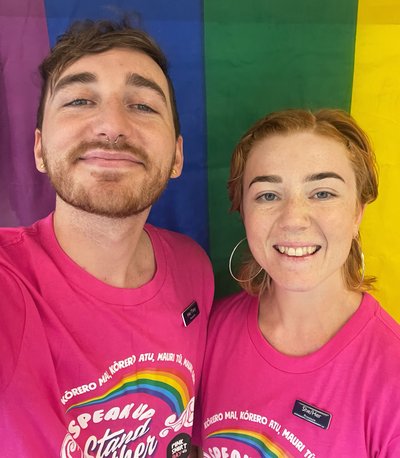 Pink Shirt Day Events for Students
Here are a few ways to get involved on the day, along with wearing a pink shirt to show your support:
Kōrero Mai: A Pink Shirt Day Panel: An online panel hosted by is being held from 1:15 -2:15pm to unpack the effects of bullying and harassment, and discuss possibilities for a truly inclusive future.
Auckland campus
Join us on Friday 20 May as we Kōrero Mai, Kōrero Atu, Mauri Tū, Mauri Ora – Speak Up, Stand Together, Stop Bullying. The ASA will have some pink sweet treats on offer all day in the Student Lounge. Come along, show your support, wear pink and eat some yummy food!
Manawatū campus
Cupcakes for Change (May 20): All students and staff are welcome between 11am – 1pm in the MUSA Lounge for pink cupcake eating, and inclusive cupcake designing. The dining hall will also have the event from 5 – 7pm for halls students. 
Massey Recreation Centre Manawatū will have spot prizes throughout the day on Friday so be sure to add some pink to your gym wear to show your support and help keep the workout space bullying free.
Wellington campus
Cupcakes for Change (May 20): Massey students and staff are welcome to come along to chat, and eat and decorate pink cupcakes with sweet messages to gift to someone from 10-12 in the Co-Lab space. 
Kai on Fri: Join MAWSA in the Co-Lab for Pink Shirt Day themed treats from 12 – 1pm. 
Thursday 23 May 2019
Massey University staff celebrated Pink Shirt Day on Friday, with members from the three campuses entering photos in a Best Pink Shirt Day competition.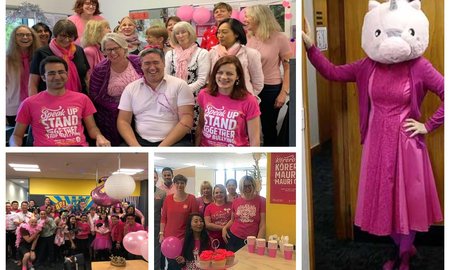 Wednesday 15 May 2019
Social media platforms are largely indifferent to harassment and online bullying, reflecting the culture of entitled white males who create and profit from them, says a Massey University media studies specialist.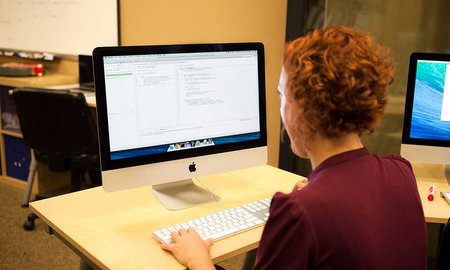 Thursday 16 May 2019
While workplace cyber abuse is a growing challenge for many organisations, most still struggle to deal with it effectively, say Massey University researchers.