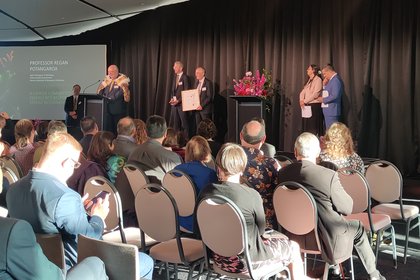 Professor Potangaroa, from the School of Built Environment within the College of Sciences, received the award in recognition of the way he has devoted his career as an engineer and architect to humanitarian deployments, emergency response efforts and marae restorations.
The Te Rangaunua Hiranga Māori Award recognises excellent, innovative co-created research by Māori that has made a distinctive contribution to community wellbeing and development in Aotearoa New Zealand.
Professor Potangaroa's career has spanned from using drones to locate bodies buried in unmarked graves when influenza swept through Wairarapa Māori in the 1920s, to supporting the response and recovery for communities in Kaikoura after the 2016 earthquake, where his research informed the relocation of paua beds.
He has completed more than 200 humanitarian deployments in 22 countries since 1996 and his ethical approach to his work has formed the core of his academic research.
Following the devastating Cyclone Gabrielle earlier this year, Professor Potangaroa worked with Aohanga Incorporation, owners of Owāhanga Station, to coordinate local relief efforts and provide support to ensure the safety and wellbeing of those affected by the storm.
He served on the Station's management committee from 1983 to 1991 and was re-elected in 2022. During his first stint, he was pivotal in stabilising the structure of Pāpāuma Marae, Tipuna Whare, built in 1905, at a time when the committee would have preferred that it collapsed and disappeared.
Pāpāuma Tipuna Whare is now 117 years old, and work towards restoration of the Wharenui continues.
Recerntly, Professor Potangaroa worked with the United Nations High Commissioner for Refugees as part of a shelter team in Bangladesh in the Rohingya Emergency Response.
With about 70 per cent of Aotearoa's 1300 marae expected to have buildings classified as earthquake prone over the next 20 years, his approach of 'whānau-isation' – the pooling of resources to take a hands-on, community-driven approach, could allow cost-effective renovations.
Professor Potangaroa says there are about 40 marae across the motu that will be issued demolition orders.
"I am working with three of them in the Wellington and Wairarapa region. The key to this work has been providing information to the users and marae committees involved so that they can make reasoned decisions about the way forward," he explains.
Professor Potangaroa's expertise includes leading large teams in rebuilding after damage caused by disasters like the 2011 earthquake in Ōtautahi Christchurch.
He has also produced highly regarded research on Māori wellbeing and provided Te Ao Māori expertise for research on intergenerational wellbeing, resilience, and disaster-risk reduction. 
He is currently working with the International Federation of Red Cross and Red Crescent Societies, developing their capacity training for the incorporation of Housing Land and Property issues into existing shelter and settlement programs for the Asia-Pacific region.
Head of School of Built Environment Professor Monty Sutrisna says, "This is a very well-deserved recognition of Professor Potangaroa as one of the leading academic figures in the built environment domain in New Zealand and beyond."
"This award also reflects his very strong ties with and active participation in the Māori communities of Aotearoa. We are proud of this achievement and it serves as an excellent example of how members of our School of Built Environment at Massey University are making real differences to our society and being recognised for their important contributions."
Professor Potangaroa was presented with the award at a special ceremony in Tāmaki Makaurau Auckland on 8 November.
Friday 24 March 2023
A Tiriti-based collaboration between Massey's School of Built Environment and Aohanga Incorporation has resulted in the rebuild of an important bridge in the Wairarapa.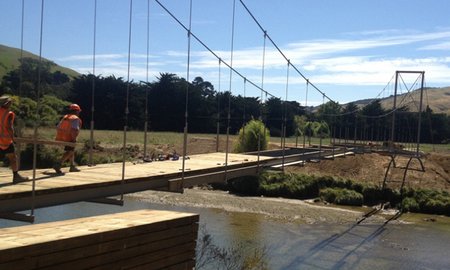 Tuesday 14 March 2023
Drone technology was used to capture a digital record of New Zealand's last standing shot tower before it was set to be demolished.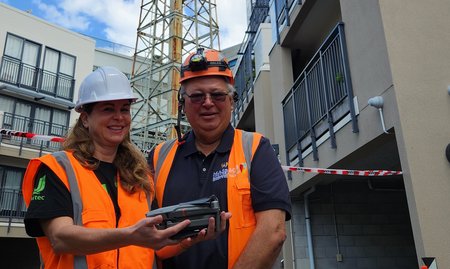 Tuesday 29 November 2022
It was the family business that motivated Marama Tepania, Ngā Puhi, Ngāti Kahu, to resume her education journey and follow a path where she is not only learning, but also supporting others in their studies.