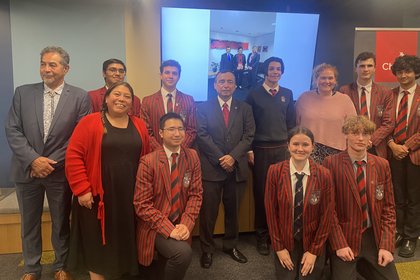 Last updated: Thursday 29 September 2022
The book Poemas – Mōteatea – Poems by Chilean Nobel laurate Gabriela Mistral was launched at Te Awe Wellington City Library this week, in an event organised by Massey's Spanish Programme and the City Library.
This publication is a result of a collaboration between the university, particularly Massey University Press and the Spanish Programme, and the Embassy of Chile in New Zealand.
It is a trilingual edition (Spanish, Te Reo Māori, and English) of 27 poems by Mistral, the first such edition of a book by a Latin American poet published in Aotearoa New Zealand. The book was translated into Te Reo Māori by Associate Professor Hone Morris and into English by Chilean translator Jessica Sequeira. It was published by Massey University Press.
The event featured a talk by Professor Kerry Taylor, Head of Massey's School of Humanities, Media and Creative Communication, and one of the coordinators of the project, who highlighted the importance of the collaboration.
Associate Professor Morris talked about the experience and process of translating Mistral's poetry into Te Reo Māori, and Dr Celina Bortolotto from the Spanish Programme, talked about the process of translating poetry, particularly between English and Spanish.
Chilean Ambassador Ignacio Llanos says that the publication is timely as this year Aotearoa New Zealand and Chile commemorate 50 years of diplomatic relations.
The highlight of the event was a performance by students from two Wellington Schools, Clifton Terrace Model School, and Scots College—who performed poems in Spanish, Te Reo, and English.
This publication highlights the work that Massey has been doing to support the teaching of languages across Aotearoa New Zealand and fostering relations with schools, city libraries, and the diplomatic corps.
A copy of the book is being sent to all schools that teach Spanish and Te Reo Māori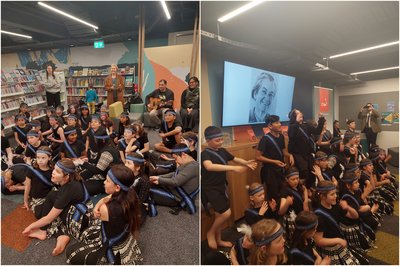 Wednesday 17 August 2022
For almost 10 years, the Massey University Spanish Programme has been collaborating with teachers of Spanish all around Aotearoa to offer support, training and mentoring.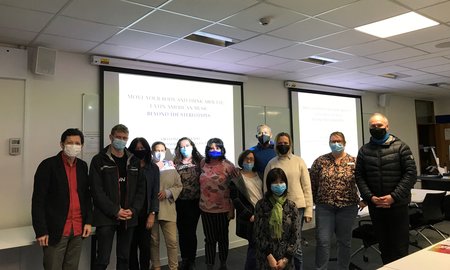 Tuesday 20 April 2021
April 23 is International Spanish Language Day, an event marked around the world to celebrate the richness of the language and the cultures. And Massey's Spanish language programme celebrates its 25-year anniversary in 2021.