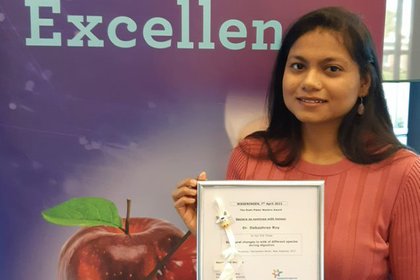 Riddet Institute Postdoctoral Fellow Dr Debashree Roy received an outstanding recognition in the international Pieter Walstra science competition recently. The award, now in its sixth year, adds to growing recognition for Dr Roy, who completed her PhD in Food Technology at Massey's Manawatū campus, last year.
Dr Roy's PhD thesis, entitled 'Structural changes in milk of different species during digestion' came second in the competition and received 'nominee with honour' recognition.
The members of the jury appreciated Dr Roy's research both from the perspective of scientific quality as well as from the applications and implications for the dairy industry worldwide.
The Pieter Walstra Award is presented every two years and is organised by the Dutch Dairy Organisation in the spirit of Professor Walstra's contributions to dairy science. The competition aims to support excellence in the field of dairy science and technology, looking at critical, innovative fundamental science, inspired by and directed towards solving practical problems.
Dr Roy was delighted with the recognition of her PhD research, undertaken at the Riddet Institute.
"I thoroughly enjoyed my PhD at Massey University and the Riddet Institute. I am very thankful to my supervisors for their excellent mentorship and my colleagues at the Riddet Institute for all their support. I am looking forward to my continued learning and further contribution in the field of dairy and food science."
Dr Roy's thesis examined in detail the structures of proteins and fat globules in milks of different species, and how their digestion behaviour under both dynamic in vitro conditions and in vivo (piglet) models.
The research contributes to the knowledge of how composition, along with structure, impact the release of nutrients at various stages of gastric digestion of different mammalian milks.
"The information gained from this study has important consequences for developing dairy products with improved structures for controlling the release of nutrients to meet the special dietary needs of consumers. In addition, the new knowledge provides scientific basis for the digestion characteristics of sheep and goat milk, further enhancing its utilisation and consumer acceptance."
Riddet Institute Director Distinguished Professor Harjinder Singh says the award is outstanding recognition of Dr Roy's research.
"Second place in an international competition is a great achievement. This is further recognition of the scientific quality of Dr Roy's research and the important questions it seeks to answer," Professor Singh says.
One of Dr Roy's research papers also received editor's choice recognition by the Journal of Dairy Science last year. Since the beginning of Dr Roy's PhD study in 2016, there has been a strong interest from both industry and academia in her research. Her research was featured late last year in Goat & Sheep Milk New Zealand magazine, and she has also delivered several presentations at national and international conferences.
Dr Roy is currently pursuing her postdoctoral research fellowship with Riddet Institute and her research work is supported by Riddet Institute CoRE funding.
Friday 18 March 2022
Professor Barbara Burlingame has been appointed as an Adjunct Professor by the Riddet Institute in recognition of her professional achievements and leadership in public health nutrition and food systems.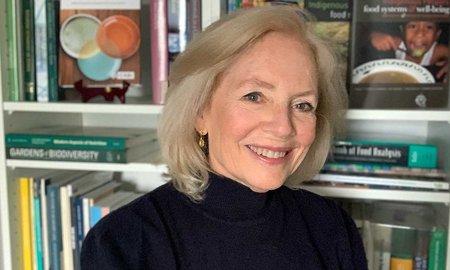 Tuesday 6 July 2021
The Sustainable Nutrition Initiative (SNiTM), a research program in the Riddet Institute at Massey University was recently proposed as part of the contribution to the United Nations Food Systems Summit.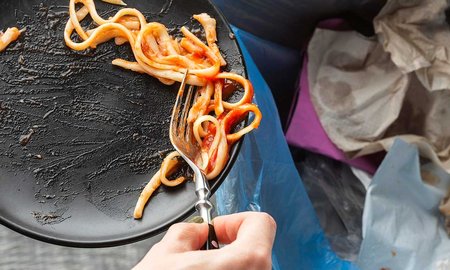 Monday 16 November 2020
The Riddet Institute's Proteos project has just received $NZ 2.6 mil of further funding.