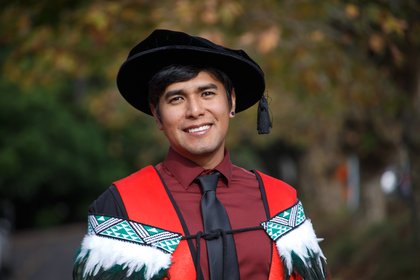 Since the early 2000s, there have been calls to reintroduce the endangered bird to Floreana Island, where they became locally extinct due to habitat loss and invasive species. The Floreana mockingbird is the species that inspired Charles Darwin to develop his theories about evolution.
One way to achieve this is through translocation, which is one of the most important conservation actions in the recovery of endangered species. It involves the movement of live individuals from one area to another.
Dr Reyes explored the demographic parameters of the Floreana mockingbird using models of capture-mark-recapture, as well as the behavioural aspects of sociality and vocalisation that could influence the outcome of its reintroduction. His thesis serves as a baseline guide for the reintroduction of the species to Floreana Island, as well as highlighting the importance of considering behavioural aspects in the translocation plans of endangered species.
Dr Reyes hails from a town called Santa Elena on the coast of Ecuador. Prior to starting his PhD journey with Massey, the 32-year-old had completed a bachelor's degree in biology at the University of Guayaquil. Following that, he worked on the Galapagos Islands for five years where he witnessed first-hand what was happening as a result of human pressure and climate change.
"That's what brought me to New Zealand, one of the world leaders in conservation. All the experts are here, and I was lucky to be working alongside my supervisors Dr Luis Ortiz Catedral and Professor Dianne Brunton, who are internationally respected conservation biologists."
Dr Reyes says it was difficult being away from his family while undergoing his PhD journey.
"I had to start from zero in a completely different country and do my PhD in the middle of a pandemic. But, I've learnt to be who I really am and proudly accept my indigenous heritage. I also found love from my partner and amazing friends who have become my family in New Zealand."
Dr Reyes has been living on the Chatham Islands for the past year, while being involved in a project to translocate black robins, which aims to help avoid extinction of the population on Mangere Island. He says he has found the wildness of the Islands amazing.
"The Chatham Islands are one of the wildest places I ever been. I even managed to navigate around the Pyramid/Tarakoikoia, which is the only breeding colony of the Chatham albatross. I read about this special place when I was doing my bachelor's in Ecuador, but I never imagined I was going to be able to see it with my own eyes. I was surprised at how a rock in the middle of the rough ocean can harbour life. It was one of the happiest moments of my life."
Dr Reyes will be moving to Wellington next month to begin a role with the Department of Conservation (DOC). He will serve as a link between DOC and the Ecuadorian Government to improve the conservation actions of New Zealand migratory seabirds that spend the winter in Ecuadorian waters.
He has also been offered a position as Research and Recovery Coordinator for the reintroduction of the extinct in the wild Alalā (Hawaiian crow) on Maui Island in Hawaii.
Monday 31 October 2022
Four members of the Massey whānau were recently involved in the first Chatham Island black robin translocation in 20 years.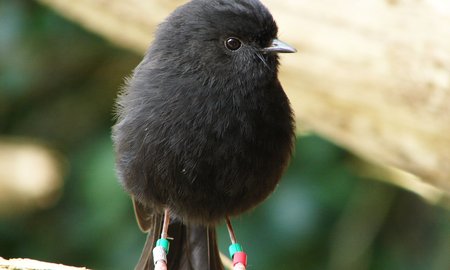 Wednesday 29 May 2019
A Massey PhD science student, Enzo Rodriguez-Reyes, features in Education New Zealand's latest global digital campaign.