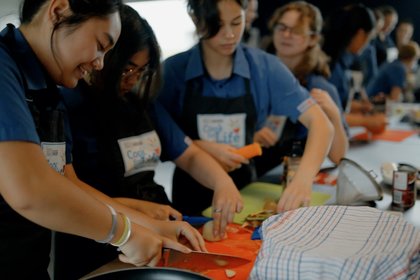 Last updated: Tuesday 31 October 2023
Te Kunenga ki Pūrehuroa Massey University dietetics students are improving the lives of young people in vulnerable communities through the delivery of education programmes focused on healthy eating, learning to cook and food security.
One example is the Nestlé Cook for Life programme, which provides youth aged between 13 and 19 with nutrition education and cooking skills to empower them to influence their whānau to lead healthier lives. Since 2017, Massey's dietetics students have been involved in the programme in South Auckland schools, including Alfriston College, James Cook High, Otahuhu College and Manurewa High, as part of the public health nutrition component of their degree.
Student dietitian Charlotte Bertasius has just finished her placement and says she was surprised many kids had never cooked in their life.
"It came as a bit of a shock so many kids had never been shown how to grate a carrot, cut an onion or get a few ingredients from the fridge to put together a meal."
She says most students had preconceived ideas that eating healthily and buying fruit and vegetables were expensive, so it was unrealistic to eat healthy.
"They had never been given the tools to shop within their family or personal budget. We taught them about buying frozen vegetables, which are just as nutritious but far cheaper, as well as shopping in season – a punnet of strawberries may be $8 in winter and $4 in summer, so it is about adjusting your shopping list to afford different fruit and vegetables at different times of the year."
She says it was rewarding seeing the students learning and making a difference in their lives.
"Through studying I've got all this knowledge and it was satisfying to put it into practice to help people create a better future. If this has an impact on one student, all the learning we have done can actually get used for something."
Manurewa High School Principal Leanne Gibson has seen the benefits of the programme first-hand and believes it is something all teens can learn from and all families can benefit from. She says the experience of having the dietetics students interact with her students also gives an opportunity for curious minds to ask questions to understand pathways in food.
"We have seen that for a lot of our students, cooking meals from scratch at home is unfamiliar. We want to teach them the skills for when they inevitably have to do it for themselves, and by bringing it into the school environment, they can learn alongside their classmates and turn cooking into a fun activity. It has been refreshing to see our students get excited about food they would not have been interested in previously and, no doubt, they will carry many of these skills with them for life."
"Cooking isn't just about filling stomachs, but can also teach important life skills around food safety, budgeting, hygiene and nutrition. Understanding the food group activity, learning how to make a balanced meal, knowing when food is 'off' or how to use a knife correctly are capabilities all Kiwi teens should have. It is never too late, nor too early, to get your family helping in the kitchen," she says.
Nestlé New Zealand spokesperson Amanda McDermott says the Massey University second year postgraduate dietetics students play a crucial role in delivering the programme and providing valuable insights into the partnering school communities.
"Their involvement greatly expands our reach to more students and schools through the facilitations of Nestlé Cook for Life sessions, while offering a unique learning opportunity for the dietetics students to tailor their knowledge to be relevant for a different audience than they would get to experience on other placements. Together, our goal is to empower young Kiwis to make healthy food choices to prepare them for when they inevitably have to cook for themselves and their whānau, and we hope this valuable knowledge will benefit the entire community."
Massey University Dietetic Practice Coordinator Reena Soniassy says the experience can be life-changing for both participants and the university students.
"Many tertiary students are aware of inequities in health and access to affordable healthy food, but it is completely different to see it first-hand. They see how these communities are quite disadvantaged with a high prevalence of cheap fast-food outlets and where healthy food options are not easily accessible or they are overpriced for poor quality, so this programme provides an opportunity for them to recognise and understand this."
"They can also see it is not about an individual making poor choices, rather there are a raft of social determinants that come into play. It is being able to experience this and engage with communities who are seen to be disadvantaged, but have richness in their connectedness and altruistic values. There is a lot of strength, resilience and ability in these communities that students can experience as they work alongside them to make positive changes."
She says this work-integrated learning approach provides dietetic students with a lot of personal and professional growth. This includes developing skills such as public engagement, cultural responsiveness, and translating scientific knowledge and making it easy to understand and relevant to high school-aged students.
She says the programme is also an opportunity to inspire the high school students about tertiary study, allowing them to ask questions about what it is like to be at university.
Supporting those with diabetes and youth in diverse settings
Other community outreach programmes students have been involved with recently include workshops for Diabetes Foundation Aotearoa in South Auckland, where people with type 2 diabetes, pre-diabetes, or those at risk of developing non-communicable health diseases attended. The Foundation's focus is to support priority communities, such as those with lower incomes and poorer health outcomes. These workshops focused on the relationship between diabetes and how food is processed by the body, nutrition facts, healthy eating tips and practical cooking demonstrations.
Helping to prepare rangatahi (youth) living in residential care in South Auckland was a focus for other students. Their placement with Dingwall Trust, which caters for the needs of young people who have experienced trauma and/or abuse, was focused on working with staff who help the 120 residents transition to adulthood and more independent living situations. The work was centred around equipping the Trust's staff with the knowledge and skills to empower the 16-21 year olds to leave care with the knowledge, ability and motivation to prepare and cook healthy, tasty and affordable meals.
Massey University's Head of School of Sport, Exercise and Nutrition Dr Andrew Foskett says providing young people with the skills, knowledge and confidence to lead healthier lives provides a ripple effect in communities.
"Giving our students real-world experience to help others build the skills, knowledge and confidence to lead healthier lives enriches their lives as well.
"We know that our Massey dietetics graduates are sought-after for their practical experience. This immersion in communities and helping new dietitians to develop their skills and capability, as well as providing a valuable contribution to the community, is something we are very proud of."
Thursday 18 July 2019
A new study is investigating how exposing babies to a variety of fruit and vegetables when they first move to solids, could help form better eating habits in the future.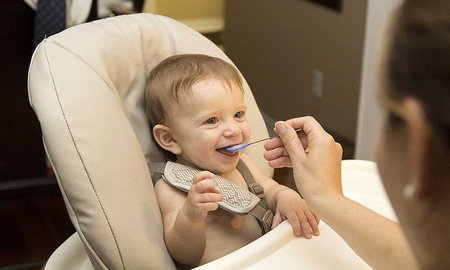 Wednesday 12 October 2022
Two Massey Nutrition and Dietetics graduates received awards at the recent Dietitians New Zealand conference in Christchurch.